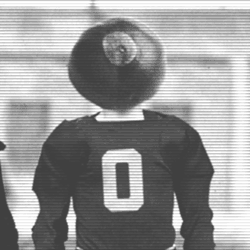 BuckeyeDave
---
Member since 24 July 2012 | Blog
Favorites
SPORTS MOMENT: OSU v Washington. Night game in the 'Shoe. Sat in 24C and watched Big Daddy crush UW with my father.

Close second is having my 4 year old son come up to me and, in an effort to have me get ready to go somewhere, tell me I needed a bath because "you stick like Michigan"
COLLEGE FOOTBALL PLAYER: Eddie George
COLLEGE BASKETBALL PLAYER: Chris Jent
NFL TEAM: Green Bay Packers
NHL TEAM: Philadelphia Flyers
NBA TEAM: Boston Celtics
MLB TEAM: New York Mets
SOCCER TEAM: Arsenal
Recent Activity
Guess I should have specified I did not see it elsewhere on THIS site :)
S&G up 9. Randall from AAB keeping them in the game.
New site for FoxSports looks trashy as all get out. I can't watch videos when I am pretending to work. I CAN read Stewart Mandel and the rest. Yet another bad move for Foxsports
As someone who had to endure the Cooper era as a student, the dominance of Tressel and Meyer is a beauty to behold. Just wish I could have experienced some first hand.
Paulus never impressed me though I am sorry to see Jent go. That being said, you can't blame the guy for wanting to be loyal to his assistants
Worked against UM last year - seem to remember they came in and covered it with posters etc. My belief is it only works if you believe it works. Kinda like most voodoo
Would we still be able to recruit his kids or is that rule only for football?
That...That's Urban Meyer's music.
As god as my witness, he is broken in half
This is the old SEC Football excuse. "LSU/Bama/OleMissMiss St/Tamu/Mizzou" are not bad teams - if you you had to play "LSU/Bama/OleMiss/MissSt/Tamu/Mizzou" you would be 9-3 too. If all of your Top 25 teams are in the SEC (and considering they put 13 teams in the tourney they are) then of course those teams are going to have more Top 25 wins/games played.
This was my issue as well. I understand we won the first "true" national championship wearing the 14's but if the only difference between these jerseys and our regular kit is the grey piping on the sleeves are they REALLY that much of an alternate look? Had to go for the all-black. I still remember the fans pulling the "opposite white out" and making the stadium dark for the night.
Have to level the playing field somehow. The SEC has been doing it to Alabama for a while. I consider it a sign of respect.
Depends...can we get any of these as December home games? I think Sparty can take SoCar in East Lansing. And Nebraska takes the hot mess that is Tennessee. And Indiana / Kentucky would be interesting because both fan bases would think it was for a basketball game.
No, we schedule a home and home with Oklahoma. Nicky refuses to schedule true road games in OOC.
Been thinking if Michigan had to play a team with a pulse out of Michigan they could have problems.
We better be careful, everyone knows that Nebraska is a 4th quarter team... :)
Best: College -
OSU Division - Tressel for all the reasons above and for giving the student body hope after Cooper's reign of terror (as a 91 alum I never got to celebrate anything but a "win")
Non-OSU Division - Bear Bryant - yeah he was a bit older when I was a kid watching him but he still got the most out of the money paid to his players.
Best Pro -
Nick Saban - Alabama - hard to argue with his national titles but in a state with an absolutely terrible educational system for the head coach to have that much sway (and lets be honest his video editor probably makes more than the president at UA) is a bit much.
Yeah - but at least Clemson has played a team with a pulse on the road. MSU is 2-6 and was their toughest road game so far.
I say us. We win out that means we are Big Ten champs with 1-2 victories over Wisky/Neb and a road win at Okla. Meanwhile, Lou won't even be playing for its conference championship.
Not sure about the white but call me weird, I like the "Angry Brutus" helmet.
Easiest "pick" of the week was Iowa after giving Kirk an extension. Talk for years had been how Iowa was "trapped" in the contract with Ferentz and how they could not fire him etc. Then he has 1 good year and gets more years tacked on.
As far as Hazell goes - I find it mildly entertaining to think that two former Purdue quarterbacks are starting in the SEC this weekend.