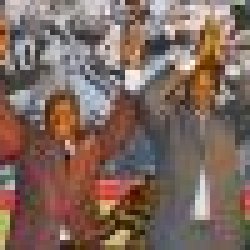 BuckeyeDale
---
MEMBER SINCE June 04, 2011
Favorites
SPORTS MOMENT: Watching the win over Miami with my grandkids on my lap
COLLEGE FOOTBALL PLAYER: The Ohio State Buckeyes
COLLEGE BASKETBALL PLAYER: OSU
NFL TEAM: (sort of) Steelers
NHL TEAM: I thought you wanted SPORTS
NBA TEAM: (sort of) Lakers
MLB TEAM: (sort of) Cleveland Indians
SOCCER TEAM: Again, can we stick to sports? & to HEKK this.
Recent Activity
Well, JUNK...that didn't work.
Ya HOO...
https://twitter.com/wrestlingbucks/status/1215819950167744517/photo/1
Thanks for the updates for us 'un-hooked' fans...appreciate it.
...so much for the Analytical Skills Class taught at MissedAgain...
Question for the authors... are we switching to micro-font or Landscape view for our final two games to be able to fit all that info? :)
May have been mentioned, but the 'amazing' Lawrence transformation for the 2nd half was against the dregs of NCAA FBS defenses. Oh, and Wofford...Their D is good, but even there the level of competition does not compare to what our team has faced this season. It ought to be a hell of an entertaining game, but I still expect the Bucks to come out on top in the end...we shall see.
Well of course they will...Jeaux Burreaux will be gone next year, and LSWho?'s D will still suck.
Just wondering...any chance that Jayden Ballard is related to Jake Ballard? First thing that popped into my head when I read the name.
We actually dropped 7 points from last week...I guess the first five minutes of a game had a hidden significance we were unaware of...
NW has been a big picture of futility since their only 3-game winning streak in the '30s. Ara Parseghian did manage two in a row in the early '60s, but even with that, Woody was 3-2 against him there. Most recently, every time NW looks like they could get respectable, the Bucks have cut 'em down & put them back in the pack. In 2013, they opened 4-0, and all the talk was about how this was the Bucks' first test. BANG! And then their season tanked. I'd be willing to bet that Fitz just keeps thinking, "here we go again..." When he played (93-96) NW was 0-2 (93/4). '95/6, NW won the Big Ten, but we didn't play. We was the LB coach in 04, and has lost all six as HC,including the CCG last year. It's in his head, and he may never make that step...(and I'll drink to that!)
Hey, thanks....appreciate the response.
Who is the photo of that leads off this piece? The guy who played JV Golf?
Google says:
Kerry Miller
Featured College Basketball Columnist at Bleacher Report
Charlotte, North Carolina
Writing and Editing
IOW, so what? He's an idiot.
Days today two day to do list?
Days day two to do list for today?
(If it made you smile, my job here today is done) :)
In other words, stay alert? :)
Kyle, you started on 6/3 with FAU, & Cinci on 6/10...is there a reason to skip Indy & Miami? Is there an order sequence I'm missing not seeing?
LOL...gonna take some getting used to ... saw the picture at the top, and wondered WTH Terry Bradshaw was doing in Columbus... :)
Luck - When Opportunity meets Preparation...
Quite a group to follow into the NoFunLeague...
MJ with 10 years,CC with 16, TG with 12, and DB only 8 because of his 'roids problems...I'm sure he'll be comfortable with his earnings.
Similar to the Eagles' "Hell Freezes Over" tour, MissedAgain might get a second chance at the USCar Gamecocks in a bowl game...
Hang on, hang on...I've got the list down to 20 now, this last cut will take a bit of heavier thinking...
So...is this Karen Higdon guaranteeing a W on the football squad or the cheerleading squad?
THANK YOU...I was going to ask if we hadn't sent anyone to East Lansing last weekend...C&Ping this and keeping it in my Buckeye Football 2018 Folder has become part of my Tuesday night/Wednesday morning routine... :)
Yep...Rex Ryan...the FORMER coach and current BSPiN talking head...
Tell him he needs to call Kirk Barton...who has a message for him.