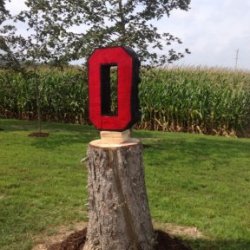 Buckeyedad
---
MEMBER SINCE November 27, 2014
Recent Activity
It takes a while to forget about 4 years of mediocrity. Just glad people are filling up the Schott now. Win and they will come.
Just being selfish here but I am glad Tennessee fxxxed it up. You look great in scarlet and gray coach. Who has it better than we do?
Only thing they could have done is put Haskins in. I think he would have made those throws. But how do you take out the 3 time qb of the year?
Well in 2014 I didn't mind sitting by a clown in a jumpsuit. He left at halftime.
I love Jim Tressels least favorite moments. And I love the fact Meyer put the starters back in to send a message that mediocrity will not be accepted. I like the serious Meyer. This is not a clown show.
Being physically able to perform is what got him in trouble to start with.
And it will look good on his recruiting resume on how he keeps up on his former players. But I do think he is doing it for all the right reasons. After all Cardale led him to his only national championship.
The Hurry Up is getting earlier. What am I supposed to do for the rest of the night?
If your not moving forward your going backwards.
Qb room in Cincy is probably a little less crowded. Good luck to you
Paying it forward. Sounds like a Buckeye already. Great job young man!
Come on Haskell. I think you meant to say Ohio State. There's only a few people that call us "Ohio" and I don't like any of them.
Way to pay it forward Buckeyes. This is real life Mondays. Makes me proud to be a Buckeye fan. Who has it better than us?
26-34 free throws must be some sort of record for this team. Good work.
MSU really screwed my bracket! They screw us when they beat us and they screw us when they get beat. Dam Sparties.
Zeke will look good for whatever team drafts him. Just not the Browns.
We own the Wolverines. Great game tonight.