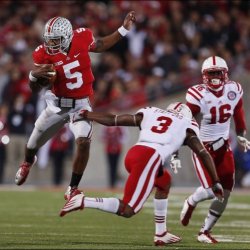 BuckeyeCollector
---
Powell, OH (via Wellington, OH)
MEMBER SINCE August 26, 2014
Favorites
COLLEGE FOOTBALL PLAYER: Braxton Miller
COLLEGE BASKETBALL PLAYER: Sam Thompson
NFL TEAM: Cleveland Browns
NBA TEAM: Cleveland Cavs
MLB TEAM: Cleveland Indians
SOCCER TEAM: Columbus Crew
Recent Activity
Just wanted to stop by to celebrate with you guys! It is so awesome to follow a team so close each year and be lucky enough to get rewarded with nights like tonight!!! God bless and Go Bucks!
I love Urban just as much as the next Buckeye fan but why does it always seem like the guy doesn't really pay attention to the details? I know he has a lot of guys to look after an assess but not knowing that it was Marshall who almost ran a punt back? I mean I was at the game and I remember that from a week ago. Anybody else notice this? Nothing to be concerned about but.. just kinda funny I guess...
Im sure people already said this but IF we get him back next year and IF we have Braxton back under center for 2015... look out....
PS. I'll take T. Gibson or a much improved JT. Either way the QB position will be much improved.
I see Mr Apple and Mr Powell having big games. Hoping for Vonn Bell to make another much needed one handed pick. And BTW we are due for our first pick 6 of the season. Just sayin...
Hmm, it will be interesting to see what the coach does for nest Sat. against their toughest opponent the entire season. Not to mention the toughest place they will play all season or for the past few seasons... Good Luck Cinci
Im high on Curtis right now too. But what former Ohio State All BIG Ten Running Backs should we start comparing him to though?
Well some of your Buckeyes are Browns fans. And a lot of Buckeye fans are also Browns fans... so deal homie....
Quite a convo... I dont think we should become independant. Its not us... But I think its time we stop giving Notre Dame crap for not joining the B1G.... Its starting to make us look pretty silly. Its time to leave them alone and wait till 2022. As for OSU, we will bounce back and others will too. Im not too worried. The season just started anyway...
I think it is at least somewhat. And I forgot to mention obviously the loss of Miller has a lot to do with everything... theres no replacing him...
Its really nice to see we could make almost a whole team of Buckeyes in the NFL
Heres the only bad news in this post......
Look at all of our starters from last year that are now professional..... What a team we had last year..... wow....
The moral of the story is Rome wasnt built in one day... we will be back to being a top 5 team but we just lost waaaay too much to be that this year.....
We are now realizing how special the 2013 Buckeyes were.... a very very special team that won't be replaced in one season folks....
ISN'T THIS MAGICAL.......................................................
Im still new to 11W but this is one of the best articles Ive seen since. I know its a round table and not a write up but for what it is, its great. Its honest, its genuine and it tells it how it really is.
I know we all love the Buckeyes and want to win a National Championship but its also important to realize maybe we arent the best team in the Big, or even the East div. Maybe we will have an off year. Lets hope not but we cant alway say we are the best when thats not always true.
Good read. and Go Bucks
Wish I could be there. I will be at the Kent State game which will be fun but the atmosphere wont be quite the same as at night in prime time.
From a long-time Buckeye fan who is still fairly new to getting into recruiting, where does this week's BIG VT game rank to years past when we landed big names or almost landed big names? Who was at what big games? Like in the last 15 years? Who did we get and who snubbed us for the SEC?
As much as I like that we have 3 RB's listed I would really like to see EZ-E dominate on Saturday and really show us what he can do at home in the biggest game of his life. I think he can do it, just needs a little more help from the O-Line. Another star will be born my friends.