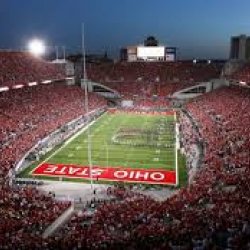 Buckeyeclassof18
---
MEMBER SINCE December 17, 2015
Recent Activity
1. Apollo's
2. Canes
3. PJ's
Probably has a source inside the athletic facilities, obviously you cannot name sources or specifics if your a poster on a fan site not trying to get people fired. I know there have been a couple instances in the past where others on this site have had inside info, I myself have had occasional preemptive knowledge or insight due to friends who work inside the athletics departments. Never think it is a reason to downvote someone if they choose to share that information, eventually the truth will come to light... in this case only a day later.
Hate to see this kind of stuff but hopefully those young guards can figure themselves out and Coach Holtmann can get this team back on track. Still have faith in this years basketbucks! They have the ability to be a tournament team if they play with more confidence offensively and focus on the details defensively.
I agree with your take. It has seemed to me that SEC officials let the game be played pretty physically relative to the Big10 crews. Which I am not opposed to as long as they are calling things consistently you know what to expect and frankly our DB's with the leash SEC refs give should help us against Clemson. I like our ability to beat Clemson running the ball.
I've found the best alarm clock is my 5 month old puppy, Boxer/Beagle/Australian Shepherd Mix. He wakes up at the same time every morning to go to the bathroom and get fed. He is willing to raise hell until you meet his needs. So for all of your alarm clock needs adopt a puppy. Let's crowdfund Kevin and his new fiancée a punctual puppy, ElevenWarriors!
I think LSU should be going after D'Eriq King with all them SEC crootin' bagmen
Thought it was McReferee?
UVA would also be a good addition but I could see them getting their asses kicked at least in football in perpetuum. They do have excellent athletics outside of football though similar to Maryland and have a natural rivalry with Maryland as well as great education and plenty of money. As well as continuing the Big10 expansion to the coast. I'd really like to see the Big10 get to 16 teams and maybe see the ACC, AAC and Big12 kind of do some big realignments.
My Top 3 choices might not be realistic but they would be in no particular order: Syracuse, Notre Dame and Iowa State. There are a lot of criteria that a school has to fill besides just being good at sports to make it into an athletic conference as prestigious as The Big10. I think athletics is a big factor but location, revenues, education and potential for rivalries are some important factors. Interested to see what others think. I also might consider Pitt and Missouri. But again these aren't schools that would likely be looking to join the Big10 because they are all in major conferences. I just do not see any MAC or AAC schools being viable and Notre Dame is the only independent that makes sense but they're already halfway in the ACC.
The Predator is back baby!!! I relish the opportunity to watch him play 5 more games en route to a National Championship!
That was quite the challenge. And took a long time on my phone. Really not sure I did a great job. It's very subjective. I didn't know which stats I was going to value over others until I started and who knows if I applied my own standards fairly across the board.
1. B 2. C 3. F 4. G
5. A 6. E 7. D 8. H 9. I
10. Q 11. S 12. K 13. J 14. M
15. U 16. R 17. V 18. W
19. N 20. CC 21. X 22. T
23. AA 24. Z 25. L
I honestly do not know how it works but I have been blessed to attend the Fiesta bowl while OSU smacked their opponent and I would say Arizona is home to a lot of fans from the Buckeye State so that would always be my preference. I think in Arizona we would essentially have Home field advantage whereas in Atlanta, we likely would not especially if facing a Southern team.
FWIW I had a friend that started college with 58 credits... basically starting freshman year as a Junior. Not typical obviously! Many of my friends came in with between 15 and 30 credits though.
So assuming he's started with between 15-30 credits and started a semester early he should have completed 15*6 in addition to summer classes 10*2 with credits coming in around 20. Totaling 130. Enough to graduate in any Undergrad degree...
I apologize for the mathematics. This is obviously based off of many assumptions but just trying to show how it's not all that unbelievable, these days it's how it works.
It's great encouragement hearing from all of you guys. I recently visited the doctor in August and weighed in at 227. Which was a shock for me because I'd never weighed over 215 before. In High School I was around 158-165 very in shape, playing varsity and club/aau sports year round. I'm 5'10 as well, and yesterday I was down to 209. My goal is to get to a fit 175 give or take 5 lbs. Just watching what I'm eating and drinking more closely as well as working out 3-4 times a week. Keep up the hard work fellas!
It's got to be Schiano, they were a good match. The best they have been in decades was under his guidance and Rutgers was his most impressive coaching stop.
I just want to add that after watching just a couple of Florida's games I think they are the most overrated team in the country. I'd pick Oregon, Texas, Iowa all to beat them Neutral site. Heck even Boise State could give them a run for their money. Love the thread BuckeyeCrusader.
1) Ohio State
2) Alabama
3) Georgia
4) Oklahoma
5) Clemson
6) Louisiana State
7) Penn State
8) Wisconsin
9) Auburn
10) Notre Dame
Any chance CJ takes a medical redshirt? At this point its looking like he is gonna miss half the season. I saw him on campus the other day, I wasn't looking for it but I did not notice what his injury is.
59-0 incoming? Michigan doesn't look like a ranked team. Wisconsin looks like they should be top 8.
Coan looks like the best QB Wisconsin has had in a few years. He's no Wilson but much improved over Honingbrook.
Xichigan's run defense is an embarrassment to football...
Side Note: I'd love to see guys like Dobbins, Etienne and J. Taylor actually have a shot at winning the Heisman.
Sorry if someone else mentioned this but...,
Harbaugh says his two goals are: "Win multiple championships and run a first class program."
Urban Meyer's #1 goal was always to beat the rival. Second was to win championships and build a culture. This is why Harbaugh just doesn't seem to get it and I don't see him ever having success against OSU.
Dude can't get anything right...
I think a couple seasons of 8-5, losses to OSU and bowl opponents would definitely finish Harbaugh off. But I think it is apparent that he has a lot of rope, could go many years on good performances alone. 9-4 and 10-3 performances will keep him employed at his alma mater in perpetuum.