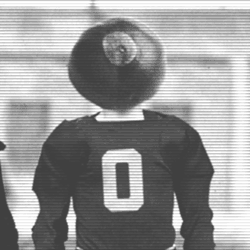 buckeyecityterror
Millersburg, Ohio (via Cleveland, Ohio)
Member since 06 December 2013 | Blog
Crazy mfer. love my buckeyes.
Favorites
SPORTS MOMENT: Watching the 2002 national title game.
COLLEGE FOOTBALL PLAYER: Carlos Hyde
COLLEGE BASKETBALL PLAYER: Aaron Craft
NFL TEAM: Browns :/
NHL TEAM: Hockey?
NBA TEAM: Cavs
MLB TEAM: Indians
SOCCER TEAM: Never.
Recent Activity
Harbaugh is gonna leave for either Chicago or Indy. Book it.
The best chance for OSU is complete mayhem. First and foremost, beat Wisconsin. Next, the ACC doesn't really matter, but hope Clemson wins so we will forsure be ahead of Miami, a 2 loss Clemson might just sneak in ahead of us. Hope Georgia wins. Auburn just beat Bama pretty handily and if you ask me, there is no way that you can put both Bama and Georgia in the playoff ahead of auburn with bama just getting waxed by them and not playing in the SEC championship game. Hope Stanford wins to eliminate USC so there is no debate there. And then hope TCU beats Oklahoma, barely. So that we will have the conference championship over Oklahoma and better schedule than TCU. I still think if everything else comes true and Oklahoma wins we would be in with a convincing win against Wisconsin. But complete chaos makes things a little easier. Just my 2 cents.
Possibly. But the defensive line should be able to play straight up with minimal to no blitzing all game. And with baker spying Barkley the coaching staff would obviously scheme something up to not leave his spot vacated. Somebody has running back responsibilities each play anyways, the point is to just make it baker on every down.
I might be in the minority here, but I say defensively have Jerome baker spy Barkley all game. He is the most dangerous player on their offense and shutting him down/slowing him down will be the key to stopping their offense. Almost like having a linebacker spy a running QB the whole game. Play technically sound in the secondary and linebacking core and we should be fine with the defensive line making trace mcsorely win the game with his arm. Offensively, run the damn ball. With our great running backs. Block well. Take and complete shots over the top with play action in the passing game as well as hit some crossing routes and give our speed guys some room to make plays. Last but certainly not least, no mistakes. No turnovers. No costly penalties and we should walk away easily. I expect a close-ish game because Penn State will be ready to play. But with us losing like we did last year I think our boys are hungry and will make this a statement game. 42-28 buckeyes. Tressel will be sad with No FG's going through the uprights.
I respectfully disagree. Dude has never played for a team that's almost a lock to walk to the finals in his career. Both Derrick and Deron Williams have played on bad teams as of late and coming to play for a surefire contender will rejuvenate their careers. Deron will be a great backup point guard who can score and facilitate for the second team. And Derrick will spell LeBron alot and also is a slasher to go along with all the shooting around him. On top of being able to make open shots from time to time. Making a guy like curry work on defense the entire game and not just while Kyrie is in the game will wear him down in a series as well. And Deron Williams will do just that. I think he's a great back up option and I hope he stays for a while.
Yeah the Cavs are giving up basically nothing to upgrade the frontcourt and backcourt. I wonder if they start to think about keeping Derrick Williams longer term as well.
I also like the X-Factor that he played for the Warriors and might give the Cavs a leg up in some preparation and calling out offensive plays on the floor.
I'm pretty sure this is going to happen. Cavs need a big man to protect the rim. And he will come cheap and has no problem passing.
Dammit you were right. Lol
I agree it's an honor, and I would love nothing more than to be in his position. But if you ask these guys that enter the draft what team they want to play on the vast majority have a favorite. Again, I have a problem with the way he went about it, and I'm sure others in the league will too. But anybody that thought he didn't wanna play for his favorite team are kidding themselves. Just keep it in house next time big fella.
No question. It's just being blown out of proportion IMO. The Browns are a laughing stock at this point. Majority of players don't wanna play here. He went about it the wrong way saying it publicly. But don't act like these guys don't say this behind the scenes anyways.
This is silly. The guy is from Texas, went to college in Texas, probably grew up a Dallas fan. Wants to play for the hometown team. Not that he doesn't wanna play for the Browns. If Cleveland was in Dallas' place and I was projected to be the no. 1 pick I would do the same.
Kid from Princeton is gonna play TE. And the kid from Auburn might switch to DB. But I really like the mix of size and talent with the WR drafting. Scooby Wright was a great pick. Ogbah and Nassib weren't bad either. The most optimism I've had in a while. Kessler was a weird one, but at this point I trust hue. Still think they want to use all the ammunition next year to trade up and get their guy.
You and me both. LeBron needs to showcase his greatness now more than ever.
5-0 when he plays 30+ minutes in the playoffs as well.
I was talking about my brother about this today. After OSU handled business against Alabama i felt some sort of magic about the team, like nothing could stop them. I'm feeling almost the same thing with this CAVS team. I could go into detail for days about this, but i'm taking cavs in 6 if kyrie is anywhere near healthy. As crazy as it seems the cavs have the advantage at the guard position. Steph is the best, kyrie is right at his heels, then klay thompson. But shump, JR and Delly will outplay all of the warriors other guards. Frontcourt, cavs have Lebron, TT, Mozgov, Jones. Too much clicking for the cavs right now to bet against them.
I just ordered a #97 with bosa across the back. Hoping nick wears the same number so i can wear it for years to come. And +1 for the laugh.
Birm has said a few times the last couple days mack is almost a sure thing. Package deals don't always work, each player wants something different. And robertson is lower on the pecking order then bosa. There will almost 100% be no DE commits till bosa announces.
I will hold on to this until it happens. Please let this happen. Draft smart this year. Maybe even trading back, then take your shot at cardale!
Go Bucks! I could get used to this championship winning thing.
Also work at taco bell. +1 for your suffering. Haha
Always tough to keep florida kids committed that long. I doubt urban and company give up.
This. It's not like he won't be scoring multiple touchdowns in ann arbor in his career anyway.
He just posted on twitter that we would take all 4. Even if we keep both Gibson and Weber.