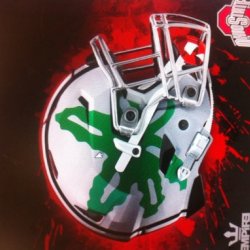 Buckeyechuck5
---
from Marion
MEMBER SINCE September 20, 2015
I am a life long buckeye. Grew up in a small town called Ridgeway just 8 miles south of Kenton. I bleed scarlet and gray. I will not get gas at kroger because the last time I did, the bucks lost to wisconsin in 2003 and snapped out 19 game win streak. I am a fitness nut and I am an amatuer cage fighter. I only took up mma because I wasn't good enough to play college football and I love to compete. I have 4 boys, ages 6,7,8, and 9. I named my youngest A.J. after my favorite buckeye A.J. Hawk.
Favorites
COLLEGE FOOTBALL PLAYER: A.J. Hawk
COLLEGE BASKETBALL PLAYER: Evan Turner
NFL TEAM: Bengals
MLB TEAM: Reds
Recent Activity
This is the most "millenial" read I have ever read on 11w. Noon games by no means take away home field advantage. Give me a break. Noon kicks are not bad. Do better 11w. Good grief.
Hi Josh. Thanks once again for what you are doing here. It excites me to hear the viewpoint from someone who has lived it. So let's jump right in. Now that we have seen the defense put zone blitz on film, in your opinion, once we enter the meat of our conference schedule, do you think there is a certain percentage of snaps we are wanting to play zone and sprinkle in a little man? Or do you think those percentages could vary based on the opponent and what we are trying to attack? Also, will we continue a similar LB and DL rotation in the meat of our schedule(2-3 deep)?
Relax. Just one more dart from the media. Let's not forget that it is still only September. We will worry about champions in November......
Its finally "gameday" and we finally get to watch our team. Enjoy fellow dubbers. Go Bucks!
To bad the sooners dont know what it's like to plant a flag at the end of a playoff matchup. Eat shit baker.
If Justin Fields blows up and leads "THE" to the CFP, I believe he will overtake the overwhelming favorite Trevor Lawrence. Really surprised at least one of you didnt pick this scenario. OSU being overlooked by the hole nation including our staff. I'm calling it. Justin Fields goes off for 3800 yds passing and 1100 yds rushing and 45 total tds and tops trevor lawrence just like he did in elite 11. There........I said it.
Tim Anderson. He was the rock of that 2002 defense and ate up o lineman so guys like Wilhelm and doss could make all the tackles. Very selfless buckeye that played at a championship level.
I graduated high school in 1999. Antoine Winfield was my favorite at the time. I think Okudah has the tools to cover like winfield, will be interesting to see if he can hit and stop the run like winfield as well.
Was talking to Kerry Coombs on the buckeye cruise a few years back and he told me " Jeffery Okudah will be the best corner to ever wear scarlet and grey". Let's see how it plays out.......
If Rocky Balboa played QB, his team would be awesome. Plus 1 for a reference to my child hood hero.
Doesn't OSU have the nits at home this year? In any case, the nitty kittys they week before a trip to the big house will take superior focus and a lot of heart and determination. I think Day and company will be up to the task.
Fuck Michigan.......
If Werner is starting strong side, then the only thing different on this years D will be the faces of the coaches. Rinse, repeat. Really hope browning gets developed and sees the field more than werner........
How the hell has nobody mentioned Kevin Randleman????? Kyle Snyder wares Kevin Randleman underware...... Kevin Randleman and Alonzo Spellman.......
What is the word for joy in others misery?
Kerry Combs told me on last years buckeye cruise for cancer that Okudah would be "the best corner to ever play at OSU"........
Boy, I guess I was wrong about 1 thing. Maybe that is why the staff took my other comment down. You guys know I'm right.
You hit the nail right on the head steve o. If this article was a comment, it would normally get downvoted into oblivian and possible 11w jail. But heck, it is 2019, maybe it is a new year and 11w has heard the people and is moving in a new direction with a new coaching staff, a new QB, and a new year. Cheers.......
Dwayne be gone. Tate be determined. Justin ready to do work. Coach's heads rolling. 2019 is shaping up to be something else.
When I go on road trips, I take Buckeyes in my pocket and plant them in the ground in enemy territory.been doing it for 15 years.......
Literally just saw the tweet. Dang 11w was fast on this one.......
Dinardo sure does have a big nose.
Chase Young made some plays, but I at times question his motor. I see him quit at times. I hope he has a good off season in marrioti's dojo and comes back to have a stellar injury free junior season.
How many tackles does Werner have this year?