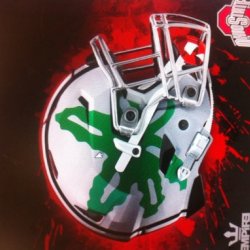 Buckeyechuck5
---
from Marion
MEMBER SINCE September 20, 2015
I am a life long buckeye. Grew up in a small town called Ridgeway just 8 miles south of Kenton. I bleed scarlet and gray. I will not get gas at kroger because the last time I did, the bucks lost to wisconsin in 2003 and snapped out 19 game win streak. I am a fitness nut and I am an amatuer cage fighter. I only took up mma because I wasn't good enough to play college football and I love to compete. I have 4 boys, ages 6,7,8, and 9. I named my youngest A.J. after my favorite buckeye A.J. Hawk.
Favorites
COLLEGE FOOTBALL PLAYER: A.J. Hawk
COLLEGE BASKETBALL PLAYER: Evan Turner
NFL TEAM: Bengals
MLB TEAM: Reds
Recent Activity
Fuck Michigan.......
If Werner is starting strong side, then the only thing different on this years D will be the faces of the coaches. Rinse, repeat. Really hope browning gets developed and sees the field more than werner........
How the hell has nobody mentioned Kevin Randleman????? Kyle Snyder wares Kevin Randleman underware...... Kevin Randleman and Alonzo Spellman.......
What is the word for joy in others misery?
Kerry Combs told me on last years buckeye cruise for cancer that Okudah would be "the best corner to ever play at OSU"........
Boy, I guess I was wrong about 1 thing. Maybe that is why the staff took my other comment down. You guys know I'm right.
You hit the nail right on the head steve o. If this article was a comment, it would normally get downvoted into oblivian and possible 11w jail. But heck, it is 2019, maybe it is a new year and 11w has heard the people and is moving in a new direction with a new coaching staff, a new QB, and a new year. Cheers.......
Dwayne be gone. Tate be determined. Justin ready to do work. Coach's heads rolling. 2019 is shaping up to be something else.
When I go on road trips, I take Buckeyes in my pocket and plant them in the ground in enemy territory.been doing it for 15 years.......
Literally just saw the tweet. Dang 11w was fast on this one.......
Dinardo sure does have a big nose.
Chase Young made some plays, but I at times question his motor. I see him quit at times. I hope he has a good off season in marrioti's dojo and comes back to have a stellar injury free junior season.
How many tackles does Werner have this year?
Kerry Coombs told on last years buckeye cruise for cancer that Okudah will be the best CB ever @OSU. Those were his exact words.
Couple things, Browning did well taking the wheel route away and the Okudah cleaned it up underneath. Johnathan Cooper playing his tail off.
We cannot loose Urban's last game......
I agree 100. I tell my wife this all the time.
Sparty offensive line is down right offensive................
I will not show bias on this topic although I do have an opinion. I am bewildered by the recent demonstrated tactics by former staff to post personal opinion designed to attack specific people on social media that would in turn get down voted into oblivian on this site. Yet wile on here, have their hand in censoring comments that do not align with a chosen agenda. I would say the leadership of this site need to get the house in order much like the OSU coaching staff and possibly allow a little more freedom of opinion on here. That being said, what I just described is why I will not say what I think here. I will say this, it seems Bosa may have some regret and possibly learned a bit of a lesson.
OSU could of lost to Purdue by 3 and still been left out. OSU could of lost by 50 and it is still only 1 loss. Ohio state proved against TTUN that when the chips are down against a hyped opponent, they will deliver. Purdue game was a bigger fluke then Iowa 2017, I think the Buckeyes proved that. This kind of makes it clear that the committee needs to value great wins more than bad losses. No way ND or OKIE goes into happy valley at night and comes out with a win.........no way.
Something clearly needs to change. Kudos to OSU for a great season, but will always send a shiver down my spine that we did not get see what the 1st qb taken in the 2019 draft did not get to sling it against Clemson, Okie, or Bama or ND. I hope the Dwayne train wrecks the Huskies and stairs down the CFP committee.
If Tate stays @OSU and still wins the job over Fields, will Fields transfer again? Not trying to be prophetic, just thinking outloud. If Fields transfers and can play right away, is he automatically the starter? You would think Fields would have to at least beat out Martell.
Way to take my metaphor and run with it. +1
Oklahoma States offense was explosive this year. Their defense could not stop South Central Louisiana State. But they would score on Bobby Bouche.
DJ's take on Urban makes me angry. Not much has changed.