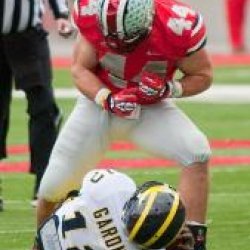 buckeye_chick
---
Member since 29 December 2013 | Blog
Favorites
SPORTS MOMENT: Watching us beat OJ and the Trojans in the 1969 Rose Bowl.
COLLEGE FOOTBALL PLAYER: Archie Griffin
COLLEGE BASKETBALL PLAYER: Jim Jackson
NFL TEAM: Bengals
NHL TEAM: Jackets (I guess...)
NBA TEAM: Uh...
MLB TEAM: Reds
SOCCER TEAM: Crew by default
Recent Activity
I remember Woody Hayes saying that Bear was crooked as a dog's hind leg.
I love the energy and attitude on this team. I think DJ was being generous; I stopped going to games when it began to feel like I made more of an effort to get to the games than the players did playing it.
Exactly what age do you consider old? Just curious; I'm sure you would have liquidated me long ago...
Yep. Big Ten champ versus PAC 12 champ...and we owe them an ass-whoopin'.
Agreed. It wasn't so much that Iowa beat us, it was how badly they beat us. Bama loses the odd game here and there, but Nicky's teams don't get waxed like that. It was a real coffin nail for us.
Is Charlie Weis still getting paid to sit on his behind? I think for a while both ND and Kansas were paying him to stay out of their respective stadiums...
The only reason Miami didn't plummet is because they showed up for their one loss. Unfortunately, we never got out of the locker room for either of ours.
May I recommend a book for your reading list? "Grant" by Ron Chernow (who knows what he's doing, winning the Pulitzer for his bio of Washington and writing the biography of Hamilton that inspired the Broadway show). Grant is yet another favorite son of Ohio who is finally getting treated fairly by history. An interesting guy, whose main problem seemed to be trusting too many people (and having a few too many adult beverages on occasion).
I have made my peace with the alternate unis, but I thought these in particular were just...boring. No style, no inspiration. If they have to, they have to...but for the love of Woody, at least make them interesting!
And leave The Game alone.
And Lloyd Carr was famous for screaming and bitching about every f-ing call.
Just curious...exactly why on earth would the Big want to keep the Skunkweasels down? How does Delaney benefit from that?
My #11 is Anthony Carter. He was at UM for what seemed like 157 years and always seemed to come up with a miraculous catch at exactly the wrong time.
My brother-in-law was the manager of a restaurant in a Flying J in southern Kentucky about 10 years ago. He had a massive stroke at work; had to be airlifted to Vanderbilt medical center, where he had another stroke. Long story short, he was finally getting out of the hospital and his wife went to Walgreens to fill some scripts before he came home. She found out that his insurance had been cancelled. According to Flying J, my relative quit his job that day he had the stroke. (Must have been right before he hit the floor.) We made their house payments for a year until they got disability et.al. lined up. Fuck Jimmy Haslam for eternity. Even the Browns deserve better.
I got OH'ed twice in England last summer! It's always fun.
I remember that was the coldest I've ever been in the Shoe. And I've been going to games for 50 years.
Ed-die! Ed-die!
Plaxico Burress.
Hate. Hate. Hate.
Mister Chick has a high school buddy who went to Purdue and is now a big donor, so he always has primo seats. What I remember most is that right before this play, hubby says to Purdue buddy, "Bet you $50 that Ohio State wins." Purdue buddy says "Hell, yeah!" Next play...Holy Buckeye! Purdue buddy doesn't say a word; just gets out his wallet and pays up (even though Purdue still had a little time and the ball). He just knew that Purdue wasn't gonna do it after that.
Agreed. I had a batshit crazy roommate in college who went nuts for this guy. When he communicated in any form with her—even to say "don't ever call me again"—she took it as encouragement. If you want to take your sister, fine—get two tickets and have a ball. But do not have any contact whatsoever with crazy pants. Trust me—my crazy roommate ended up trying to kill herself one night over this guy.
I got excoriated on Facebook when I opined that perhaps TOSU isn't immune from the dwindling college football attendance figures. Paying top dollar to sit on a plastic bench with 2.5 inches of butt space (after the more zaftig fans have shown up), vile bathrooms, more security than TSA....the fan experience gets just a little bit worse each year. Add the fact that the number of parents willing to allow their kids to get their brains turned to mush gets smaller every year...sometimes I wonder what our beloved sport will look like in 20 years.
Thank you for your service. My dad retired as a captain in the reserves, and he's embarrassed and upset by what's happening, too. One of the young men who died in the most recent collision was well-known to our family. It's one thing for a 20-year-old to give his life in the service of his country; quite another to give his life because chain of command on the bridge failed. The Navy needs to clean up its act now.
I am beginning to wonder if the 2014 NC was in spite of UFM, not because of him.
Too many penalties also = lack of discipline.
And that's on the coaches, too.
There's losing, and then there's getting embarrassed. That was embarrassing. I can take it when we play our best and just get out-slugged at the end of an epic fight. But this...we were really never in it.
I would rather have lost to PSU. At least they were ranked.
Really, really poor discipline. And sorry, gang, but that's on the coaches.
The third ass-kicking in the last 12 months. Mark May is having a field day on Twitter. Looks like our all-star coaching staff is a bust.
I highly recommend this event. Mr. Chick and I went to the first two and have tickets for this one. It's a fun evening with ex-Buckeyes and a few ex-Wolverines. There's some good-natured ribbing, great speakers, and great silent auction items. You will have the opportunity to meet some Buckeye greats, too. And to top it off, it's a most worthy cause. Give it a try!