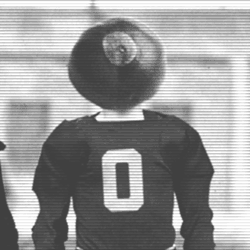 BuckeyeBum
---
Clayton, NC (via Reynoldsburg)
MEMBER SINCE August 24, 2018
Recent Activity
But I want to see this continue!
https://www.freep.com/story/sports/columnists/jeff-seidel/2020/01/03/michigan-football-fight-song-hail-victors/2798420001/
While this was the final play we had plenty of opportunities to put it away and didn't. The loss isn't on Chris. Olave played hard all year and we are lucky to have him. He will use this going forward and continue to amaze. Put it behind and focus on the future. Still a thrilling season and as hard as it is not to see them compete against LSU it is much harder for him and the team with all the work put in this year.

Best game of the bowl season, but not the result anyone of us wanted. Thank you for the great season!

Now back to living next to my Clemson neighbors. Fortunately they are great people, true fans of the game and not fair weather like the Alabama neighbors.
This is absolutely true. Would much rather be at Rutgers than Tennessee.
would change that to they think they are a global powerhouse.
Wish coach much success except against us.
481
as a tiebreaker Ohio State 38 TTUN 24
Love it!
Last year exceeded all expectations and looking forward the Christmas early!
Go Buckeyes!
There may be people omitted from the photo, but missing? No no one is missing. That would imply someone misses him. Not here.
Adios dead weight Desmond.
Absolutely a great story.
TBDBITL is another great tradition and what sets us apart. Agree they need a movie
These posters are always amazing.
Well done again.
lets make turtle soup for Saturday.
Absolutely agree. Doesn't matter where the rankings fall until the selection time comes.
Bourbon and Sax. Sorry had too much bourbon and not enough sax tonight.
The Situational is one of the best parts of 11w. Burning and sax. Two of the best things in life!
Agree.
If the committee would get rid of Chicken Shit Saturday and make all teams play in conference once they start we would get rid of the Alabama vs Citidel at the end of the season. That is really just a week off be fore the final games. If you calculate that into strength of schedule towards day the end of the season then no SEC team should be on the playoffs no matter how strong they are playing because of that weekend off.
Oh and ESPN is a little too invested in the SEC with all of their games. Think the Big 10 is getting penalized for the affiliation with FOX Sports
Nice to see him get the call and make the play.
I am so glad Penn State poked the lion. He stood in and roared when needed.
When will people learnwjat you say can and will be used against you.