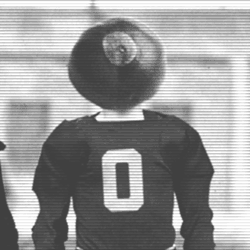 BuckeyeBulldog
---
Fremont Michigan (via Greenville Michigan)
MEMBER SINCE January 09, 2019
Small town Michigan guy who grew up on the right side of the rivalry. Mom bleeds S&G, dad spent a year at UofM before coming to his senses. Ferris State Bulldog alum and hopeful future grad student.
Favorites
SPORTS MOMENT: 2006, #1 v #2
just so happened to be the first football game I remember being excited for and watching growing up and cemented myself as a buckeye fan.
NFL TEAM: Bears
NHL TEAM: Blackhawks
NBA TEAM: Cavs
MLB TEAM: Indians
Recent Activity
#monstermakesyouakyleredbullmakesyouakerry
I have always respected Coach D. He has definitely done great things at MSU but for how much I have trashed Michigan for paying Harbs so much I can't not make fun of this as well, unless this is an early "thank you for everything" in his last year. That much money would go a long way in a much needed overhaul of their coaching staff.
9 points on 3 redzone trips won't win championships. Guess we better hope we can score 50 every game next year since our defense is gonna suck ass /s
Tried watching, just can't do it fam. I just keep realizing I'm still salty as hell and every missed call is just making my blood pressure rise. I know we beat both of these teams 9/10 times. Enjoy the rest of the game guys and Go Bucks.
Par for the course honestly. Daece's whole shtick is to constantly peddle blind optimism driven by his false analytics and then immediately wallow in self loathing defeatism after the last game in November. I though their 2018 loss would have given him some sense but he still swore up and down they would win this year too despite OSU owning them on paper and on the field all season.
I remember seeing something about that during the season at some point. Any kind of brain surgery is a big deal, hope he has a quick recovery and can have a normal life. No idea how it will affect his playing career but I would imagine taking shots to the head would complicate it even more. After seeing how Urban had worse issues just a few years after his was operated on I'm not sure I would risk it if I was in his position.
To good not to share, no idea if any of them listened to Rush much but it is a clever tribute.
Absolutely devastated, he absolutely one of the best there ever was behind the kit and a monster lyricist as well. A shy soul but always knew exactly what to write for their songs. To say that Rush was the single most influential band in my musical journey is a huge understatement, digging into them in my highschool years and into college opened me up to a huge world of progressive rock that I wouldn't have discovered otherwise.
Hard agree that their administration is happier to be 9-3 and still play the Harvard of the midwest squeaky clean program card, so long as guys like Bacon can embellish that in a way that keeps their fans satisfied they will keep chugging along as they are. Everyone else sees through it though and I will be here to laugh if/when their fans boil over and it blows up in their face.
Im feeling in a good mood tonight so I'll give a reasonable take. I honestly don't see them being any better next year, Dax Hill will be by far their best player, but one player doesn't make a defense, especially when Don Brown consistently puts his secondary in bad situations. Offensively I am not sure what to think, OL loses a lot and WR will be not as good. Most of their fans I've interacted with seem to think Milton is the best option at QB. I am sure he will end up getting a lot of time since I don't see McCaffrey holding up, but I can't imagine Milton being some kind of hidden gem either with the way their QB development has been going. Another year where they beat the teams they should and lose to anyone with similar or better talent. I am honestly very interested to see how long they tolerate the 3-4 loss seasons, I feel like the school itself loves where they are at but the fans will not keep accepting it. They are taking a big gamble that their 2021 qb McCarthy is the real deal, if Harbaugh doesn't deliver with him he probably won't ever unless we totally fall off.
Sorry you cant meet your new position coach Cam, he's got a Superbowl to win. Sounds like a hell of a pitch to me.
Remember 8 days ago when we all thought we had a shot at Nattys in FB and BB... those were good times.
Well, we saw one bad call last year bring us the PI challenge rule in the NFL, for better or worse at least they took action when they saw how much critical missed calls change the complexion of important games. I don't know what they could have done differently to ensure that calls like the fumble dont get made again but I do like the talk of multiple tiers of targeting where ejection is removed from incidental contact.
Biggest take away from bowl season, not a single damn ref crew knows what they are doing. Too much power is given if people with questionable rules knowledge are a major factor in deciding these games.
Herbert being thought of as a 1st round pick at any point is baffling to me. I have never seen it with him.
"Any freelance vigilante fans in here that could take out a couple of their starters and maybe a coach or two, asking for a friend." -Some poster on MGo circa 2018
Wilson has always been able to call some elite running games. Even a couple of his Indiana teams carved us up pretty good.
Love it, keep giving Herman our rejects and make him wonder why he will never match our success. Day just needs to go out and find an ace recruiter and we will keep rolling.
Michigan fans epitomize football cuckery because the one or two times a year OSU loses a game is the only joy they can get because of the ass tier sports in this entire god forsaken state. Congrats you still suck and lost 8 straight. Fun fact OSU will likely finish the season with more wins than U of M and the Lions combined. As for the little guys, I am happy when they win but don't go out of my way to cheer for them.
Same, usually losses are much more profanity laced but after that pass I just hung my head and eventually the waterworks started a bit. I have never wanted a win more short of 2016 against michigan.
I have loved Teague at points this season, but the dropoff today was pretty clear. Need some explosiveness there for sure.
Thanks for a classy response. Have to admit at this point getting the Clemson monkey off our back is probably the single biggest thing I want to see going forward. Heartbroken it ended the way it did but that was a classic game.
I am dejected but in the end OSU had a number of plays that could have iced the game but they let it come down to a final drive. I am proud as hell of the season they had, the heroics just dried up a bit too soon. Go Bucks!