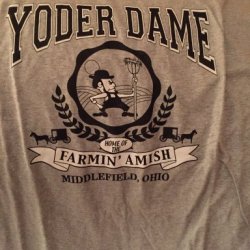 Buckeyebull64
---
MEMBER SINCE November 18, 2014
Recent Activity
Probably already mapped out a battle plan
Question about Navy, long term. They have an outside shot at winning the AAC and being the group of five highest ranked team, clinching the automatic bid to the Cotton Bowl. But they are also one of two teams that plays after the final ranking come out, against Army. What happens if you have Navy lose to Army, is there anything that can be done for the Broncos or Mountaineers that would probably one or two slots behind and would jump them any other week?
It probably because every kickoff is risky for the buckeyes, because Blake doesn't quite seem to have the leg to put it through the endzone. So if you cause the potential blockers on one side of the field to hesitate a bit, it lets your coverage team get a step and it's that much easier to bottle up the returner. Might make a huge difference against penn st or michigan, even if we can measure exactly how big
Verrrrrrry innnnnnnnnnteresting.....
It could be confirmation bias, or it could be insight guided by experience. We'll wait and see what track they take going forward, won't we?
and it seems to me they brought Rex Ryan (nfl personality) in specifically to say those very stupid things, because who that regularly covers college football could get away with such a dumb comment this year of all years? It goes to the idea that irritating buckeye fans is part of their business plan.
Why is it ESPN doing the talking? Because he was put in front of their cameras, broadcast of their channel, and they put their logo at the bottom. So yeah, whatever he said had ESPNs endorsement.
and anything from Dinich or anyone else saying now, on 11/11, that Alabama is out rings very hollow when for the past four months this exact scenario was brought up hundreds of times as what could get two SEC teams in. I'm sure they'll be back on that message soon, as soon as Oregon or Utah or Oklahoma shows weakness
USC, maybe. But the Penn St situation has no peer, can't compare it to anything
The statehouse could just pass a law saying the NCAA doesn't have the authority to suspend Ohio players. Worked for California.

Im exaggerating, but the NCAA is going to learn pretty quickly that it's not the biggest bully with an interest in college sports any more
In fairness, do WE have a tackle on our roster that can block Young?
That's objectively not true. By any media standards I'd say he's an OSU homer. I can't say I support him, but I do listen to his podcast because if there's information out there that will affect the Buckeyes, I don't want to be blindsided with it. I don't agree with a lot of what he says or has done, but he is not looking to destroy Ohio State. If he wants to destroy anyone, it's Tom Herman
If it was or wasn't, I'm telling the d line that it was in about 7 days
I imagine this makes usc more attractive to him, but makes him less attractive to usc
Not impossible. Indiana is good and smells blood
Boise took their place, apparently
I'd watch bearcats vs badgers.
Honestly, I just hope the committee punishes Florida for two fcs opponents
Right! See, you have a clue!
Their last game of the century was 9-6. More like the game of two centuries ago
My uncle really wanted him over Tressel. Still does; he never liked Tressel that much and is still convinced OSU picked the wrong guy. I think that's crazy, but I also can't seem to overtake him in our family's ESPN pickem group, so maybe he knows more than I give him credit for
May as well. It's not like Free Shoes University has a sterling reputation anyway
it did seem pretty obvious that they weren't trending up, but a year and a half...I don't like this trend