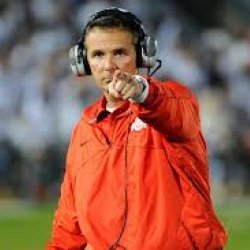 buckeyeboy31
from Newcomerstown, OH--The home of Woody Hayes
MEMBER SINCE March 27, 2012
Favorites
SPORTS MOMENT: 2002 National Championship
NFL TEAM: Cleveland Browns
NHL TEAM: CBJ
NBA TEAM: Cleveland Cavs
MLB TEAM: Detroit Tigers
Recent Activity
No you were clear, I'm just a moron *bosa shrug*
Quit breaking the law asshole.gif
Pussies barely put any jack daniels in their drinks also...
I asked Landis on Twitter yesterday what they're gonna do, and he said either hold at 12 or sign a transfer who has to sit for a year...
Me? No, to be honest I knew I'd always get it, it's a hereditary thing in my family. My eye doctor keeps a close eye on it. I get checked at my annual eye appointment and then 6 months later. The minute medicinal gets going I'll be burning one on the reg haha
Yeah I got the glaucoma and my old man had it....he smoked up for his but I'm on drops. I think this isbyear 3 and my pressure is where it needs to be with one drop at night. They had me meet with a specialist about the laser deal but they said in 10-15 years the pressure could go back up so I told them to keep their lasers to themselves
Ogbah has had 2 years of Myles Garrett opposite him and hasn't been able to produce and has been hurt and missed multiple games each of the past 2 years. He wasn't getting extended so trade him for someone Dorsey knows and can be quality depth. Sign a vet SS like Bery or Boston and extend Randall already, sheesh
I'll recommend Lewis Barbecue as well, it's the tits. Do the walking tour with the Middleton sisters. 167 Raw for oysters if you like that. Poogan's Porch was a good spot for food. Did the Yorktown tour, that blew me away. It's a fun and very neat city, just don't get the stomach bug I had, that sucked
I think he said that to Diane Parkinson...
When you pay you pay for the best
I've taken dumps more entertaining than those clowns
They got the sledgehammer
Well bye.gif
bye felicia.jpg
They hosted Ben Roderick from Olentangy Liberty tonight. He is a 6'5 SF in the 2019 class....
So according to my spreadsheet, I have us currently at 86 scholarship players. As noted above, I believe the roster has a few errors, with Malik Harrison showing as a Junior instead of a Senior, and Jaylen Harris showing as a true junior instead of a RS Sophomore. Also, I am not sure if Roen McCullough is on scholarship, but I included him in the 86. Also, the 86 includes Keandre Jones, but I imagine he'll be officially announced as leaving soon. I included Doug Nestor on the 86 as well, so I imagine some things will still shake out before it is all said and done. As for players graduating/leaving early after 2019, I have 20 players leaving, though this includes Jones as a Senior, so it will likely be 19. I included Dobbins & Young as early entries, but as well all know there are players that will be eligible to leave that may or may not (Munford, Okudah, Wade, Browning)
How about you get out of my head? I just logged in to ask these questions haha
edit: And also, is Roen McCullough on scholarship?
I'm gonna McCall my sources to see if there's been an update on this
All of these are great, really giving me a Pepe in my step
I'm Herron things are not well on that front...
Isn't snowmageddon happening this weekend? Not laughing at you but that is likely not gonna happen haha
Big fan of day drinking...
I would not mind getting an LT but a couple things with that: A: good LTs sent just laying around waiting on a call. Nate Solder got a shit ton of $$$ for average play. 2: The Browns was OL was the best in protecting and getting Baker hit the least after Kitchens was hired. Greg Robinson has all the tools physically and athletically to be that franchise LT. Let him grow and continue to learn in kitchens' system and I think you can roll with him and continue to develop Des Harrison.