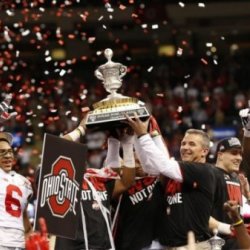 buckeyebowhunter
---
Zanesville, OH (via Zanesville, OH)
Member since 28 January 2014 | Blog
Favorites
NFL TEAM: Cleveland Browns
NHL TEAM: Columbus Blue Jackets
NBA TEAM: Cleveland Cavaliers
Recent Activity
Columbus Explorers. Tie in our heritage of Christopher Columbus, The Wright Brothers, John Glenn etc.
I wish they'd give Danny Davis out of Springfield another look. 6-3 190 in state kid. Better than taking a flyer on this kid in my opinion since I've read he has route running difficulties and has off the field issues as well.
Ohio State Colorado Stanford Arizona Tennessee
Is it televised this year?
I want them to add Notre Dame and Army. Two nationally followed Brands. Simply add ND to the West and Army to the East. Keeps the Big Ten contiguous as well. Adding ND to the West with Nebraska, Iowa and Wisconsin does make it more competitively balanced as well.
My prediction, although I don't know where we will find the spots. Donovan Peoples-Jones, Trevon Grimes, Jaylen Harris, Micah Clark, Darnell Ewell, Santino Marchiol, Lamont Wade, Jeffrey Odukah, and Amir Riep. That would be 19 total with the 10 commits we have thus far. We only lose 6 seniors and most likely McMillan will declare early.
If it were up to me, I'd go in a different direction. I would try to go after Notre Dame one last time to bolster the West and I would offer Army a spot in the East. Both Army and ND are located in contiguous states, both have a national following and both are independents so they don't have to pay any exit fee. Sounds perfect to me and let's cap this conference expansion thing at 16 and move on.
If we do get an offensive coordinator give me Mike Yurcich from Oklahoma State. Ohio boy, young and led the Cowboys to just shy of 6000 yards this season.
Nope Ohio. Maysville High School is actually in the city of South Zanesville
96-99 Maysville High School. 6-0 190 LB
1. Ohio State 2. Stanford 3. Tennessee 4. Texas 5. Northwestern
I think the big 10 will go for Kansas and Notre Dame. Both Oklahoma Schools will go SEC. Texas, Texas Tech, Baylor,and TCU to the PAC. West Virginia and Cincinnati to ACC. Iowa State and Kansas State will be scrambling.
I disagree. Brees wasn't a first round pick, neither was Tom Brady, Tony Romo, Russell Wilson, Andy Dalton, or Colin Kaepernick. All of them would have been upgrades over the past.
And maybe four according to ESPN (I know, I know) They would have to throw in a 1st and 3rd next year to get it done.
Are you kidding me. This is a ridiculous move. The Browns have needs all over the board. The need to take Garrett Grayson in the 2nd Round and hopefully solidify the QB spot with that. You can then give Johnny M. another year to see if he matures and have Grayson ready in case he doesn't. You then have two young QB's to work with. They need a DT, WR, TE, and RT right now. There are just too many holes in this roster now to think drafting a QB will solve all the problems.
kareem walker
Dp
Chris Barclay from Marshall should be on the short list as well. Young energetic coach. Marshall was 2nd in the country in yards per rush last year.
I think Thad deserves a lot of credit for what he has been able to do here, but he probably deserves to be held a little accountable for the development of this years seniors. They didn't develop much as players or in the weight room. I will give Thad a pass on this since he obviously deserves one, but I think he needs to right the ship next year. It'll be interesting to see what the starting lineup will look like next year after losing these seniors and likely Russell. I predict:
1- Kameron Williams, A.J. Harris
2- Jaesean Tate, Austin Grandstaff
3- Jaquan Lyle (I think we get him), Keita Bates-Diop
4- Marc Loving, Mickey Mitchell
5- Daniel Giddens, Trevor Thompson, Dave Bell
I think the staff probably knew about Dodson before the official announcement was made, or at least had some insight. In my opinion 2 was and is the magic number. I think they will take two more defensive lineman if they can get them from your list above. They may add just one more. I don't see them stretching on any prospects. I believe they are at 65 returners, which means they are counting on losing 5-6 through attrition already, can't see that number going any higher. 26 is possible, but I believe it'll be 25.
Honestly, Braxton is still the guy I think. He has had a longer track record. I see Barrett getting meaningful snaps and then taking over the following year, provided Braxton doesn't suffer another injury. Cardale is likely a career backup, but a damn good one. I think the fact that Barrett and Jones both have had success is a sign of how well the coaches are doing and how easy the scheme is to pick up. It is QB friendly. I definitely could see some situation where we have both Barrett and Braxton on the field together. It will be hell for them to defend us next year.
Archie. Harvey. Pace. George