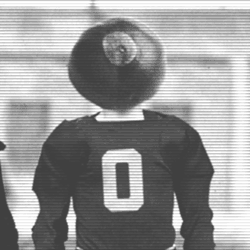 BuckeyeBoiler
---
from Oxford, OH
MEMBER SINCE February 01, 2015
Favorites
SPORTS MOMENT: 1994 State Track Meet in the 'Shoe.
COLLEGE FOOTBALL PLAYER: Keith Byars
NFL TEAM: Bengals
NHL TEAM: Blue Jackets
NBA TEAM: Cavaliers
MLB TEAM: Reds
SOCCER TEAM: Crew
Recent Activity
That would be the most 2020 thing ever.
As bad as 2020 has sucked, it would be amazing if on September 16, 2020, we got Buckeye football back AND 2 BOOMS from future 1st rounders in Wade & Davis! Best day ever?
I can deal with this...not happy but I can deal. What about the band? There's just something about TBDBITL and the ramp entrance on game day.
With no bye weeks, this is my concern. Could be playing with the third team against Penn St and there's no way to reschedule.
Best of luck to you young man. It is so strange, given how strong a proponent his father was for a return to play. I think his dad is on this board sometimes...would love to hear his thoughts!
I am used to going through this grieving process in January, not September. This sucks. Good luck at the next level, Wyatt, you will be missed.
Really? Business. Engineering. Agriculture. Medicine. Education (we have that in Ohio). Chemistry. Physics. The list goes on. OSU > Clemson.
No meeting "today"...so tomorrow then! Yes!
If true, the testing thing sounds like stealing from the rich to give to the rich. Obviously I love the BIG (at least 1 team!), but what about the MAC and other conferences that canceled for the same reason. Will they be given millions of tests, too?
I want college football and think it is probably safe. But what you pasted there is NOT what the CDC data say. It is a really bad interpretation of the data...meaning it is misleading. Yeah, I know this will get down voted to oblivion.
I watched the Indy 500 with no fans and couldn't tell a difference.
Let's say the first 3 weeks of fall season go off without a hitch.
Well, this already isn't going to happen: https://www.espn.com/college-football/story/_/id/29745842/nc-state-opener-virginia-tech-rescheduled-due-positive-tests
I like your thinking and wish you were right, but if the first premise fails, I don't see the rest going according to plan.
Thanks for sharing. I thought I was the only one!
So you saw the bench press combine results for Arizona state's punter?
I'll be that guy. Need to update table to Indiana instead of Northwestern. Great write up, though - thanks!
I think it is because we tend to associate people like Kobe with being invincible. Their deaths force us to recognize our own frailty and mortality.
Can anyone help me out here (sorry if this was posted elsewhere, but I didn't see it)? Is the reason that Martinez postponed his decision to Feb. because of the expectation that Stroud would commit today and a limit on scholarships? Or are those totally unrelated? Thanks.
Also, had a nice article on him an DJ Hill on 11W earlier this week. I'm too stupid to link to it.
And this is why you are a MOD! Good stuff!
David - i always love the Debriefing. Did you do one for the TTUN game...I didn't see it and missed it. Great work on this one!
Huh? Wisconsin is going to the Rose Bowl if they win...or lose.
Congrats Kevin - thanks for sharing the news!
456