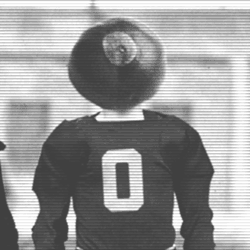 Buckeyebobby1968
---
MEMBER SINCE January 09, 2018
Recent Activity
I'm concerned about taking yet another 3 star recruit. In order to be elite like Clemson or Alabama you need highly ranked players it's just that simple.
Probably because he played at a small school that's usually a reason for the low ranking
Well we do need scout team players
I really don't understand the infatuation from some fans that the Buckeyes should sign 5 or 4 stars only and 3 stars should relegated to smaller or inferior programs. It's a fact that there's plenty of 3 star recruits that had an outstanding college and pro career, probably more so than a 5 star.
There's plenty of reasons why a kids ranking is lower smaller school, didn't attend summer camps or are late bloomers. What matters is can the coaching staff develop these kids? Melton was a huge Michigan target, so it's not like he had plenty of offers to MAC schools.
Ohio State has the perfect blend of 5, 4, and 3 stars. Ryan Day has done an outstanding job at recruiting as I thought recruiting would take a slip after Meyer retired
What I see is a team that will struggle early on. Too many question marks on either side of the ball and most of the coaching staff is new. I see either 9 or 10 wins and no trip to the Big Ten championship. That's ok with me because I would love to see Michigan get clobbered by either by Alabama or Clemson
Quiet two years? Chalk that up to Bill Davis's lousy coaching.
It boils down to how well does Day do this season. If he wins and wins big, then the high ranked recruits will start taking notice. But every Buckeyes fan knew that recruiting would take a drop after Urban left.
Day is an unproven head coach and pretty has a new coaching staff. Don't expect a flurry of five star guys coming here. Rakim Jarrett has committed to LSU and Sherman is trending towards Georgia. Remember Clemson went through the same thing when they hired a relative unknown in Dabo Swinney and the rest is history. If Day turns out to be the next elite coach, the talent will come. I see recruiting taking a small step back, but there's nothing to panic about
He'll either get cut or make the practice squad.
Gettleman without a doubt has to go down as one the worst GMs in pro sports. Drafting Jones at 6 was shocking because of the mixed feelings from several NFL scouts and executives about his abilities.
Clemson is currently the best program in the country. The other advantage is their coaching staff has been stable unlike other top programs. This is what attracts the top talent. Ohio State on the other hand has an unproven head coach and a mostly new coaching staff.
This is the price you pay for having a stud quarterback. Both Georgia and Clemson had to deal with the same problem. I remember last year when Lawrence went down with an injury and Clemson fans gasped. You can't fault Day for taking Fields as any coach would jump at the chance. The reality is Baldwin was a late replacement when Jones flipped to Florida. Personally I think Baldwin felt he didn't stand a chance of ever seeing the field as he had to wait until his senior season to start. Now I'm jealous that Michigan has the luxury of carrying three pretty good quarterbacks in Patterson, McCaffrey, and Milton.
Not every day does a 5 star quarterback drop into your lap. Fields was never going to ride the bench. After spring practice maybe Day and Yurich saw something in the film room and they didn't like it. Like i said where there's smoke, there's a fire.
That makes no sense, then why did he take part in the quarterback competition?
Where there's smoke, there's a fire. I think Day told Baldwin that he was going to be the backup and Baldwin didn't like it. After all, it was Day that recruited him. What I really think is he felt Day lied to him. Welcome to the new era of college football
For the people saying that Ohio State should go after the elite linemen, well that's all fine and dandy, unfortunately there's so many starting spots to go around. This kid is definitely a project. He has the size but he needs to polish his game. However, I think Studs is an awful coach and not up to the task of developing players. Day keeping him might end up biting him in the ass. Personally, I see this kid as a scout team player and he'll never see the field.
Every team needs scout players and he'll fill that role perfectly
Even though I've had issues with BSpn, I really don't know why some have their panties in a wad. I get some of the reasons why Ohio State would be ranked lower because of the quarterback situtation and having a new head coach. It's a computer spitting out a bunch of numbers. Can't wait for the upcoming season.
Not everyday does a highly ranked 5 star recruit land in your lap. I read the thread and there's some criticism about immediately naming Fields the starter before the spring game takes place. Both Fields and Baldwin will get their chance, but let's be real, Fields wasn't brought here to sit on the bench. He has more experience than Baldwin and he'll have plenty of time to learn the offense.
I think Jones has the biggest potential out of all of the linemen. Despite being a 3 star, he got a lot of offers from big time programs, because of his height and weight. He's probably raw, but with the right coach, his ceiling will be very high.
He built a relationship with Urban, not with Day. I can understand that, but he did check the school prior and knew that Ohio State is located in a very large city and the campus is huge. So I do have a hard time understanding that he's using that as a reason to go to Va Tech. But those are the realities that programs deal with when recruiting young kids.
Fun fact - when you graduate college, you're expected to go to work when it's cold
He must have really screwed up because we never heard a peep about him after the Rutgers game. I guess it doesn't matter what he did, but I coaching staff is cleaning house big time. So that frees up another spot in the recruiting class that's what? Three extra spots now?