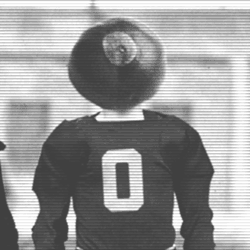 Buckeyebobby1968
---
MEMBER SINCE January 09, 2018
Recent Activity
Unfortunately they don't have the bats to get them deep into the playoffs.
Michigan has too much to replace this year. They've always had issues with depth and Milton is a high risk/high reward quarterback. Even most Michigan fans realize that 5 wins would be a great season.
Josh Proctor because there's only him and Hooker. He's shown flashes, but he needs to take it to the next level. Petit-Friere on the offensive line, because he needs to protect Fields. It's pretty obvious to all of the players that there's no margin for error and the Buckeyes need to run the table to get a spot for the playoffs.
I would give the slight nod to Penn State because most of the offense is returning, however it will be interesting to see how well the players take to the new offensive scheme. The same can be said about Wisconsin as both Taylor and Cephus are gone. I wouldn't count out Michigan because we've seen what Warriner can do with a new line and if Milton can progress, however I think it might be too tall of a task in a shorten season
With or without Parsons, teams playing at home won't have the advantage. But I still think Penn State will be our toughest opponent.
I kind of feel for the kid. He was a quarterback that Urban loved to have. Then he retires suddenly and Day comes in and Martell is hardly his type of quarterback to run his offense and the final nail in the coffin is Fields arriving. He goes to Miami and it turns into a soap opera. Ohio State, Miami and what's next for him? Time is running out for him. He'll be a SI story twenty years from now
Their season basically rides on whether Milton can deliver. He's a high risk/high reward type of quarterback. If he struggles I can see 4 losses and if he excels, I can see him making the Buckeyes sweat eventhough I think they'll beat them by double digits
I can see why some Michigan are salty at their crossover match ups vs Ohio State and some have gone out and say that the Big Ten specifically did it make Ohio State's path the playoffs that easier. It's certainly not easy for the Buckeyes as they have to win out in order to get into the playoffs.
Browns defense couldn't stop a runny nose. What I thought was so Cleveland was even though there were only 6,000 fans in the stadium fights broke out and the some got the boot for not wearing masks.
Of course most will opted back in to increase their draft stock.
When I watch Milton I see a lot of Cardale - big, sneaky fast, and a cannon for an arm. Cardale won a championship, however he struggled when he was the starter and eventually lost his job to JT. I stil find the McCaffrey opt out a little fishy. Something isn't quite right as Harbaugh has routinely preached meritocracy. Anyhow, Milton checks all of the boxes for physical tools, but can he operate an offense? Can he make the quick reads against an elite defense like Ohio State? Yeah he threw a bomb into double coverage and Collins snagged the ball, but he also threw an interception and White almost scored. That's what you'll get with Milton this season high risk, high reward. But as Buckeye fan we've seen the annual Michigan hype train leave the station proclaiming the latest quarterback savior. Even some Michigan fans are cautious of praising this latest edition as they've seen the end result too many times
Morgan, Clifford, and Coan and after that it starts to get a little cloudy. Penix has a lot of upside, but can he stay healthy because the Hoosier's line isn't the best. Milton will have same the problem at Michigan as he'll have a new line trying to protect him. Milton has a lot of upside but he's also shown that he needs a lot of work going forward.
Perhaps, but I always felt Milton was more of a project and had to have the right coach to develop him. So far Harbaugh hasn't shown that. With McNamara rising and McCarthy coming in next year was enough for McCaffrey to think that time was running for him. I've always thought McCaffrey was hyped due to his family name and there wasn't enough film for me to give a decision whether he had the "it" factor.
It's really simple. Ohio State is a national championship caliber program and Michigan is not. If I'm Collins, why would I risk injury. There's no guarantee that Milton is going to the quarterback that takes Michigan to the next level, not with an inexperienced line going into this season. When Patterson transferred I knew the writing was on the wall for him or Milton. I'm surprised that he fell that far in the depth chart. But then again I think he was hyped because of his family name. It was really hard to gauge anything about him because he played mostly in garbage time. You have to wonder if the Harbaugh is ever going to deliver the goods for Michigan, because this another quarterback that he failed to develop.
It's obvious that some schools are still sitting on the fence. All I know is we're running out of time if they don't come to a decision. I would love to have at least 8 schools say yes and for the others to sit it out and wait next year. Unfortunately, that will go over like a fart in church.......
Same circus, different clowns.
Georgia Tech did everything to give that game away and Florida State still couldn't win.
I was at the game against Cal when he hit their quarterback into next week. The entire stadium roared when that happened. When it played he brought it like no other.
I remember that game and thought to myself "Man, he could be a game changer" Sadly, he was never really utilized in the offense, because he could have taken it to another level just with his sheer athleticism alone.
Comment removed for violating the site's commenting policy.
Makes sense. There was a lot of attrition on the team and LSU is most likely not repeating as champions. Why risk getting injured?
Depressing. I hope that the Big Ten reconsiders in a couple weeks.
But college football doesn't have the money to place all of those players and staff inside a bubble for an extended period of time.
It would be pretty expensive and a huge headache for student athletes to learn and practice inside a bubble. I hope that the Big Ten will take a deep breath and step back and reconsider having a fall season.