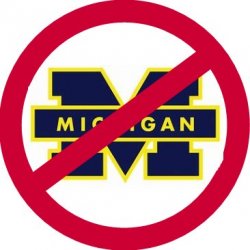 Buckeye_bob
---
MEMBER SINCE December 13, 2013
Recent Activity
2plays 2 Barron Browning mistakes
Maybe the stripes on the sides are a bit much? They are ok!
And Grinch's Defense has given up 120 points in 3 games. LOL Good hire whiny ass Lincoln Riley!
"Washington's brutal treatment of Dwayne Haskins."
Did you ever think that there may be more to this story than just benching Haskins for no reason? Were talking about the guy who was signing autographs for fans while he was supposed to be taking a knee to finish a game. I think there is an unseen factor for what has happened. I have always doubted his leadership and ability to make plays when under pressure. To post he was done dirty, have you ever ran an NFL franchise or any franchise for that matter? The guy is a talented thrower when all goes perfect but I question his movement and decision making when the blocking breaks down. Purdue blitzed the pants off him and he quit in that game. So let's wait until we see what happened before we start our scarlet glasses homer whining.
Dwayne looks indecisive, if he has to move his feet one inch he throws off target, he also looks like defenses baffle him! I question him as a leader always have!
I don't think the guy has ever had to work for a thing or appreciates what it takes to WIN! Case in point was his first win as a pro when it came time to take a knee and close the game out he was clowning around on the sidelines signing autographs and the backup QB had to close the game out!! I'll bet Burrow wouldn't let a backup Qb close out his game!!!
Haskins will never be a serious starter, he is destined to be a backup, Not at all athletic, not durable, will not take hits. Not a leader! I like to see Buckeyes flourish as much as anyone Haskins was a good college passer. He is not a QB!
Fleck by far is the best young coach on the market with his energy and recruiting. 2nd isn't even close. I say Fleck lands a huge job after this year.
PAY HIM! He could be a God at Ohio State after this year and name his price and be here and have a stable life and household for his young family. The NFL is a graveyard of wanna be College to the NFL coaches. Do you go to Arizona and run a great offense then hire a Defensive Coordinator who has coached at 40 places before you hired him. To me staying in college is a no-brainer especially when you are at a top 5 program and being successful. The NFL has no promises only dreams, IMHO right now the NFL is a Joke!
I totally do not trust Browning to play any where he has to read or use his head to make plays. Browning is space is a recipe fro disaster
Burrow was a leader from the time he stepped on the LSU campus, he built on it in 2018 and proved he would fight for his guys!! Haskins is a system guy who will last maybe 5-7 years in the NFL mostly moving from team to team and being a backup! Burrow if not injured and if he is surrounded by talent will win titles!
I watched Joe play several times in High School, his team mates love him because he includes them in everything and he is a leader, Haskins is not any type of leader. Burrow will give everything he has to win, Haskins don't like being hit! Joe will smoke a LB or try to get a 1st down. Haskins will slide on 3rd and 5 after a 4 yd run! Just watch folks !!
Haskins was not ready to go to the NFL and his lack of athletic ability is obvious, he throws well if no pressure and he doesn't have to move in the pocket. I would call him fragile as far as his body type. He does not like contact and anticipates getting hit. He lacks leadership skills and that was obvious in the Purdue game in 2018 where he basically quit on the team. He is a want to be Lebron type, evidence was the time he was screwing around with his posse and the backup QB had to go out and close the game out. He isn't as big a clown as Cardale but the same wanna be big star attitude.
BUST? maybe I don't think that he is a serious starter on a contender ever! Prob lifetime back up!
If Joe Burrow stays Ohio state wins the Natty last year, because he would have been the leader of that team and they would have ran through a wall for him!! Because he is a leader, haskins is a slinger and not a QB
Baron Browning is starting? Where OLB?
Polls and playoffs will both take care of themselves, just win football games. You guys act like little girls! OMG we can't brag that were ranked above someone else!
Baron Browning? lol after his last game I hope he isn't wearing Tar and Feathers
Yep, no other teams have any good players.
"Draft rankings before players play the season before the year they are drafted are worth very little other than to be conversation starters."
Ok, then if Wade don't play how is he rated arguably any place?
You contradicted your own statement.
Who said Wade is the best CB in college football? Right now he is the 4th DB taken and predicted between 14-28. I think he could drop to very late 1st round or 2nd round by not playing. He is not a Nick Bosa type talent, was the 3rd best db on last years team. NFL teams and scouts want to see kids play!
I cannot believe that Bucknuts reported something untrue, lol.
If the season is cancelled why would they hold the playoff, source for thinking this?
Certain members of The Big Ten Staff are trying to make a political statement just before the election in a way to try and sway the election and it is a shame that they use the lives of these young men to do this! Almost criminal
Political Narrative, it's a shame we can't keep big time college sports out of the election. Sad Day for every OSU Football fan!