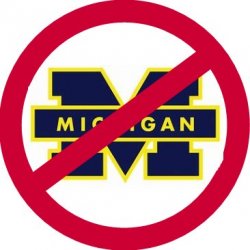 Buckeye_bob
---
MEMBER SINCE December 13, 2013
Recent Activity
The Kentucky Game was the best team basketball this team played all year!
You have baron Browning starting at MLB, hahaha
Kind of a selfish post, freaking people are dying. If you think that this pandemic is going to last past this spring, football will be the least of our worries! No way if this does not clear up will there be any sports at all. Lives are more important!
Carton left the team became a team again!
Who cares if you score 100 points? Just Win Baby
A lot of it was because regime change, that is common, almost every team loses a player or 2 every year Kentucky lost 3 last year to transfer, as did almost every school in the Big Ten.
You guys realize that there are over 700 players in the Transfer Portal right now?
Justice Sueing isn't bad either
Your on drugs! Carton prob wouldn't get drafted if he dud it's only on athletic ability! The kid is a horrible basketball player. Gaffney is a stick with bird legs who couldn't guard a dead man.
Blue chip recruits are on paper, we lost 4 horribly overrated recruits in 2016, Mitchell, Grindstaff, Harris and Giddens. None should have been a 4 star recruit.
2018 Lyle was dismissed from the team, Funderburk got in trouble Holtman asked him to leave.
2020 These 2 kids had baggage and were troubled mentally in one way or another, both were horribly overrated and neither should have been a 5 Star recruit at any point. Where is the trend?
Calipari is a joke as a coach! He lies to every kid who plays for him then forces them to leave. Kentucky has lost far more kids to transfer than Ohio State since 2016.
Looks to me like the problem left mid season, Carton!
Carton was waaaaaayyyyyyy overrated, kid had no game at all, no shot, no fundamentals, averaged 3to's a game playing 20mins. Had no idea how to make an entry pass, the kid was a product of talented athlete playing in a very untalented league in HS and being an AAU player! I was called out for doubting him before the season started, Iowabuckeyes ?
Exactly how many have fallen apart? Makes no sense at all
Please explain, how many kids left Ohio State via Basketball after playing one season in the last 4 yrs?
A lot of talented kids have no guts, if you gave no guts you are not talented!
Exactly how many guys have transferred out in the last 4 years? What are you talking about?
Please explain WTF you are talking about? Holtman lost 2 kids to transfer? What trend? The last kids that left was in 2016? Those transfers turned out to be nothing, prob done OSU a favor. This is a clueless post. IMHO every kid that has transferred was way overrated including Carton!!
Much like the Loveday kid Gaffney's biggest problem is daddy! Daddy thinks he was one and done and his talents were wasted, he is going to pursue a professional career? Playing Basketball?
Do not agree!! So you are saying we can't replace Andre or Danny Hummer? This team played better after Carton left!
Guards should be lights out especially after the way they played at years end, Liddell 6' 7" will be a 12 point a game guy! Those two 6'7" transfer guys scored over 12 points a game for the season in pretty good leagues. This team could be a matchup problem. Sueing is an Ahrens type shooter who is incredibly athletic! Towns was Ivy league player of the year and he was huge against the athleticism of Kentucky. This team will be deep and score a lot!
CBB is still a guards game!! We need depth at the 1 and 2 starting the season with 3 guards is going to be very challenging
20-21Roster:
1.PG- Walker
2.Combo- Washington
3. SG- Muhammad
4.SF-SG- Ahrens
5. SF- Jallow
6. SF- Towns
7.SF-Sueing
8.PF- Liddell
9.PF-C Kyle Young
10. C-Diallo
11.PF- Key
12. CG-Brown lll
13: Wesson or another transfer Big Man?

Gaffeny was a nightmare on defense! I mean he was not a post defender and he couldn't defend the 3 or 4? Needs to get a lot stronger!