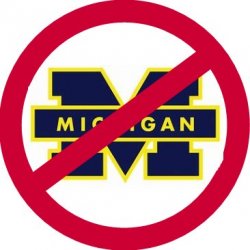 Buckeye_bob
---
MEMBER SINCE December 13, 2013
Recent Activity
Is there an echo in here?
35-0 sorry I just enjoy writing it hahaha
I would say he has blisters on his ass
They have very few on the current team that would get much PT for us!
Campus wide suicide watch tonight
Average talent! Average Coaching! Average team!
Holtman is also hosting Zach Loveday at the Miami Ohio Game, official visit.
He is too light to play in the league, word is the scouts have told him he for sure needs to add weight.
Just a really dumb post, I'm sure that Coach H knows what he is doing. From every kid he has recruited we see nothing but quality kids. So Debbie please go find something to do .
Good Move Tom Allen, now your Qb will be ready to play games you can win!!
That's not an over look game like Iowa and Purdue were.
One golf swing started the decline, when Thad hurt his back it was over! He hung in there like a champ, but let's be serious the guy couldn't stand to ride in a car for more than 15 min without extreme pain. He could no longer recruit like he did. There is a reason all those schools refused to hire him last year, his health. I wish him the best, great era at Ohio State. Winningest coach says it all! Thanks Thad!
Why at a University of this size and past history put a subpar product on the court? This group can sellout every game, I would love to see them remove the stupid tarps between the lower area and the 2nd section! You have to spend money to make money! Holtman is the real deal and in realistic scenario's, Duke, Kentucky, and North Carolina could be looking for a bright young coach in the very near future! Holtman is IMHO the hottest property in the business. We need to pay the man to keep him.
I read your ramblings and expert analysis, lol. I also have played coached and watched high level football for many years, you sound like one of those Saturday evening, Buffalo Wild Wings experts. Please post something that makes at least a little sense, but your posts are entertaining!
What medication are you on?
So many more options with the QB under center, Day knows what he is doing.
Stover will be a redshirt casualty, he needs to add some upper body strength to protect him. Kid is a player but one year he might be a super player
That's right! If you are from Florida you automatically can run faster!! Their fat linemen from Florida can outrun any RB or WR from Ohio.
Ohio State has to win every game 75-0, like James Franklin did, play your starters the whole game. Don't get others experience and reps. The coaches need to worry about pleasing the fans and media. That's right, if someone allows the other team to score a TD or get a1st down kick his ass off the team!! GO BUCKS!!