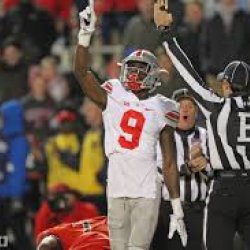 BuckeyeBlitz22
Centerville (via Centerville)
MEMBER SINCE August 03, 2017
I have been watching Ohio State football closely for the past couple years and it is one of my favorite things.
Favorites
SPORTS MOMENT: "Ohio State is shocking the world right now."
COLLEGE FOOTBALL PLAYER: Devin Smith, Marshon Lattimore
COLLEGE BASKETBALL PLAYER: David Lighty
NFL TEAM: Go Bengals...
NHL TEAM: Haha
NBA TEAM: Cleveland Cavaliers
MLB TEAM: Cincinnati Reds
SOCCER TEAM: Columbus Crew
Recent Activity
Nick completely quit and left the team.. lol .
Does Bosa get a ring if we win
Think he wore that number as a kid?
For starters, so excited for the Basket Bucks to be back! Defense was pretty good for the most part. Some sloppy plays slipped through but that's basketball. Luther was awesome and Kyle Young while he disappeared at times, is an awesome role player! CJ could have played better and i am a fan of what Woods brings to the team. Additionally, the Wesson brothers are awesome and will be key to winning a lot of basketball games. I think if this team keeps a chip on their shoulder, a run will be made.
I am a little nervous about UM, they are playing some good football.
Isn't this the same problem we had when Cardale started in the regular season? Abysmal red zone efficiency so we put in JT and it would work. I feel like Tate could be a great weapon in the redzone
It's one thing to sit out the rest of the season because of injury, but to leave school and completely ditch the team is just selfish. Hope Chase and Cooper play their hearts out to show they don't need him anyways.
Why not run Dre'mont Jones' ass right up the middle on 4 and 1? First down every time.
No, wins count more when they're against Louisiana and Arkansas State
I think the main key to winning this game is keeping our defense off the field. If Dobbins and Weber can keep pounding first downs and taking ticks off the clock, we will be just fine.
Better than him getting hurt IN November. Praying for a swift recovery.
O-line HAS to be cohesive if we want to win this game. No low drops and no false starts will be key. Defense should hopefully get it done, but their TE's scare me a little.
But will the playoff committee consider this a better win than Alabama's win over Arkansas State? /s
CJ SAUNDERS IS A DOG AND MADE HUGE PLAYS LAST YEAR. IF HE STARTED OVER VICTOR HE'D BE A STAR.
I agree, I personally wasn't a fan of the starting 3 last year until Borland came in and Harrison did some rounds which helped production a bit.
I'm not worried about the linebackers at all, in fact, I think they'll be one of the best units on the defense. Browning is legit and Borland when he comes back is going to be a force. The room is completely loaded with 4-5 star talent with a great defensive coaching staff behind them.
Just looked them up, they look pretty cool. I wonder what jerseys they do this year though.
Went to my High school, what a guy
It also said Class of 2020. Lots of growing can happen