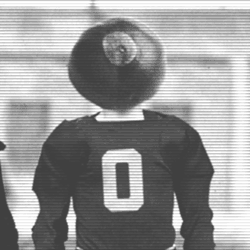 BuckeyeBLaub
Columbus, Ohio (via Oak Harbor, Ohio)
MEMBER SINCE February 03, 2015
Art Director at Emery Creative, Owner and Creative Director of WeMakeGreat, and Designer / Developer of Bethel Atlanta
Favorites
NFL TEAM: Browns
NBA TEAM: Cavs
Recent Activity
Welp it's official ... I'm never going to understand the thought process of a kid. Hope nothing but the best for him.
Starting to love coach Holtmann more and more everyday. Congrats Basketbucks!
Didn't even say he meant it "with all due respect".
I logged in to specifically thank everyone in this thread ... Thank you.
Nobody puts Tathan in a corner ...
It would be an absolute pleasure to watch Murray shit the bed in the playoffs ... and Haskins shine.
Yeah ... not as worried about this class as I am the 2020 class, as that was shaping up to be a great one. I think the just need to get with all the commits and map out ther future plans with them, and future plans with the program. Uncertainty in a program breeds uncertainty in a commitment.
He already has a better winning percentage than Meyer ... what could go wrong?
Thought about this ... but I think he said "I plan on coaching." To me that leaves a little door of uncertainty in any capacity. Always best to not speak in absolutes.
Wouldn't it be funny if this was the ultimate troll job ... reporters breaking stuff before the real news comes out. Then Urban comes out for the presser saying "You can't believe everything you hear!". Wishful thinking?
Family has had season tickets for 40+ years ... My father has some strong ties to the University / Urban. He has been telling me that Urban is stepping down after this year, and even called me last night to tell me. I told him that there was no way, and that he would probably be gone after NEXT year. Egg on my face ... Wish it wasn't true, but it has been a hell of a ride.
CFP Committee screwed him out of one last title run ... Thanks for everything, Coach. It would be wonderful if he could actually speak his mind now without worrying about repercussions.
My hope is that Kyler wins the Heisman ... then looks terrible in the semi playing an actual defense. Just saying.
It's not the loss to LSU that kept them out ... it was the kids to bama ... they were ranked 4th, and if the won yesterday would be in the playoffs somehow.
Go to the Rose ... enjoy the trip, and take a knee every down. Does that sound salty?
Didn't last year, and refuse to this year.
But you can tell them to forget a 22 point loss... get out of here with that trash. Look at the wins, and they still put Georgia over us. They were sucking Michigan's balls and talking about how amazing they are, yet we blew them out ... that right there shows me they don't know where the hell the teams should be ranked. This cfp committee is trash, and I hope all of you don't watch this garbage.
All I'm saying is they both show up the same in the record books.
Insert Terrell Owens "that's my quarterback" .gif