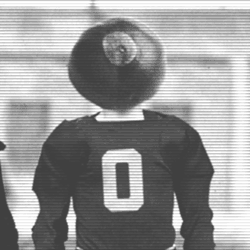 BuckeyeBLaub
Columbus, Ohio (via Oak Harbor, Ohio)
MEMBER SINCE February 03, 2015
Art Director at Emery Creative, Owner and Creative Director of WeMakeGreat, and Designer / Developer of Bethel Atlanta
Favorites
NFL TEAM: Browns
NBA TEAM: Cavs
Recent Activity
We should be selling this to recruits ASAP.
bUt tHEy aRe iN tHe sEc ...
Still nothing on running backs, huh?
Thought Jarren Williams might win it ...
Hopefully it isn't Jarren Williams.
Just here for the comments ...
Yelling "Go Bucks!" to everyone wearing Michigan attire might be considered annoying .... but I'm OK with that. My wife ... not so much.
Been saying this for years ... I actually might be in the minority, but I wish these would die, along with their chrome helmet and chunky stripe alternates. But hey ... I'm only a designer ... what do I know.
Dude went from 5 star to unknown in one post... no better way to become irrelevant than to go to a big 12 school. Oh well ... best of luck to him. NEXT!
Actually wanted Robinson over Milton ... think he had more speed and better stats. Second to that ... Milton's Dad seems like he would be a nightmare. He was the first person to put on a Georgia hat (as it was his moment). Bullet dodged.
I understand Georgia a little more ... but like I said the LSU rise is perplexing to me.
How does UGA and more importantly LSU keep making the cut for all of these top prospects despite not wining a thing?
Welp it's official ... I'm never going to understand the thought process of a kid. Hope nothing but the best for him.
Starting to love coach Holtmann more and more everyday. Congrats Basketbucks!
Didn't even say he meant it "with all due respect".
I logged in to specifically thank everyone in this thread ... Thank you.
Nobody puts Tathan in a corner ...