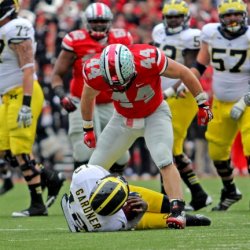 Buckeyebison
---
from Reynoldsburg, OH
MEMBER SINCE February 12, 2017
Favorites
SPORTS MOMENT: Winning my first wrestling match at age of 10.
COLLEGE FOOTBALL PLAYER: Chris Spielman
COLLEGE BASKETBALL PLAYER: Katie Smith
NFL TEAM: Browns and Bengals
NBA TEAM: Cavs
SOCCER TEAM: Ohio State
Recent Activity
It was Ed Warriner who supposedly to be the one who sabotaged his nfl entry.
He would've been higher rated recruit if not for his injuries. We were lucky to land him. He was a big time player.
Exactly, by the definition, they were the tOSU grads and are therefore traitors. Mattison and Washington aren't the grads of TSUN. So, it's a meh for them to come in. We'll see how the professional Mattison really is this fall.
I am surprised that they haven't moved the match to the Schott as it was over 15,000 in attendance the last time they wrestled PSU at home...
Also, his whole family is heavy Buckeye fans. For this reason, he actually turned down the TSUN coach offer. He wants to be the Buckeye coach someday. As for this tweet, he is just doing the job of getting the recruits for UK. He is very good recruiter that I can tell you.
Kaleb Romero belongs to 174 more. 165 is costing him the strength and stamina. I can see the difference with him in these weights. He may have to move up and fight with Ethan Smith and Te'Shan Campbell or stay put and try his luck next year at 174 with Rocky Jordan, Ethan Smith, and possible incoming freshman Carson Kharchla. Tough situation for Kaleb now. Or Kaleb has to take up heavy cardio work to improve stamina while keeping the weight to 165.
Is he still getting the spot at Buckeye Grove or only FIRST team All-American gets the spot?
Agreed! I wanted the conference champions only in CFP. ND should be against Clemson in ACC championship as they are part of ACC!
Had it been conference champions only, tOSU should have been in and won national championship last year.
It helps to have a coach who took out two Iowa Def players out at same time.
Good show, Corso! However, I'm sticking with my Buckeye head!
Go Bucks!
It certainly helps when Michael's quarterback is future HOF Drew Brees. New Orleans Saints must be giddy over their genius draft pick. Saints has to make sure that both players are signed with them forever.
Or Joe made a better choice and got the staff off hook
Big change in LB is noticeable after Luke Fickell left. Luke should be teaching Davis a thing or two within LB.
Ahh. It all started with adultery. Dumb move by Zach. Never cheat on your spouse because it always ends badly. Zach should have known better. It cost his marriage and a job. NEVER CHEAT - just go for separation, annulment, or divorce. Hell hath no fury like a woman scorned.
Now, if it can be proven that it was all Courtney then it is done and Urban should be reinstated. Leave Courtney alone. She has enough on her plate.
How about college wrestling match? National outdoor college wrestling match attendance record is 45,000 between Iowa and Oklahoma State.
Ohio State vs either Iowa or Penn State with TSUN as a possibe could break that record. With right weather conditions, the record can be done!
We wouldn't made to NC anyway despite that Hamby drop because we lost to Penn State at the same season.
I would have handed him a beer and said so "you dropped the ball, we still have 2002 and 2015 NC anyway."
From Google search, Alexsa Dietrich is a Buckeye transfer from U. of Alabama. She was on the Alabama spirit squad as a freshman. Her mother, Sandi, is the Ohio State alumni and is originally from Columbus as well. Her brother is on USF baseball team that reached 2018 NCAA tournament.
She is on 8th chemotherapy so far and will have four more to go. Tough road. Hopefully, she gets out without any relapse for rest of her life.
I would bet that the charges would be reduced to misdemeanor along with apology; probation; community service; and AA meeting. I hope he learnt from this real hard lesson and will not do that again.
I guess he tried to beat the Coach Tressel's wisdom words "Nothing comes good after 10 pm"
Anyway, from what I see from this video, it seem that he is too wasted to realize that the policeman's arm is still inside when he tried to close the door.
I laugh at the image of his large body stumbling around terrifying the people. I have seen that far too many times. Often, we had to drag out the large bodies out. It was a sweaty work for sure.
He was indeed fasting that day. Despite the high temperature (100+ field temperature!) that day, he blew out the Oklahoma nearly all by himself.
Greatest TE ever I have seen and I haven't seen one greater or equalvent since then.
At least, he's right on one thing- Harbaugh will run scared from Nebraska.
Kyle Snyder is first wrestler in history to win 3 world championships while in college.
Kyle Snyder is the youngest American to win the world championship at age of 19.
Kyle Snyder is the youngest American to win Olympic gold at age of 20.
Kyle Snyder may be the first wrestler and possibly the only one in the history of centuries to win 4 world championships during the college. He has to win one more next year.
Congratulations to Kyle for his incredible win against the Russian Tank who lost only one in his senior international career (to Kyle!).
Congrats to him! I wanted to know about Nick Heflin. I don't see him competing. Is he injured?
I remember that book. Hilarious. Cletus and Brutus crack me up in that book.