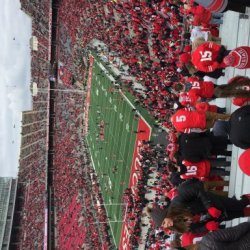 BuckeyeBen7.7
---
MEMBER SINCE January 28, 2017
Graduate of a small town school, and currently attending the greatest University in the world!
Favorites
SPORTS MOMENT: The comeback against PSU in 2017. Had really good seats and was the craziest sports moment ever.

Rushing the field after beating Michigan wasn't too bad either ¯\_(ツ)_/¯
COLLEGE FOOTBALL PLAYER: I could list a hundred, so it's hard to choose
COLLEGE BASKETBALL PLAYER: Jon Deibler
NFL TEAM: Cincinnati Bengals
MLB TEAM: Cincinnati Reds
Recent Activity
I don't want to think of a world where Larry Johnson doesn't coach for the Buckeyes...
I likely missed something, but why is Lorenzo Styles a former target?
In 2014, the Rose Bowl kicked off before the we did against Alabama
If he is truly sitting out because of a THUMB, then he doesn't care about this team
I'm not saying more articles on woman's basketball wouldn't be nice, but 11W is gonna report on the sports people most want to read. That's why a vast majority of articles are football, and men's basketball is easily the second most popular. Woman's basketball is probably 4th or 5th at best, also being behind wrestling and hockey.
They probably will give more value to beating Georgia than they will to beating Wisconsin. But because of the last two weeks, I think we're far enough ahead that unless LSU blows the brakes off of Georgia and we really struggle, like go to over time struggle, I think that it won't be enough for LSU to make up the ground.
I was wondering this too. My guess is because with all the TTUN articles and Morgan St. not being very good (iirc), it might have just gotten passed over.
Who else did Villanova lose to?
As a current student, we're not exactly sad to see him go....
So far, this committee has seemed more reasonable than the ones in years past. I wouldn't be surprised to see them drop LSU to #2, although I'm guessing they'll stay at #1
Indiana might have lost, but they proved themselves to me yesterday. I think they're more deserving to be ranked than they were before. Shouldn't have dropped in my opinion.
Penn St. still has everything ahead of them if they win out- conference title and playoff aspirations. It would be different if they were already out of it or were still undefeated, but they're not. They'll be focused.
Now I could very easily see them beating TTUN....
Andre's offensive game isn't flashy, but it's not bad and it improved last year. Holtmann said earlier that AW was also the team's best three point shooter in the preseason. You definitely put him back in when he's healthy, no doubt.
And because of that, a 3:30 game would be 100x better than noon.
Wednesday can't get here soon enough!!!
It's still football season, and I'm super excited about that, but man I can't wait for next Wednesday. I think this team has the potential to be special, and they'll be exciting and fun to watch.
I agree with most of your points Bsk33, however, I just want to nitpick one thing that a lot of people say.
Not really concerned about the 6'7" or 6'8" size being that he has a 7 foot plus wingspan. You don't block shots and rebound with your head.
While there is some truth to this, a 6'10" guy with a 7 foot wingspan will be able to better rebound and block shots than a 6'7" guy with a 7' wingspan. This is because the 6'10" guy's shoulders will be 2" above the 6'7" guy's shoulders, giving the 6'10" a higher reach. While wingspan is very very important, it can not be substituted entirely for height.
Seems like a quality player and a quality man. Wouldn't be surprised to see his ranking rise as he plays more after his injury.
Breaking news: despite the key board coaches saying the opposite and calling for players to be benched, it appears that the linebackers we had last year really were the best players, and that the group as a whole was just really poorly coached.
A top 5 team going on the road at night and losing to a 15-25 team is very very believable, and typically happens at least one a year, if not more. Add in the fact that we will have a first year head coach, with a brand new quarterback, a mostly new offensive line and a defense that may still be jelling together/getting comfortable in the new scheme, and that's a recipe for a tough game.
I don't see hardly anyone on this site saying we are going to lose. Most of us are just aware that that could be one of our hardest games this year, and a close game or even potential loss should not be surprising.
Prince was a gem but Denzel Ward wasn't even listed...
I know a lot of people just want to say, "Oh it's Michigan, we're still gonna best them, who cares." But if Harbaugh truly lets Gattis have control into the season, this will objectively make them much better.
The East has been much stronger of late, but the West is getting better. The thing about realignment is how are you going to do it? The geographic layout of the conference means East-West makes sense. North-South would be hard and mean a lot of travel because teams like Maryland, Indiana, and Nebraska would all be in the south. Leaders-Legends was dumb and shouldn't be recreated. There's no good way to realign.
Whether eight conference games or nine conference games, Fitzgerald believes all FBS conferences should be playing the same number of conference games in order to maintain shared data points across college football.
Fitz is right on here. Everyone should be the same. And until everyone else goes to 9, or the committee starts respecting the fact that we play 1 more conference game and 1 less scrub, it's just hurting us.