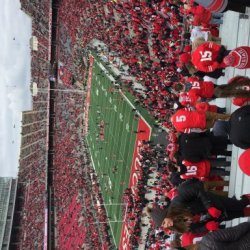 BuckeyeBen7.7
---
MEMBER SINCE January 28, 2017
Graduate of a small town school, and currently attending the greatest University in the world!
Favorites
SPORTS MOMENT: The comeback against PSU in 2017. Had really good seats and was the craziest sports moment ever.

Rushing the field after beating Michigan wasn't too bad either ¯\_(ツ)_/¯
COLLEGE FOOTBALL PLAYER: I could list a hundred, so it's hard to choose
COLLEGE BASKETBALL PLAYER: Jon Deibler
NFL TEAM: Cincinnati Bengals
MLB TEAM: Cincinnati Reds
Recent Activity
#ItWasJustAMatterOfTimeButStillBOOOOOOOOM!!!
I doubt he ever has them consistently on our level, but in the past he had some good success at Rutgers and it looks like he's got about as good of a start as possible. They won't be a laughing stock for long.
Let's be honest: these lists don't mean jack shit, and they're all crap. Minnesota is a borderline top 10 team for some, and unranked in others. How can that even be true? These lists are useless
Who knows. Maybe there was someone they expected to leave that no longer is. Shaun Wade might be an example of that. Or it's possible that CJ Shroud took Phillips spot. Once they found out Phillips likely wasn't staying, they knew they could take Shroud
Seems like a lot of it is numbers on our side. It's not necessarily that he doesn't want to visit, it's that we don't have a scholarship for him so what's the point?
I don't think that he'll doubt that - when he was the coach there, he took advantage of the opportunity. If they (the committee and polls) won't punish you for it, might as well do it. I don't blame him. Also doesn't mean he's wrong to point out the inconsistencies. He's just acknowledging that the SEC and ACC have a huge advantage by doing this.
I mean, I've seen players with lower projections declare before (cough cough Karan Higdon). Then again, you told us just the other day that you drop hints in Skull Sessions because you know more than you're letting on....
Probs not in this case though hahaha
The only returning captain for the football team is Jonathon Cooper.
I mean I know Tuf Borland had a much better year, but I'm pretty sure he's coming back for his senior year ;)
Damn it I love Coach Holtmann
A failure to meet program standards and expectations
Well considering Andre has been one of our best three point shooters this year, that makes no sense
I still believe that we are the best team in the country d you can bet I will hold onto this piece of information for as long as I can
Was in Block O North for Barrett's PSU game. It all happened right in front of us. Probably my favorite memory in the Shoe
We're better than Clemson, no doubt in my mind. LSU-Bucks would be a great game, but with our secondary, I like our odds there too. It's a damn shame we didn't get to prove it
It likely was addressed in practice, which is why he was benched as soon as he did it in the game.
The issue isn't how they're playing, it's the effort they're giving. Muhammad hasn't been great, but he's giving effort. Same with Carton. Effort is why Washington was benched.
We need Washington to return to his old form, but I fully support Holtmann sending a message. Can't play till he gets it right
I wouldn't have ranked them at the moment, but I guess, yay?
That 2011 team was the best team in the country. Had to have everything go against them in the UK game to lose. And I still think that we win if Diebler takes that last shot, even if he was 5 feet behind Buford
If we're being honest, there's not many teams in the country that could produce an all decade team. That starting five is dangerous!
I'm not saying he's the focal point. What I am saying is we are struggling to find offense, and Andre has shown an ability to score more consistently than anyone on the team outside of Kaleb, so getting him some more opportunities can only help.
No offense, but I hope you're wrong. Losing one is bad enough, losing both puts us in a real bad spot. The starting line up would likely be Walker, Carton, Wesson, Young, and Wesson. But then your only other scholarship guard left is Ahrens. Assuming you always want at least two guards on the floor, that's 80 minutes of game time for three guys, which is a lot. If they get in foul trouble, that's even worse. Would probably have to move Andre to the 2 spot.
He's not transferring because he got benched once.

And he's not held to a higher standard. Holtmann expects everyone to play defense, he always has. Washington fell short in that area, while the others weren't.