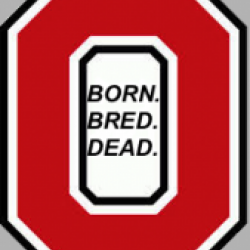 BuckeyeBBD
---
from Wauseon OH
Member since 05 February 2014 | Blog
Favorites
SPORTS MOMENT: 2011 OSU - Wisconsin game. It was my freshman year, I was sitting in C deck between the towers on the north side of the Shoe. Braxton scrambled and threw an incredible 40 yard touchdown pass with 20 seconds left in the game to give the Buckeyes a 4 point lead. I stormed down to the field and managed to get to the endzone in time to sing Carmen. In an otherwise disappointing season, it was an incredible moment.



COLLEGE FOOTBALL PLAYER: Braxton Miller
NFL TEAM: The Brownies
NHL TEAM: CBJ
NBA TEAM: Cavs
MLB TEAM: Cleveland #Windians
SOCCER TEAM: What's soccer? Crew I guess? That's a team, right?
Recent Activity
Best of luck to him if this is true... Heading to OU to play for his Dad?
I expect that Urban is going to try to open up the passing game against Clemson. I don't see us winning without it. There's absolutely nothing wrong with speculation. I just meant that I trust Urban to do what is necessary to win the Fiesta Bowl.
That's part of the reason I'm already looking forward to next year. Of course we could see some change in WR play in the playoffs, but Urban has said that he want to be more of a passing team and with another year with these young receivers plus Grimes and Lindsey, there's to much talent not to be better.
I was at the game the day this photo was taken (2012). At the time I was still bitter and it felt inappropriate and too soon. Since then, this picture has really grown on me. Now when I see this picture it reminds me of the coach I grew up watching in a moment of glory and reflection on the impact he made on Ohio State. It is still a bittersweet image for me, but now far more sweet than bitter.
With Urban at the helm, I'm not to worried
Has there been any news on Tufele? I know cleveland.com reported that OSU was his leader back in May, but he only has 2 CB predictions (the most recent is from February of last year). I've looked, but I haven't seen anything else.
Deez tu utes
I went to high school with Elliott. He was a couple years ahead of me. His girlfriend's sister was in my class, her father was my barber. I'll never forget waking up that Christmas morning... I tear up just thinking about it. Wauseon is a close knit town of 7,000. That night changed the community.
Feel bad for him, but I'm sure he'll land on his feet. He has some other good offers.
Great write up as always, Remy. I can't wait to see Devin Smith and Michael B on Sundays!
I will always upvote Tommy Boy
After speaking to one of the business partners that just bought Mama's (and took control Jan. 1st), they've known since last summer and Campus Partners is supposed to be working with them so that they will have a space in the new buildings. Unlike the South Campus Gateway, Campus Partners is supposed to be working hand-in-hand with private businesses on the mixed use portions of the development.
This team has been frustrating to watch, but I really feel like they are on the upswing. It seems like most of the mistakes are coachable, I have faith in Thad.
I love seeing those gray stripes on the sleeves, but I've never been a fan of the scarlet in the stripes. To me it always looks faded and almost pink. Idk, maybe it's just my eyes.
I have a Professor that jumps every year! He was so excited about it yesterday in lecture.
Couldn't agree more. Although I've never understood why some people (media included) seem to try and make every big conference game out to be a rivalry. We can have big games without them being rivalries.
I take everything from TMZ with a LARGE grain of salt, but this doesn't seem impossible...