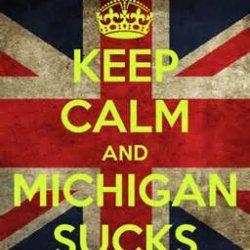 Buckeyebarnes
---
Fox Point, Wisconsin (via Columbus, Ohio)
MEMBER SINCE December 27, 2011
Favorites
SPORTS MOMENT: The entire 2014 Post-season
COLLEGE FOOTBALL PLAYER: Eze channeling Eddie
NFL TEAM: Packers
NHL TEAM: None
NBA TEAM: None
MLB TEAM: Reds
SOCCER TEAM: Team USA
Recent Activity
I've got 5 for the family. Let's go JT!
Urban is a very fair coach and what incredible team players Cardale and JT are (Brax too!).
Agreeing with the disagreement
I'd love to give you ten up votes for laying that one down strong!
Serious! If we don't, these sweet unis will never be seen again and well all think differently of Black Saturday. Win and win big and bad!!!
The stickers almost ruin the sweetness of the dark night
So if they haven't shed their stripes yet, is the black still on during games? Assuming they have to shed it to play, right? So there likely are 10-15 on the sideline with black stripes, right?
Um, yes, we want Corley too!
I'd up vote this 10x if I could. Lets make the SEC play at noon.
This is for the issue coming out next May?? Like 10 months from now? I would have thought ESPN was a little quicker than this.
Someone needs to get his name. If nothing else but to name a new blog that details every loss experienced by TTUN.
I'd say his pitch was about twice as fast as Eze's even though it would have taken ones head off.
yup. Likely semantics. He's likely got more scarlet and gray in his closet than I do which could be due to the fact that his closet is likely bigger than my house. But again, semantics.
I guess if it helps recruits who would otherwise have to pay to get in front of Meyer, I'm all for it.
We're gonna need one of these per week!
Anyone know what a typical official visit entails? Might be a good subject for Birm to tackle sometime...though he likely already has, right?
During tat gate, a friend of mine from Alabama told me, "Of course Alabama pays our players but our boosters also send money to Indy." I guess our checks finally started showing up too!
Can't wait to see Bell's first pick six this season? How long will we have to wait?
I agree MN. Let's just play Scarlet vs Gray for a few games and pay our players instead! Ha!
So he would be going down, but he'd need a full hit from Tyvis and at least two 300 lb linemen, and the moon would need to be full.
Now if we can just close with one more important buyer, we'll be set!
Stay D'Angelo, Stay!!! Would be another epic OSU year!
No need to even apologize for the shirt. Its his home state school and he grew up wanting to play there. But he chose us and we're grateful! He will show his Buckeye skills on the field. That's all that matters!
They need to rename these weekly awards "Russell Player of the Week" awards and only announce a winner if it is someone other than D'Angelo! Assume its his if not!