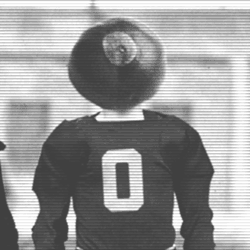 BuckeyeatTSUN
---
MEMBER SINCE November 27, 2014
Recent Activity
Borland is hot garbage ... but slower.
I hate night games. I understand the allure but it makes for a very late night if you plan on attending.
This class is out of control.
Please explain these tricks.
Borland is bad. I know, I know, he's a captain and coaches know best... it doesn't take a guru to see Borland waddling behind runners and filling the wrong gaps.
To say Borland is bad is probably a bit of an overstatement...a bit.
If OSU wins out they are 1000% in.
I agree that Fields looked rattled. He was not bad by any means but he looked flustered. The pass protection wasn't great early on either. It seemed as though Day just wanted to get out of there with a win. Can't say I blame him.
I agree, the MSU run defense is legit. Which begs the question, why did we focus on the run game? I know we had some success running the ball but why play into MSUs strength? The passing game seemed out of sorts.
If any man is insulted by someone calling him Mr., he needs to get off his high horse. I highly doubt Coach Day would get insulted FWIW.
I like that, "take your foot off after The Carmen." That has certainly been the case thus far, Day isn't going to waste a snap.
This is the first year in a long time that I'm not concerned about MSU at all. It is a huge recruiting weekend and Mr. Day will hang 70 on Dino if he can.
LBJ has done some great things for Ohio and Akron but he has become downright insufferable.
Chase will have 2.5 sacks this week, mark it down.
Sounds like a great young man. With that attitude, he will do great things once he's done playing football.
I think Day May hang around longer than you think. There are very few , VERY FEW, more desirable coaching jobs in all of sports. Day may have NFL ambitions but it sure does seem like he enjoys developing players (which is obviously more prevalent in the college game). I could see Day staying for a very long time.
She claims that Clemson's win over Texas A&M is the fourth best win of the season. TAM is ass. Both Cincy and Nebraska would beat TAM, Arkansas should have.
Chase is obviously a beast and does some things better than the Bosas but I think the Bosas both played through the whistle better than Chase does. Chase gets off the ball quickly and is in the backfield immediately. However, if he doesn't get to the QB immediately he tends to stand up rather than pursue through the whistle. He Bosas seemed to go 110% until the play was over.
The answer, when ESPN takes a majority share of the B1G Network.
I noticed that too. Not many kids would internalize something like that. Impressive.
Agreed, this team is so much fun to watch. I also agree with what Herbie said last night, this is the most complete team since 2006.
Rain —> Dobbins goes for 207; No rain —> Dobbins goes for 183
I love all these opposing coaches getting their heads right before the weekly beat downs.
Harbaugh will not be coaching at UM next year. He is miserable and it shows in his interviews. I don't think he ever wanted to leave the NFL and he is going to jump ship after OSU reorganizes his anatomy in his own house.
Agree that's clemson has to win out. Disagree that they have to win impressively. They could win the rest of their games by one point and they will get in. There is NO WAY an undefeated reigning champ gets left out (even with a MAC strength of schedule).