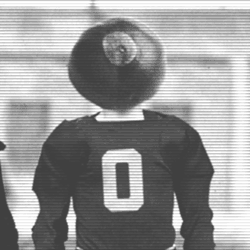 buckeye92
---
Member since 26 October 2012 | Blog
Favorites
COLLEGE FOOTBALL PLAYER: Archie Griffin
SOCCER TEAM: Manchester United
Recent Activity
Respect for BIg10 and therefore national rankings in 2018?
Urban ball is Tressel ball. Offense philosophy is play not to lose in big games.
Hopefully, it wil change next year
Ultimately, it has to be on Urban. He makes the final decision on offesnse philosophy. Its discouraging to watch the a team with all this talent play not to lose. It would be much more enjoyable to watch a less talented team offense play to win.
So are the offensive play callling due to the last 3 offensive coordinators or is it Urban? I guess we will find out next year.
It sure seems like the offense plays not to lose rather than play to win.
Well, unfortunately I was correct
Good luck to Emory Jones. I
I'd prefer to see a QB who commits and then leads his class. See Tate Martel for these traits.
Good point. I'd be curious if Berry has a favorite position.
What about R. Berry? Wasn't he playing DE a year ago?
Andrew, Would they consider moving R. Berry back to Defense?
They also have the option to move R. Berry back to DE, correct? That guy is very athletic and seems like he can play anywhere.
It amazes me that his son would undermine his own dad's recruiting. It's up to his dad to announce he is retiring when the time comes. To tweet that and undermine your own dad is ridiculous.
I would also be shocked if LJ was not up front with his players and recruits when the time comes to retire.
I was thinking the same thing. Any good DE that comes in has an excellent chance of early playing time. Look at how LJ rotates players in and out.

Maybe Cox is rethinking Alabama now?
THe game and the comments will be ugly tonight
My comment was not meant to be a knock on Carman. He's a great player and assume he is a fine young man until proven otherwise. I'm just suspect he may be someone who enjoys doing something different. Leaving the state and going to Clemson may be something that intrigues him. After all the social media issues and his outward lack of enthusian towards OSU, I just think he is headed out of state.
Again, that's not a knock on him as a player or person.
I am always baffled how the opposing TE does so well against OSU time and time again.
Its also disapointing to see an opposing QB play the game of his life again OSU like the IU game.
I just don't believe Jackson Carman ends up at OSU. Time will tell
I imagine most Buckeye games there are people yelling at their TV warning the defense to watch the TE...lol
Hopefully we can see a good result this week.
I wil never understand the whole "committed". It really just means you are reserving a spot. If Emory Jones doesn't know by now they should just move on. Go all in on someone who wants to be at OSU. Emory Jones needs to show some respect to OSU and let them know if he is really committed or not.
Enough games. Time to be a leader.

2018 looks very good from a roster standpoint. Be interesting to see who may be the "surprises" who leaves early for the NFL.
His body language showed no interest in being there. It will be interesting to see if he transfers.
One year they could have both TTUN and OSU wear throwback uniforms to honor one of the previous played games. Pick a classic game on its 25th or 50th anniversary. Might be interesting.
Now that was funny. Had me laughing.