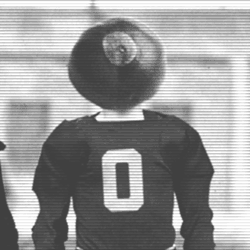 buckeye92
---
Member since 26 October 2012 | Blog
Favorites
COLLEGE FOOTBALL PLAYER: Archie Griffin
SOCCER TEAM: Manchester United
Recent Activity
How much did Wilson use the TE at Indiana?
I wonder if there is a chance he moves to TE as he develops and increases size.
Quarterbacks transfer all the time. Just look at Alabama, ichigan, Texas AM. I would be surprised if the qb room doesn't see a transfer in the future
Would love to know the inside story on how the numbers could possibly work out.
I'm surprised Nebraska just doesn't seem to draw big name classes anymore.
I agree. The only thing I would add is seeing Haskins and Tate in the lineup would tempt me as a WR.
If a recruit flipped at signing day without giving the coaches advanced notice...well, thats crap. You should have the respect for any coaches that you have developed relationships with and notify them in advance so they can move on as well.
The above is just a general statement.
If penn st wins, I suspect they will make top 4 for cfp
With all the discussions on possible recruits, I really curious who are the active players now who will graduate or declare early for the NFL? Any thoughts on who may declare early and leave for the NFL?
Who would hire Beck? or would Urban really fire him?

Or you could follow the lead of SEC teams like Alabama and schedule Chattanooga....
I understand you arguement but it really comes down to how you view the conference championship game. Is it just a great end of year match up or is it the beginning of "the playoffs" which then leads to the "final four"
I forget, what was Hil's injury?

When do the actually do the walk? How long before game time?

Any updates on how the visits went this weekend?
Good points but I would still call ttun the favorite. They have just flat out played better so far this year.
Excellent analysis. Thanks for the great info.
If they pull this out, I really hope they drop in rankings
ttun, Washington all look better
Sorry but they do not deserve to be ranked #2
Best of luck. Hope you have much success in the SEC
Considering the white out crowd, I'm thinking 31-27 good guys. I will be glad when this one is over.
If Schiano stayed in college, I would think he would be a great fit at PSU. I wouldn't want to see it but he would do well there. I've never heard whether he would prefer college or back to the NFL.