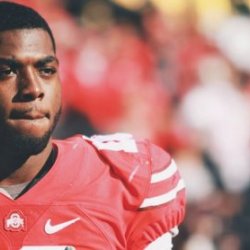 buckeye81
---
from Norwich, NY
MEMBER SINCE November 30, 2014
Asst. Varsity Football Coach, CCS, Cooperstown, NY. Buckeye grad, '81.
Recent Activity
Dildab can suck my OHole.
Thanks, KS, for everything. Great Rose Bowl. And thanks a million for not having a Twatter account. I so wish others would follow your lead. I hope you have a long, lucrative and successful career in the NFL. Sorry you didn't have Kerry Coombs for your last year with the Bucks. Go get some, Mr. Sheffield.
"Rejoice oh young man in thy youth...: Ecclisiastes 11:9
Good luck to him. NFL is a better fit.
Good luck, Cruiser. Enjoy the sunshine. Couldn't disagree with you more about TouchHole Tom Herman. He's a Rat-Bastard and always will be.
Who the fuck is Gary DiNardo?
DHaskins is almost certainly going to the pros. Makes no financial sense to come back for another year. I don't see a reason for a hardship waiver for Fields so, even if he does choose to come to TOSU, he has to sit a year. Tate feeling pretty good. If DHaskins shocks us and decides to stay, Tate feels much badness and packs bags. Personally, I think TateM can be a hell of a quarterback in our system. He'll never be the passer Haskins was but Haskins was never the runner Tate can be. I don't think TateM's body of work can be judged because he was never really allowed to throw the ball in a meaningful situation. Height is a big deal in the pros. In college not so much. But it helps.
Another vote of 'No Confidence' on KhakiPants.
How are they NOT the best team if they run the table and win the playoff, all caps guy? You're saying that, in the NFL, if a wild card team wins out and wins the Super Bowl they are not the best team? I don't get you. What difference does the number of losses make? Clemson will probably in our lifetime, never have a two loss season because they don't play anyone? Ditto Alabama. Look at their schedules. Booooriiiiing, Why? Because they know that there are only four spots in the playoff and, at most, you can lose one game a season. For Clemson and Alabama the season doesn't really start until about week 5. Wake up.
There is so much that is revolting about Dabo Swinney it's almost comical. Almost. The conference he plays in is pathetic and getting more so every year. His "strength of schedule" this year was an absolute joke and he was pretty sensitive about it. He can't navigate the English language which is really not that hard to master. He's the kind of guy who, as a teenager, couldn't get laid and lived in fear of getting his face pushed in on a daily basis. Now he is in charge of a tribe of massive human beings with all the gifts he never had and he feels pretty good about himself. Sports are cyclical. That's the one immutable truth about them. I'm looking forward to the Dumbo crash. And, as if it matters to anyone, I'm for the eight team playoff. The bowl games are and always have been a scam. Every time I see a kid get carted off playing in the Dollar General Bowl I want to throw up. If I was a player, NFL future or not, and I wasn't coming back the next season? I would clean out the locker, shake hands with the coach and say, 'you're welcome' and head for the nearest bar. Dabo is what's wrong with college football. Period.
Coach Meyer also hired Billy Davis.
This is an insightful analysis, Tcm. Some years you just don't have the players you need. Losing Schiano might be throwing out the baby with the bathwater. Maybe extend his tenure and give him a competent set of linebackers and a new LB coach.
Billy Davis gotta' be gone. Bad hire.
Faux, this is exactly right. Nicely put.
Nothing against them but you are not going to hear much from Tua and nothing from the Heisman winner after this season when it comes to football. Tua may have a brief NFL career. But you hearing a lot about Dwayne Haskins, yes, a generational player and proud Buckeye, for years to come. As others have posted, we couldn't ask for a better Buckeye ambassador.
Ohio Against the World. Go Bucks.
Would love to see it by why should Haskins return? He has nothing left to prove, won the B1G, set every record and opened an epic, record setting can of whoop-ass on TTUN. This is not a terribly strong QB draft class. If DH projects as a first round pick (and I think he does, for whatever that's worth) what is the point of another year playing for nothing when he could be sitting, learning and getting paid? The only problem would be if some horrible team picks him up and throws him into the fire too soon (looking at you, Mark Sanchez) thereby scarring his psyche for life. I don't follow the NFL so I don't know who is in the market for an immediate starting QB so I guess this latter concern is a real one. I'm impressed with Haskins maturity so I see him making the right decision.
I know this is probably heresy but hasn't the whole Heisman thing become kind of a snoozer? Now, when I hear "Heisman", I think "Heisman House" and those stupid commercials. I can't even remember if the commercials are for pizza or cars or, maybe, insurance. Help me out with that.
Dwayne is being snubbed on the awards circuit because every non-Buckeye ToolBag in the country wants to somehow hurt THE Ohio State University. Since most of them can't touch us on the field they stoop to this kind of childishness.
OHIO AGAINST THE WORLD, Baby! The SEC and ESPN can burn in hell.
Clean house on defense. Our defense has been going backwards for two years. And, yes, we've lost players and coaches, ( Ash and Coombs and Fickle) but that has happened at other programs and they didn't suddenly become "we better outscore them because we're not stopping them" teams. I'm hoping Ryan Day is a cold-blooded killer when it comes to hiring and firing staff that under perform. I watched Texas v Oklahoma conf champ game. Was it easy for Lincoln Riley to can Stoops? Probably not. Was it the right move? Absolutely.
They played their best game. It was a beautiful thing to see. I'm not sure I'm buying that Winovich wasn't 100% and, even if he wasn't, he's annoying as hell and it was fun watching him get handled. I would venture that almost everybody on that field was less than 100% at this point in the season. I'm hoping that the O-line, now that they've seen what they can do, continues to dominate. BTW, totally agree that DHaskins is the sixth O lineman. A shame D Knox was injured. We didn't need another TD and ended up taking a knee in the red zone anyway. Sad way for his season and probably his career to end. *uck Xichigan. Revenge tour my ass.
If the Oline plays like this with Davis in there it will be a very long day for NU.
I - O , Bro'. Hartline is a Godsend.
Exactly right, Johnny. We're going to give up 6 points every time some poor schlub misses an open field tackle? That's "alarming".
Okay, I'll be Billy Buzz Kill then. Meechy State just lost to Nebraska 9 to 6. Which to me means, Meechy State's offense is a dumpster fire and Meechy State defended Nebraska better than we did. Not reassuring.
Death to Michigan.
Still, this film study as much as any other this season shows the general sense of confusion and sand lot ad-libbing going on when we are on defense. (This game was extra special because it spilled over onto special teams as well.) Early in the season someone commented on Urban's assistant coach hires. Something to the effect that he either hits a home run (Larry Johnson) or lays an egg, to mix metaphors. How in the world do we have a guy like Billy Davis coaching our LBs? Or, I should say, in charge of coaching our LBs because he isn't coaching anything. This is the problem with hiring pro coaches. Unless they have substantial experience at coaching college ball they just are not good at teaching and can't develop players. The linebackers we have out there were as good as they were going to get on week 1. You saw the Maryland game. You tell me I'm wrong.
And BTW, the scheme is too complicated but it's too late to change it. How Maryland didn't complete that pass to beat us on the 2 point conversion will forever remain a mystery. It was emblematic of the sickness of the defense. Two guys covering one receiver and another receiver standing all alone.
Focus on Hate Week. But if there aren't some major coaching changes after this season I'm pretty much decided it's a one way ticket to some monastery where there is no TV, radio or internet access for me next year.
scUM has a stout defense and that Don Brown thing. I haven't seen Meechy much this season but KhakiPants runs his offense and I have not seen them go fast. Things I hate about up tempo; penalties and guys maybe not being on the same page which can lead to turnovers. Things I love about up tempo: plays to our strengths at QB, RB, WR and helps out O line, even though it tires them out. Oddly sometimes it seems like the slower we go the more penalties we accumulate (especially when changing the play). TTUN will come in all fired up. Expect a lot of woofing and posturing and nonsense that I hope our young team can tune out. Hit them with up tempo and keep your foot on the gas early in the game when they are all jazzed up with adrenaline, struggling with the noise, If we pick up penalties, screw it, just keep the pedal to the floor. I don't think we can sit back and play chess with this scUM defense. Keep it simple for the our men on the O line. Don't let Meechy sub and squirrel around with stunts and twists and snotty blitzes. That is exactly what they are hoping for because they know the Dwayne Train can slice and dice if you give him just a little time to set his feet.
For God's sakes we are underdogs at home. Push all the chips out onto the table. Roll the bones. Death or Glory!