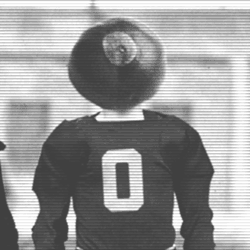 buckeye70
---
MEMBER SINCE February 19, 2012
Recent Activity
NICE JOB - I hope we are also ready for a 2-5 defense.
I think Bud is going to run a 2-5 defense that they ran against Georgia. I hope someone tells the Buckeyes
I think they are going to try to surprise everyone and run a 2-5 against the Buckeyes. I hope the defense is ready for this year's surprise from Foster
I hope Coach Warnier is ready for the 2 - 5 defense that v-tech has run. No more surprises like last year
Bring back the single wing!!! Backfield of 2 quartebacks and Elliott and Braxton as a receiver. I wonder what old "Bud" will do with that one?
Why doesn't Ohio State run a 5 man defensive line with 5 real lineman? Earlier in the season Gordon was stopped by that scheme.
The Buckeyes MUST run a 5 man defensive line against Wisc. Often Wisc. runs two tight ends as the team up North did last weekend. We need to put 5 down lineman in on defense and take out a safety to jam up the gaps and stop Gordon. If we don't I think Gordon will run for well over 200 yards and we will not win.
I think the Buckeyes need to look at a 5 man line against these running teams. When the opponent puts two tight ends and has 7 men blocking 4 defensive lineman. Take out a safety and force them to throw the ball.
Buckeye fans will be there and cheering loudly. MD football ticket office needs to think bigger. Bought my ticket through third party and the face value was 17.50 // I paid that much per game when I was a student at OSU 100 years ago. Expect a big Buckeye croud.
I live in Baltimore and am going to the game. I suspect that at least 1/3 of the stadium will be Buckeye fans. Maryland's defense will be a challenge since they have a number of seniors on that side of the ball. Over time Maryland will have to a better job with marketing, ticket sales, alumni tickets etc. to get the place sold out. Right now they are amateurs at all of these things.
Coach Matta should have both Lee and Williams playing hand ball 3 hours a day this summer.
Does anyone know when the trip abroad is this summer and if the freshman can go?
STAY DOWNTOWN - walk to fells point (try Max's - 90 plus beers on tap) - little italy and Hard Rock Cafe - visit the Babe Ruth House and Fort McHenry - If you get all of that in you will be very satisfied
Don't tell Brady there is pie in Ohio, he will never leave the State
Pizza -donuts - taco Tuesday - I am sure that Brady Hoke is on his way along with Al (fired because he ate too many wild wings - but forgiven at this point) and Greg. So, make sure Buckeye Donuts knows of this so Brady and the boys can take a few dozen back with them after the game tonight
IT WAS THE ZONE- The 2-3 zone defense is what shut the Buckeyes down yesterday. Smith had a bad game too. Remember that there were three possessions in a row where he missed a shot or turned the ball over. Correct the problem by playing Craft - Thompson - Loving - Ross and Williams against a big team like Iowa.
Brady and his two assistant coaches (chubby and tubby) will best the LSU-Iowa record by themselves
Perhaps instead of having a shoot around before a game the Buckeyes should have a drive around and post up with the bigs. There is a need to drive more. Like having Williams and Ravenal at the center and let Sully and Weatherspoon play the 4. Don't hear any realsuggestions on rotation or changes just whinning.
NEW LINEUP - WILLIAM - (RAVENA) SULLY (WEATERSPOON) THOMAS (SMITH) BUFFORD (ROSS) CRAFT (SCOTT) - YOU HAVE 4 MINUTES TO SHOW ENERGY AND PLAY LIKE A TEAM IF NOT - NEXT MAN UP. WHEN THE SUBS WERE IN THE OTHER NIGHT- OSU LOOKED LIKE A NORTH CAROLINA/DUKE/KENTUCKY KIND OF TEAM - MORE ENERGY AND MORE SIZE-