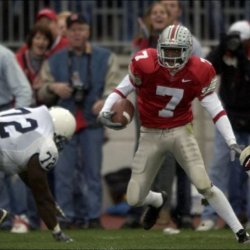 Buckeye7
---
from Valparaiso,In.
MEMBER SINCE November 30, 2014
My 1st Buckeye game was in 1985 at Northwestern.
Favorites
SPORTS MOMENT: 1985 Bears,2002 Buckeyes,2010,13,15 Blackhawks,2015 Buckeyes,2016 Cubs!
COLLEGE FOOTBALL PLAYER: Secondary for DBU-Gamble,Jenkins/Bell,Doss!!
NFL TEAM: Bears
NHL TEAM: Blackhawks
MLB TEAM: Cubs
Recent Activity
Go to YouTube and look up Chris Gamble"you really got a hold on me". That game should not have even gone to OT. It's only about 2 minutes long.
Usually I would say don't tell me to take it easy or settle down,but I'm fine. I get it that people are cowardly if that's what you mean,and just to clarify I'm not pissed at you or anyone else with this response. It's just...people sometimes. Have a good night cat. Go Buckeyes!!
Ok medium,you could argue that in any sport almost. My point mainly being they are a team who hasn't lost in 28 games,a dangerous team. However way back in '02 there was a team that hadn't lost in about 30 games and ran into US in title game.
Exactly,we'll said Scoonie who used to play point guard and can't pinpoint his last name right now!
Great point about having extra time to prepare for Clemson,I'm on board. I want to shut their coach up anyway and then him realize why they somehow don't get respect as defending national champs. Anyone who discounts defending champ who hasn't lost in almost 30 games is as crazy as he apparently is.
I would love to play LSU and exact some revenge for 2009 title game. I can't remember,I know Urban and Florida whipped us in 2006-07 season. I really thought we had a chance against LSU in that game,not so much with Florida. I really don't think it matters where we land,you think Oklahoma is going to lay down? Everyone is saying oh you don't want to play Clemson yada yada...I'm comfortable playing whoever. Bring them on!
LOL,this site or any blog cracks me up. On K.J. Hill article all I said was I ASSUMED we'd fall to 3. You know SEC bias,and Dabo pity party last week to try to influence committee was my reasoning. I literally dislike these places,probably all of them gave up on them last night that dvoted me. Maybe if we could go out in the yard instead of just faceless cowardice,then blogs would be awesome! I don't even vote,done it 3 fuckin times,twice on accident. So go ahead and downvote me down to zero you asshats. And since I never gave MY opinion just what I thought committee would do-LSU & OSU either way argument could be made then Tigers and Sooners. So if we're being tools,I actually played the game not some analytics nerd trying to tie myself to sports. I was 1st team all state in Indiana which pales to doing it in Ohio or Pennsylvania,Florida etc. And that was only year I PLAYED my natural position,so downvote me to under 100 you petty little crybabies who gave up last night. Put me at - helmet stickers,c'mon sister penises. Go Bucks and Go Bears!! Next question!!!
Congrats young man,big time spot to do it in!! Looks like we're going to just drop to #3 but hopefully get in. I imagine Clemson and LSU will pass us,we have 5 minutes to finish here first. Let's Go!
Run the ball,STOP the run,sell some tickets on offense and DEFENSE wins championships!!! 48-19 Buckeyes in Brent Musberger voice,let's party Columbus! Going back to the Playoffs!!
He was damn good for sure!!
JK wants the big one,THE GAME coming right up!
And almost made a David Tyree type catch,looks like he had it locked against his helmet for a second. I do love seeing him out there regularly no doubt. But with the different type receivers we have,the different challenges other teams face. There isn't a position group I don't love on the 2019 Buckeyes!
Coverage doesn't get any better on that play,unless he snagged it and took it to the house!!! Just ridiculous great coverage,you are correct!
Yes sir,Okudah was my favorite player LAST year,he and Wade. Mr. Okudah probably top 5 if not top 3 pick in draft imo. DBU continues to PROVE that it is...DBU!!!
Really excited to see Master get 25-30 carries/game next year,but gotta stay in the now and watch him give JK a breather here and there. But yeah a little confused with some of offensive play calling for first time all year,therefore I will not go into it any further.
No doubt,and as you said above Sean Wade did a helluva job on Hamler. Especially that play late in game,coverage doesn't get any better than that!(unless he picked6 it). Love the avatar too,dude was maybe the best tackling corner I ever saw,with little bias.. DBU!
Man,congrats to Jashon Cornell and Justin Hilliard on huge plays made yesterday! Also,congrats to all seniors who have worked their asses off,especially the ones who might only play a handful a year. Great job young men,went out as winners in last game at Shoe.
#2 became #1!! He is the best pass rusher I have seen in 40 some years as Buckeye fan!! And I just saw him talk to Jenny Taft? in postgame and what a respectable and humble young man!!!! Congrats Mighty Chase Young!! Bring on Bitchagain!!!!!!!!!
That's fuckin awesome! LMAO,I'm surprised it wasn't a strip sack,scoop and score!! As you can see if you looked,I don't vote cuz we're all here to give opinions etc. I have accidentally hit 1 each,this was my first genuine vote!
Wow this is shocking to me,I would think there would be more than that as much as we've owned teams early in games. This is a testament to recruiting and depth. As many people on here know already I can't say enough about the job that Larry Johnson does! The game is won in Da Trenches. Great job by defensive coaches and younger kids getting their first taste of Buckeye football!!
I got you realist,I really don't care about hype,I'm like ready to go Sunday morning so I try to ignore the hype lol
Yet my Bears drafted a guy who was only good enough to start 13 games in this basketball conference..
Higher ranked opponents mean better qualifying WINS to impress committee!