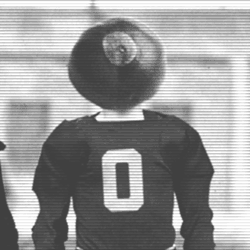 Buckeye52
---
Member since 07 August 2012 | Blog
Recent Activity
Tyson Campbell was my favorite cb in this class. REALLY wanted that one
"Cruickshank is the Badgers' second-highest rated verbal commitment, which ranks No. 23 overall in the 247Sports Composite Team Rankings."
still higher than bama
I started looking at bamas class, as well as who they are targeting. There are only 2 recruits in the top 100 that they are the crystal ball favorites for. They are both 4 star players. There are only a handful of players in the top 100 that bama has a crystal ball for period. I know it's early, but they may not even be in the top 5 IF they stay at this pace. I'd say they'll get their fair share of recruits though
Montecristo #4s???? Got a box on my honeymoon and they were damn good
Call me crazy but I thought the play of the game wasn't Shaun Wades pass breakup on fourth and goal to seal the victory for the Scarlett team. That was a big time play in a big time moment for him. IM sure it gave him a big boost of confidence
I was expecting more from him just catching the football. He had 3-4 opportunities in the red zone to make a play, and he didn't come up with any. I'm not dogging the guy, but those are the type of plays that separate good receivers from great receivers.
At halftime of the game today I was looking around and saw urban talking to some jacked dude in an orangeish colored shirt on the west sideline. Told my wife urban was doing some recruiting on a D-lineman. I now see that was Zamir White (guess I was I little bit off). Talked to him for a good 10 minutes or so. They looked to be getting along pretty well. Thought it was pretty cool
We had 5 first rounders last year didn't we? Zeke, Bosa, Apple, Decker, and Lee?
C'mon down Mr. Haselwood!
Right I agree that was just a flat out F'd up situation. I think Holmes would have been a buckeye had it actually been his choice. Just too many rumors being thrown around right now to trust anything unless it comes straight from Wilson himself. At least for me to trust
Recruits told Birm that Holmes was going to be a Buckeye too, and then everything went batshit crazy.
Weve seen this smokescreen the last 3 years with DT recruiting. We hear we're the leaders about a day before the commitment, only to be let down. Same situation with OT Trey Smith this year. Hope he comes, but I still don't think we should get our hopes up.
Boom! But man he scared the shit outta me looking at the FSU hat
I think we will see both wade and Okudah on the field for extensive snaps this year, and here is why. Our CB position is different than any other position on the team. They line up man to man in press coverage, and their sole job is to shut them down. They have don't have to learn stunts, gap techniques, none of that. There's very minimal to learn from their standpoint, so if they're athletically talented enough to go one on one and lock down a receiver, they can win the job. Being early entrees, I wouldn't be surprised if one of them isn't starting by the end of the year
Not ever have another hooker? Speak for yourself!
Where is this chip Kelly thread?
And the new thread shall be called..... "The Final Countdown"
If I was stoops, I woulda put him in
This is far from one visit for him. He's been to several FNLs and just had other visits. There's legit interest on both sides
Classy move Andrew. Hope the Charles kid gets some opportunities. EW is changing lives! Haha
What does this have to do with cam burrows?
Whys everybody back to thinking wade is leaving? Has he said something lately or just that time of the month to assume since there's no mention of him lately that he's on his way out?