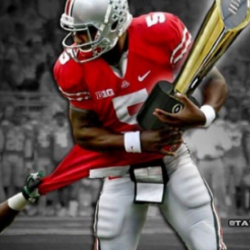 Buckeye5000
---
Bastrop, Louisiana (via Columbus, OH--IO!)
MEMBER SINCE July 28, 2013
I am a 40+ yr. Bucks fan from Columbus who now lives in Louisiana. I am 52, married to a wonderful woman for 12yrs., have the worlds greatest 12yr. old son.
Favorites
SPORTS MOMENT: The end of the 2002 NC game! The end of the 2015 NC game! Catching game winning TD in high school game. A home run stealing catch in little league.
COLLEGE FOOTBALL PLAYER: Archie, Eddie, Chris Spielman, Braxton, The entire 2014-2015 Ohio State Football Team!
COLLEGE BASKETBALL PLAYER: Larry Bird, Jim Jackson, Perry Carter, Sconnie, Michael Redd....
NFL TEAM: Browns
NHL TEAM: none
NBA TEAM: Celtics
MLB TEAM: Reds
SOCCER TEAM: none
Recent Activity
Don't forget the Pistol and Synchronized Swimming National Championships!
And continue to recruit Canada.
Luckily that dogs blind....if he walks past a mirror he can't see how FUGLY he is.
Billy sounds like a great kid who really appreciates what he has at The Ohio State University.
It sounds to me more like he is saying what OSU's D-Line is going to do to opposing offensive lines.....They are going to have some issues stopping Joey Bosa and Company.
Quite a few wrestlers have done both, Olympics and UFC. A couple of examples are Randy Couture, Dan Henderson and Daniel Cormier. This is the year coach Ryan has been pointing toward to get the Buckeyes the National Championship. He redshirted a couple guys (Hunter Stieber for example) to give the Bucks a real good shot at the National Championship.
Mark Coleman (OSU NC wrestler) was the first UFC Heavyweight Champion. Also Kevin Randleman (2 time OSU NC) was a UFC Heavyweight Champion. If you are an OSU wrestling fan you should recognize those two names from the '80s.
You must be a youngster James. :)
A Month? I didn't realize it was only a month between the beginning of June and the beginning of September.....maybe you should recalculate.
Long snappers never get more than 2*'s.....it's like a position player getting 4 or 5*'s
No, you are exactly obsessed the right amount.
Yes it is. The defense is not allowed to hit a long snapper until he raises his head. Sometimes you will actually see penalties on the defense on a punt, PAT, or FG attempt for hitting the long snapper to soon.
1 NC in 40yrs......impressive. And the fact he had Carmelo Anthony might have had something to do with that.
Maybe in all of Coaching.....Period
They lost three scholarships a year for the next few years so they may not have enough for him.
NO IT DOES NOT. If a player is fouled on a shot and shot does not go in the basket the shot does not count as a shot attempt, unless the ball goes in the basket creating a 3pt. opportunity
If you go strictly by the numbers (add all of the stats together to determine the best all-around player stat. wise) some might be surprised by the totals. Of coarse this does not take into account things like leadership, injuries, the position the players play, or how good the players were around them.
Totals:
Russell: 33.8
Redd: 33.5
Sullinger: 30.1
Oden: 29.9
Jackson: 27.58
Conley: 23.3
There are a lot of variables, but Russell comes out on top and is way ahead of Conley (but Damn Conley was great by the end of the season). IMHO, if Russell continues to play the way he has lately he will at least be B1G Freshman of the Year and 1st. team All B1G, he MIGHT be B1G Player of the Year and 1st. Team All-American.
OSU has had only 4 triple-doubles in school history. 1 by Dennis Hopson in his SR season, 2 by Even Turner in his JR year, and now D'Angelo just got 1. He is the first Buckeye freshman to have a triple-double.
So the answer to your question is Never.
I can't believe FSU would stoop that low!
I thought that was Miami (Fl.)'s thing!
When Zeke broke through the line and into the open field, I jumped out of my seat in my "man cave", got my face 6" from the big screen and yelled, RUN ZEKE RUN...RUN ZEKE RUN...RUN ZEKE RUN!!
What's the difference between a Buffalo and a _ichigan Cheerleader?
About 10lbs.
I am not agreeing with the other guy but...."everyone looks at porn"? I would definitely call that a broad and false statement. Many, many people don't look at or watch porn (I am not including myself in that of coarse ;).
Your Gif is wrong in one way. It only shows what we do to VT in the first half, it doesn't show us stomping on their face for 30mins (the second half).
No way Billy switches back, he's found a home at guard. Look for Joel Hale to switch back since he started 13 games at NG in '13
Beckner is still open but it doesn't look promising.
Thanks for the article Kyle. These are my favorite types of articles to read and one of the big reasons I come to 11W everyday. Hell of a read....Great Job.