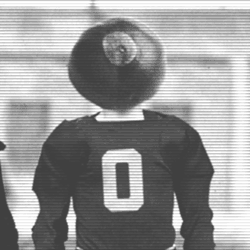 Buckeye4Life61
---
MEMBER SINCE November 13, 2018
Recent Activity
I would cross you up on the pitch BRO!
Definitely agree that Burrow's situation was a lot different. I remember seeing mostly love for Tate and people saying good luck, then a decent amount of bashing him, BUT those that were bashing him were getting massively DV'd. Maybe I didn't read enough comments though.
There is no "we" in this at all. I have never quit anything and im 99% sure you have not either, judging based on your thoughts/feelings towards this. I am just saying that "we" are treating Matthew Baldwin differently than "we" treated Tate when HE did the same exact thing... transfer without a real cause (that we know of**)
Still doesn't answer my question as to why the praise for tate and burrow, but bash Baldwin in the meantime. Maybe you were one of the ppl that disagreed with the majority and did not like tate's decision... but im sure if you voiced that opinion on 11W, you got DV'd. I am just saying that I see a lot of hypocrisy in this instance. It is so hard to judge any of these transfers bc we do not know what is going in their personal lives and all the other lives that they live through school and football. Would be a tough decision for any kid/family.
Why is everyone so quick to bash Baldwin, but were so kind in saying "good luck!" and "good for him" to Tathan and Burrow? They all 3 did the same thing... Can't bash these kids for doing what is best for them. What would you want your son to do?
gosh, i love this man... hope he balls out in the league.
Give this dude another year in the strength and conditioning program... MONSTER
Harbaugh has the most hateable face of all time.
THANK YOU Dre'mont!
A true Buckeye through and through.
Hate to see some of these guys go at the end of the season... Congrats to them and thank you for all you have done for Buckeye nation!
SEC hypocracy... look at all the blue blood SEC schedules and you will find cupcake after cupcake OOC games
The Ohio State University "exploring" degree is highly coveted
Congrats men!
Day is a proven "elite recruiter" per Urban Meyer himself. I am hoping that the recruits stay committed and sign with the Bucks for 2019... seems like all of them have had positive reactions to the coaching change so far... 2020 is different story with 2 recruits already decommitting. Can't be too salty about that when that is so far in the future for these high school kids. Only time will tell for who signs and what the classes is ranked.
If you wouldn't want your son to do what is best for him (in this case: explore more options), you are crazy. Let the kid take full advantage of the ENTIRE recruiting process and hopefully he re-commits.
Best of luck young man.
Can't be too concerned for 2020 yet... OSU is still DBU. If you build it, they will come
I had a feeling that "coaching different" would eventually not work out for Urban. Not meaning that he could not delegate and still make it work, but he is such a perfectionist and a competitor that he could not accept anything less than perfect. Thank God we were able to even experience 7 great years with the legend.
Thanks for everything Coach!
Jeez buddy, know your crowd...
This gives me a sense of comfort... it looks like these coaches have worked hard in the recruiting process to build personal relationship with their guys. This seems to be huge for them with staying committed to this program.
Can't wait to see what the next 5+ years with Day have in store!
2 Buckeyes and no Bichigan men... I like your style!
This was an interesting season to say the least. I feel as if this team has not gotten enough credit nationally for the things that they achieved, especially at the end of the year -> HAMMERING scUM and then winning B1G Championship with an electric performance from Haskins. I feel as if off the field distractions from the beginning of the year really took away from the greatness of this team and possibly hurt their playoff chances more than we realize.
Urban to replace Corso on Gameday!!!
I want a guy that was under Urban Meyer's wing, cutting his teeth as an OC under a legend. Day will be just fine. I am just worried about losing recruits in the meantime...