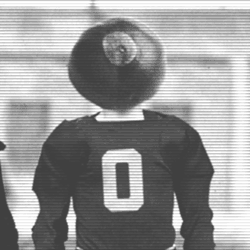 Buckeye46
---
Member since 08 August 2014 | Blog
Recent Activity
Maybe they played 25 games. Those stats would still be good.
Our 3rd string QB, whoever it turns out to be, would be the starter most places. I hope they all stay. Martell's no slouch either if it would come to that.
If you ever get to Lancaster, Donut World has the best donuts I've ever had.
Barrett " threw guys open, the likes we hadn't seen since Troy Smith in 2006 at OSU."
I can't really remember many times he threw guys open.
If memory serves,Notre Dame led 24-0 at the half. SoCal won 55-24. SoCal may have scored 1 time right before halftime. Could be wrong though.
Logjam? This kid is a player. Not to be dismissive to what has happened in the past, he deserves another chance. We have some great options but don't throw him away solely because he made one mistake. This "logjam situation" should not be a factor.
"The biggest thing he did tonight, 17 and 17, was he only had one foul. I thought he played a lot smarter in terms of not picking up some of those fouls that he has typically picked up."
Potter is the starting center but he's not THE center. Thompson kept getting in foul trouble last year even though he split time with Giddens. Matta wants him around at the end of games this year.
I still believe it's to make sure Thompson is available at the end of games. He's been known to get in foul trouble in the past.
"You want every game to count?"
I want the best 4, 6 or 8 teams. One fluke game, on the road, at night, on 2 blocked kicks shouldn't keep you out if you're one of the best teams. If OSU had played Kent State instead of Oklahoma they would be out.
Midway through the 4th quarter Cincinnati went on a 1 point run.
Did Walker Little visit for The Game?
He had some off the field issues.
Demario McCall or K J Hill. Sticking Samuel back there is not a good choice from a risk/reward standpoint.
"James Franklin hasn't beaten anyone of sustenance"......sustenance???? He can't eat 'em?
Either he's awfully strong or that's a Tom Brady ball he's throwing in the cover picture.
OK, I'm not hard to confuse. We're talking about Wisconsin's homecoming, right?
Having an 830 credit score is my new goal in life. Almost halfway there.
Bringing in two guys that could start day one is a very nice OL recruiting class. I'll take it and move on to the next year.
Since I don't see Haubeil on there I am assuming you're projecting him as a grayshirt. Correct?
"John Burrow".... Gotta love JT
I was at 2 practices this year with the father of one of the players and from what I saw Torrance Gibson is an absolute freak. I know this is not big news, but unless those practices were anomalies, I don't see how they can keep him off the field. I've read here that he has issues with route running and blocking, but damn, throw him a screen pass and watch him go.
LeCharles Bentley's explanation sounds like a bunch of gobble-de-gook to me.
"So with the numbers crunch and turning away four star kids - how does that reflect back on the three star kids and even low four star kids we have committed?"
Who are these 3 star kids we have committed? Are you referring to the #2 kicker in the country?
"I'm all for improving the competitiveness of B1G football."
I see that statement a lot on these sites but I'm still on the fence about it. If Maryland and Rutgers start getting the better players out of the DMZ they could become a threat. Also pulling in 5 stars that were otherwise leaning to OSU would hurts us. Bottom line is if we go undefeated we're going to the playoff, I don't care how good the BIG is, and both of these factors make that a little less likely. Like I said, still on the fence.