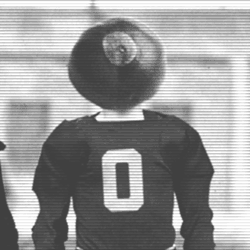 Buckeye@317
---
MEMBER SINCE April 19, 2015
Recent Activity
Just curious, why the big drop for Harrison?
I'd love to know how you fixed it, we had both of ours replaced and they still don't work correctly
I used to nothing Purdue. But after moving to Indiana and seeing what the university is like, I am a huge fan. Their engineering is top notch and you could do a lot worse. As I watch what their president has done with the school it is hard not to be impressed. He has actually decreased tuition since he started.
The your vs you're confusion is insane
DPJ is a great athlete with a ton of potential as well. I think he could be a steal now that he might get developed and have a decent QB throwing to him and an offense not reliant on having a fullback.
It wasn't just Wiltfong...
I agree, Bruce should be ahead of Cooper
If all 11 from that list want in all 11 get in. They'd take them all and worry about the numbers afterwards.
Whatever did happen to Snead?
They are more talented or have a higher ceiling? Hard to say they are more talented with the small sample as we've had with them so far.
Cool to hear the story behind his tattoo. I've thought for a while that would make a cool offseason series. Highlight a player and their tattoos and tell stories about why/ when they got them.
Cardale just threw a long TD on 4th and 6 to put his team up 6
Buy them from the Oregon website and be that speck of red in a sea of green...
It needs a little updating but here you go...
Agreed. I hate that the taunting seems to happen more and more in sports. It seems to happen more and more where you can't just make a play and celebrate and get ready for the next one (or better yet act like you've made a play before) but you have to be disrespectful towards someone else. I have no problem with being competitive or even celebrating a big play, but why the need to be disrespectful?
I wonder if Day was as shocked as I was to get Wade back
8 tackles on 64 snaps seems pretty solid.
He also earned three Academic All-Big Ten honors and was a five-time OSU Scholar-Athlete
Not trying to takes sides but if Browning doesn't get juked out of his shoes the play before that TD run never happens. How is it all Werner's fault?
Chase Young is the best college player in America, but I get the Burrow love. Without Chase we are probably still 12-0 (I'm really glad we didn't need to find out, especially against Penn State) and the same could be said for Dobbins (and maybe Fields?) but I don't think there is any way LSU is 12-0 without Joe Burrow.
Urban already has legendary status among most Buckeye faithful, I cannot imagine how much bigger it would be if he had actually gone for 2...