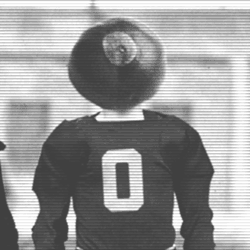 Buckeye314
---
MEMBER SINCE December 28, 2014
Favorites
COLLEGE FOOTBALL PLAYER: AJ Hawk
COLLEGE BASKETBALL PLAYER: Tyler Hansbrough
NFL TEAM: Browns - I chose this life of misery
MLB TEAM: Indians and Cubs
Recent Activity
OSU #3 recruiting class
Rutgers #87 ranked class
we are talking about recruiting am I right?
Agreed. UGA is a fraud this year.
FIFY
We must be a different generation then.
And please don't insult my intelligence by saying I've never heard of friendly competition.
Don't think I ever heard any CU "legacy" kids or "townie" claim this is get into a debate over this.
Whether you want to admit it or not CU has done a lot for the Cedarville "metropolitan" area. I am sorry you have such a different feeling about that relationship.
There has to be a good gif for this.
College game checks weren't guaranteed if you were injured.
Absolutely support the integrity of the program. Just amazed the the Devil Coach can have a complete free pass when you have to be stupid to think they aren't doing things (not even) under the table
I'm pretty sure he views PSU girls as HS girls and he is just getting ready for the coeds at THE OSU
Let's not pretend that the Zion stuff isn't true. Duke can walk in as late as they want and if they really want a guy they can make it happen. A relationship to Uncle Benjamin is more influential than most others.
190LBS. Put some lead in the shoes so he won't blow away.
You do mean Zack, correct?
Going with there over they're even bolder choice.
Very nice breakdown. Thank you.
Someone hacked his account and he is actually upvoting that.
I agree. ESPN hasn't even had the American flag flying at HQ the last two times I've been in the area.
Ignore the commies!
Spooner, how about adding commitment dates to the big board in OP? Saves searching and reposting.
Bob is trending to UNC Fan.
Isn't selling. Their PEDs are free
But according to JF, they are "better" x3 this weekend.
But I guess we know he only wants to be "better" and not "elite"
Cliff notes without reading it: Every 5 star is on commitment watch. Buckeyes lead for 5 Star. Things are trending to the good guys. All this until it's not in the Bucks favor. Then it is just the kids chainring their mind.