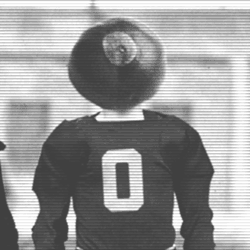 Buckeye314
---
MEMBER SINCE December 28, 2014
Favorites
COLLEGE FOOTBALL PLAYER: AJ Hawk
COLLEGE BASKETBALL PLAYER: Tyler Hansbrough
NFL TEAM: Browns - I chose this life of misery
MLB TEAM: Indians and Cubs
Recent Activity
Insert J Franklin Mother f-er gif
Bama is going to have a nice infomercial too. Who would have guess Ruggs going higher than Jeudy?
There was a pic of them together on a visit to Louisville.
Penn States mascot would like a word. Not even related to other PSU jokes.
But are you a college scout?
We need a MoGo meltdown recap . . .
Caleb Tiernan (MI OL) just chose NW over TTUN. Webb recently wrote an article about the MI OL that would all be choosing TTUN. Oops.
5 star linebacker out of Florida. Birm has written about him a few times recently.
Thanks for the idea. Now I know what I can binge watch next week.
Read Birm's take on it.

https://lettermenrow.com/ohio-state-football-recruiting/ohio-state-buckeyes-recruiting-clemson-beaux-collins-commitment/amp/?__twitter_impression=true
Is it just me or does it feel like McCall has been around forever.
Not even the red banner yet on 11W. Clearly unexpected here.
You forgot the italics, right?
He accepted an invite to the Sr Bowl
A CB from Loy to the team that isn't ND is better than a ==== from NvBuck
Ohio State is on the cutting edge of new "Online Practice" technology.
I believe the slight technicality may be that Parsons went on the set of game day.
I've been thinking it should certainly have an impact on Kiner and Edwards.
OSU #3 recruiting class
Rutgers #87 ranked class
we are talking about recruiting am I right?
Agreed. UGA is a fraud this year.
FIFY
We must be a different generation then.
And please don't insult my intelligence by saying I've never heard of friendly competition.
Don't think I ever heard any CU "legacy" kids or "townie" claim this is get into a debate over this.
Whether you want to admit it or not CU has done a lot for the Cedarville "metropolitan" area. I am sorry you have such a different feeling about that relationship.