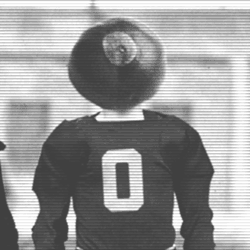 buckeye2012
---
MEMBER SINCE August 04, 2018
Recent Activity
More importantly, how does this affect Bijan's decision to possibly come to Ohio State?
Is there any new info on the RB situation?
When you make isometric exercises a large portion of your strength program, then that would lead me to believe otherwise.
You need to understand the science and be able to apply it to be a successful strength coach. As you mentioned, other factors influence it as well. Strictly being a "hype" guy is insufficient.
The Alabama strength coach is a moron.
This recruiting cycle will be a failure if we don't get Bijan. I mean RB is the most important position on the field.
Guys, I am freaking out about RB recruiting. Can someone hold my hand please.
Lets be honest, no high-rated athlete wants to go to Wisconsin. They can talk about academic standards all they want, but they you will always be a mediocre program.
Obviously, the score will be 2-0.
You can have a similar injury but the degree of damage can be different.
Proctor was playing on some third-down packages. He and Fuller were playing at the same time along with 3 CBs. He is playing more.
In the second half, Browning was playing at one of the outside backer positions with Borland in the middle. Not sure if Harrison got injured.
not good. This is going to be a long night
For a second, i thought you were serious.
We can talk about weight-related problems all we want, but the real talking point is whether he has adequate footwork for the position.
Well, i have not hit puberty yet. Thanks for your advice though.
Yes, i believe they are moving too fast. I feel like he takes care of her because she lost her job, which is a red flag to me. Therefore, I do feel like she is using him to an extent. Whether that is true or not is debatable. So, when she comes to dinner and my parents pay for her, it kinda reinforces that fact.
Oh you are talking about mine. She seems fine with it. We have a good relationship. No need to ruin it.
I would hope so for his sake.