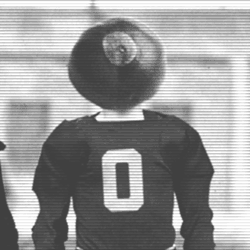 buckeye2012
---
MEMBER SINCE August 04, 2018
Recent Activity
He could of ran the rout better.
Clemson was clearly overrated this year. Unfortunately, our team was not 100% for the game and we could not capitalize in the redzone.
Wade is not going to be as good as Okudah.
If we had an outside linebacker that could tackle, that would be great.
Did you mean the spring game Heisman?
I will be shocked if Harbaugh survives another year there.
https://www.youtube.com/watch?v=pJeOHjoBO3M
Birm on Lettermen Live mentioned that he thinks Shaun is coming back.
Some juicy stuff re Mike Yurcich in the video.
Barring injuries, this will be the most dominant offensive line we have seen in many of our lifetimes.
The passing attack is also going to flourish given the depth at WR; we all know that the Big Ten's weakness is covering elite WRs.
Boy, this offensive line will truly be great.
Everyone, as in all the idiot writers who did not see the talent at almost every position. They were obviously blind. Okudah, Wade, Arnette, Fuller, Chase Young, Hamilton, and Malik Harrison all on defense. That is 7 players on defense alone who will be guaranteed draft picks. Then, you had a star QB, RB, and receivers.
This was the year to make a playoff run. Including Ryan Day, everyone knew it. A playoff run next year is not happening. There will be too many weak points on defense and, like you said, RB depth is a huge concern. There is also no depth in the secondary. If we sustain injuries in the secondary, it is going to look extremely bad.
The defensive backfield is going to be a huge liability next year. Unless something changes with starting lineup, I also think the linebackers are going to be average. Barring injuries, the defensive line will again be the strongest unit on the defense.
Are you serious. NPF is a natural tackle, as he is very athletic. He will be a great player.
Since I am a middle school football coach, I can tell you with 100% certainty that the earth is triangle shaped.
You guys are fretting over a 5'10 slot cornerback. Some of you are enamored with star rankings too much. Even Okudah did not start from day one. He was not going to come in and start.
Yes, but how is he going to make any plays at NW when they water the grass too much? Something to ponder.
The best one in my town of 100 people.
Losing Clark is huge. He was going to be better than Okudah.
I am a middle school football coach; I think I would know if it was an epic failure or not.
Any news on Bijan; this class is an epic failure because we did not get him.
Apparently, CJ Stroud is going to be a buckeye.
Our tackles, especially the right tackle, and our center seem to struggle with pass protection at times as well. I don't expect a win either.