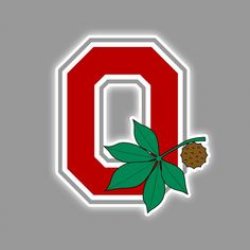 Buckeye2011
---
MEMBER SINCE August 19, 2018
Recent Activity
Like usual Borland and Werner are running around lost. Overall good first quarter.
Borland and Werner are running in circles out there.
That dude is huge. Stars really don't mean a lot to me it's all about a kid and an opportunity. Same take that opportunity and go with it while others flap in the wind. I trust Larry Johnson.
I understand the need for depth at this position. However, if Fields does transfer and happens to land at OSU I believe that Martel will then transfer. This is purely speculation but for a kid who was the gatorade national player of the year, 45-0 as a starter and could probably start at any other college right now besides Oklahoma and Alabama. I am all for the competition but its hard to imagine him staying.
I understand partially why they kept him. They got a small sample of what he was capable of when Urban was gone. He is obviously highly recommended or it appears to be by Meyer. They keep continuity of their players and hopefully some of the incoming recruits as well as coaches (hopefully Larry Johnson stays). The administration has seen was Lincoln Riley has done with Oklahoma and think that Day could also do this (this is complete speculation). But, like many others this is TOSU and anyone not named Nick Saban would be very interested in this position. It surprises me that we at least did not interview certain candidates. I will obviously support Day but it will be interesting several months as he fills out the coaching positions.
The past 7 years have been truly amazing to be a buckeye fan. Words cannot express what he did for this program and university and he will missed especially 7-0 against ttun, one national championship and 3 big ten titles. He will always be a buckeye legend and am happy that I got to experience the ride as a fan. I will obviously support Day but I am (maybe a little surprised) that we didn't look around or interview other candidates. This is TOSU and anyone not named Nick Saban would be interested in this job. Of all the positions I truly hope we keep Larry Johnson.
Of all the position coaches this is the one that needs to stay!
Larry Johnson is a must!!!!!!!!!
I am sure going to miss Haskins next year.
Who knew we could throw the ball and score? Maybe this is a new concept!
We literally have the most prolific passer in big ten history and this is what it comes to.
Haskins had 249 yards of passing in the first quarter and we fucking run. Makes sense.
Annette giving up two big plays and then has a hold called against him.
Why are we letting this team stay in it?
Someone get these refs the fuck out of here.
Look another penalty!! Instead of 3-12 its 2-7. Great start.
Was that a bullshit call? Yes. Should Prince be smarter than that? Yes.
There is absolutely no chance they put us in over Oklahoma no matter if the score is 59-0 tonight (which will not happen anyway). Another season and opportunity wasted. I keep feeling like Linus and The Great Pumpkin "You wait until next year Charlie Brown" but we all know that it never shows up.
Hahaha I was suppose to write "down field".
Just like you said "wow". This team played lights out and the coaches put the team in a great position. Big credit to our defense who played extremely well including our d line and Malik Harrison who seemed to be all over the place. I thought our offensive line played incredible not giving up one sack to this defense and allowing time for our receivers to get down.
Thanks for posting this. Olave is obviously very talented player and has continued to impress. A lot of credit has to go to Hartline for the development of these receivers this year. I think they have benefited from the arm of Haskins but they look so much better and each game a different player rises. Glad for this young man and with the graduation with several of our receivers it's good to see the potential already.
I am beyond happy for Meyer and his family. What the media put them through this year has been absolutely ridiculous. I appreciate everything that he has done for this university and our football team. Thank you coach!