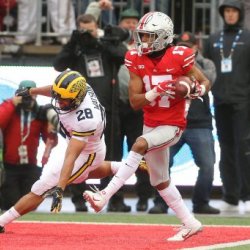 Buckeye0214
---
Marysville, Ohio (via Dublin, Ohio)
MEMBER SINCE April 25, 2017
Favorites
SPORTS MOMENT: •2002 National Championship Game.
•85 yards through the heart of the south.
•1 vs 2 Game Of The Century
COLLEGE FOOTBALL PLAYER: Archie Griffin
COLLEGE BASKETBALL PLAYER: Evan Turner
NFL TEAM: Cleveland Browns
NHL TEAM: CBJ
NBA TEAM: Cleveland Cavaliers
MLB TEAM: Cincinnati Reds
SOCCER TEAM: Columbus Crew
Recent Activity
Is it me or is Drue Chrisman stronger looking than Pete Werner?
The amount of Buckeye coverage was amazing! Three straight plays, I believe, was Lattimore, Bell and then Apple. After which the announcers expressed how a fresh change of scenery can help a player (Apple). I sat there smiling with a beer.
The amount of Buckeye coverage, whether incidental or not, was amazing! Three straight plays, I believe, was Lattimore, Bell and then Apple. After which they said how a fresh change of scenery can help a player (Apple). I sat there smiling with a beer.
While I believe the Ohio State defense will continue to play good football, I also don't think it matters if the offensive line plays out of their mind again on Saturday. If Haskins has all day to throw, it's going to be a fun Saturday night!
Regarding Urban's sideline demeanor … I'm fairly certain during the Maryland game my family almost called a mental hospital for me. I lost my voice after 1 quarter. Coach Meyer is ok!
Meanwhile OSU stays respectful and quiet until Saturday at noon!
Baron Browning reminds me of Curtis Grant during his time at Ohio State. A highly recruited LB with amazing upside and potential to go along with the football ready figure. It took Grant his eligibility to become what many thought would happen over night. Browning is ahead of Grant in many aspects so fingers crossed he is healthy in a hurry!
The Ohio State defense has struggled all season and despite the coaching staff encouraged by growth by LB's and at safety, this D doesn't have what it takes to improve drastically before seasons end. Last week the Buckeyes running game finally got back to running Buckeye style, however, there was an inability to put a complete game plan together. Despite Haskins throwing for 252 yards it just wasn't quite up to par. This team doesn't need an all-world defense by this point we just need a well oiled machine on offense. Ohio State puts it all together with Haskins passing and Dobbins/Weber running and comes away victorious 35-20.
The key position this fall will be at LB. I have no worries about run support from the likes of Borland, Harrison and co., let's all just hope the linebackers have shored up their struggles against the pass!
47 might be a tough one but there's no way I'm going against Chic Harley, Sorry A.J.!
Penn State and MSU both worry me. The way we came back and stole a game from Franklin and Co. last season has me thinking they'll be hungry for a little payback. Same goes for Sparty, I mean Mark Dantonio isn't going to forget the drubbing we game em' last season. It's gonna be fun!
Simply put, rotating the offensive line would benefit in almost every way especially if Ohio State indeed has three or four guys who can come in and keep it rolling. I would caution to experiment with a rotation right out of the gate though as Haskins will need time to build cohesiveness with his slobs.
I fully expect Baron Browning to seize the LB job from Keandre Jones. It's hard to think that Jeff Okudah may not even start because of depth in front of him but he will contribute even more than last season. I'm hopeful that Isiah Pryor locks up the other safety spot, he is a special talent and a tree back in the secondary. Imagine having two 6'2" safeties in the backfield in Fuller and Pryor ... could be some collisions in the middle of the field!
I'll be curious to see if Chase Young put on a few more pounds, he is dominant and extremely athletic. My guy is Baron Browning, a literal look alike of Raekwon McMillan and you'll see his play resemble the former Ohio State LB as well. What makes Browning so special is that he can essentially play all three spots which is why I'm comfortable keeping Borland at middle and Harrison on the other side. Buckeye linebackers will be much improved this season.
YouTube TV has BTN as well as PlayStation Vue Core package. Not sure about Sling but there are options. My brother has Vue and I've found it easy to navigate and stream. Using a Roku stick sucks but that's the price you pay for more affordable service.
Only four road games... That's pretty rad. Then I looked at the OSU schedule and we have the same problem so never mind!
"You've got barbeque back there and you didn't invite me? Hurt my feelings!"
I fully expect Haskins to be QB1 going into the matchup with the other OSU. With that said, I still believe that Tate Martell will practice well enough to see action this season. Meyer has always believed that the best 11 should be on the field. Honestly wouldn't be shocked to see the offensive staff employ something like what you saw at Florida with Leak and Tebow. Martell brings a style of play that Urban loves and if there's one thing we know it's that Meyer is going to run the QB no matter who is in. If the staff can find a way to make a Haskins/Martell split more enjoyable than what we saw from Joe Germaine and Stanley Jackson in the 90's I'm down!
I'd rather have a young, energetic and "corny" coach in the Big Ten than the dumpster fire happening at Illinois with Lovie Smith. Must hurt to fall from the good graces of the NFL, land at a severely bad program and make them arguably worse.
I don't see anything wrong with it. The beauty of college football is the pageantry, the bands, mascots and yes, even the catchy phrases and themes. It's what separates college ball from the NFL and always will. I love what PJ Fleck is doing in gopher town and have no issues with rowing anything. His enthusiasm is going to start leading to W's fairly soon.
Hop on YouTube and check out a few past games where Johnson was Ohio State's DB coach. You'll notice we do not employ a tight man-to-man system. Often times corners were a good ten yards off the line of scrimmage and if you'll recall that hurt this team badly when Meyer first got to Columbus. Johnson is a good coach don't get me wrong but I am definitely not sold on his "coaching style".
A couple of thoughts about this hiring. First off, I'll never be one to question Urban Meyer but in some ways I do have reservations with the hiring of Taver Johnson. Johnson was a good cornerbacks coach in his first stint with the Buckeyes, he coached and improved several good corners in his time. If you go back and watch just a few games from 2007-11 you will notice one thing that jumps off the page. Ohio State implemented a soft man coverage much like it did in 2012 when teams passed on the Buckeyes seemingly at will. The 2010 game at Wisconsin is a great visual of this coverage as the Badgers simply threw bubbles and slants without much resistance due to a lack of tight man-to-man coverage. I'm not sure if the coverage was Johnson's choice or that of Jim Heacock but I find it concerning to say the least. I personally have enjoyed the in your face man coverage Ohio State has deployed more recently. What do you guys think? Go Bucks!
You're absolutely right, The Schott does have its flaws without question. It's a very large space so without constant cheering it can be quiet in there. Can't say the same for St. John Arena, you could throw in 3,000 fans and still get a headache! I'm just glad Buckeye fans still get a good dose of Skull Sessions and Ibuprofen seven times a year. Go Bucks!
Anything is possible with this team. Unlike many teams in College Basketball this year Ohio State does not panic down the stretch and has shown resolve several times in conference play, most notably against Illinois and Purdue. Another positive for the Buckeyes is the emergence of bench play the past two games and the fact that we don't need KBD to score 35 every game. With that said, I've always believed that where a team is seeded (mainly in the first rounds) has a lot to do with degree of difficulty in the NCAA Tournament. Ohio State playing in Detroit as a 3 seed would allow for a possible home crowd advantage as opposed to playing in say Boise as a 4 seed. That's only a portion of it, at the end of the day Ohio State just needs to ball and play their best. They're already winners as far as I'm concerned.