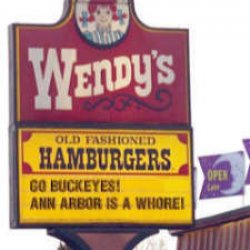 Buckeye since 75
---
from Lewisburg Ohio
MEMBER SINCE March 07, 2015
Favorites
SPORTS MOMENT: Watching Michael Jordan
COLLEGE FOOTBALL PLAYER: Chris Spielman
COLLEGE BASKETBALL PLAYER: Rudy Flyer
NFL TEAM: Bengals
NHL TEAM: Blue Jackets
NBA TEAM: I miss the 90s.
MLB TEAM: Reds
SOCCER TEAM: No thanks
Recent Activity
Brent Bartholomew wins the Heisman !!!
Pretty sure he was a 5 star in dodge ball...
Mark Stoops, who has done a tremendous job scouring Ohio for talent that the Buckeyes either don't have room for or that they overlooked.
Most likely an alternate world ruled by Steven A. Smith....
One of the best get back coaches Urban has been around.
Best Damn Coach In The Land.
One of the best Buckeye receivers I have ever watched.
Well, the Ryan Day coaching tree has sprouted. Best of luck to him. Wish we had him longer.
Me thinks... Its a good day to be a Buckeye. Dump the world!
Another interesting tidbit to this story. Clifford's girl happens to be Patterson's fiancee's cousin. And guess whom arraigned the marriage of Patterson and his fiancee. That's right, Harbaugh.
Maybe a linebacker??
Lol. I shout this at my tv on every carry now.
Back in the early 90s on a campus here Ohio, I turned my ticket into a pass. Never paid it just placed it back under my wipers anytime I needed a quick parking spot. It worked all year long.
Thanks
I call Crabapple.
Vegas except Helmet Stickers?
Safety - Doss Corner - Winfield LB - Big Kat DL Vrabel /Fickle OL - Pace WR - CC Te - don't need one Rb - Arch Qb - Smith DC - Spielman OC - Kern HC - Xbrax because of the suits.
Michigan steele sucks
Please use your inside voice.
But...How's his dodgeball game?
Will there be refunds issued? Asking for a friend.
michigan still sucks!
Umm.. Isn't that jump around thing Wisconsin? Oh well, he's on a roll. Let's go!