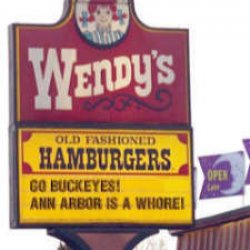 Buckeye since 75
---
from Lewisburg Ohio
MEMBER SINCE March 07, 2015
Favorites
SPORTS MOMENT: Watching Michael Jordan
COLLEGE FOOTBALL PLAYER: Chris Spielman
COLLEGE BASKETBALL PLAYER: Rudy Flyer
NFL TEAM: Bengals
NHL TEAM: Blue Jackets
NBA TEAM: Cavs
MLB TEAM: Reds
SOCCER TEAM: No thanks
Recent Activity
Maybe a linebacker??
Lol. I shout this at my tv on every carry now.
Back in the early 90s on a campus here Ohio, I turned my ticket into a pass. Never paid it just placed it back under my wipers anytime I needed a quick parking spot. It worked all year long.
Thanks
I call Crabapple.
Vegas except Helmet Stickers?
Safety - Doss Corner - Winfield LB - Big Kat DL Vrabel /Fickle OL - Pace WR - CC Te - don't need one Rb - Arch Qb - Smith DC - Spielman OC - Kern HC - Xbrax because of the suits.
Michigan steele sucks
Please use your inside voice.
But...How's his dodgeball game?
Will there be refunds issued? Asking for a friend.
michigan still sucks!
Umm.. Isn't that jump around thing Wisconsin? Oh well, he's on a roll. Let's go!
#firethenetperson
Can we expect to see more of Shaun Wade? He flashed a little against Oregon St. Hopefully more big things to come for Mr Wade.
"This is the old left hander rounding third and heading for home, goodnight everybody."
I think Wilson is screaming "Weenie Arm!!!"
#familything
And harbaugh stays for life.
I would move *ichigan to the Mac, and pay the officials to see they never win again.
They couldn't have picked a better coach... Pure *ichigan. Jive turkeys, at least they aren't bum juice.
Please never mention Woody and him together again. He is not Bo. And he definitely isn't Woody.
I stand with Phyllis from Mulga here. Roll damn tide! Pawwwlllll.
That dude is goofy.
I will never root for ttun.