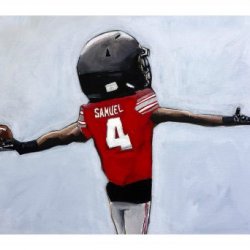 Buckeye Scottie
---
MEMBER SINCE October 11, 2010
Favorites
SPORTS MOMENT: 1st Ever Undisputed Champion! Also, One night in Glendale...
COLLEGE FOOTBALL PLAYER: Move over Bobby Olive & Carlos Snow, Hello EzE and DLee
COLLEGE BASKETBALL PLAYER: Jimmy Jackson
NFL TEAM: Philadelphia Eagles
NHL TEAM: CBJ
NBA TEAM: meh
MLB TEAM: Cincinnati Reds
SOCCER TEAM: No thank you
Recent Activity
Four-star 2021 shooting guard Trevor Keels
Forgive my naivete, but is this a relation to Big Daddy Paul??
Calm down dude, probably someone's grandma now.
Source: https://thebrutusblog.com/2019/04/30/unexpected-journey-sandy-glowacki-foreman-1977/
They were from all over. The little guard that scored 27 was from Cal. Blair went to Pitt (I think). Their manager grew up on Eberlein Dr, hence the name, but I think it is in Michigan. So we can chalk up another victory over the mitten state.
*article was written in 2011
Lane's only real win was Layla, and he even lost that in the end!
It was an 'expansion' draft, so they must have added a few teams this year. I have watched a good deal of these games, they are entertaining. It's like a glorified YMCA pickup game, only EVERYONE is that one old dude who knows all of the tricks and rarely misses.
Perhaps the greatest thing I miss from the Thad era, were his inbound plays. I have to think he has been one of the best at scoring off of an inbounds play. I love Holtmann, but it seems more often than not, we just try to get the ball in and circle high and restart the offense. I miss Thad's creativity and scoring off inbounds plays.
Dakich is coming back off of ACL surgery just a month or two ago if I recall correctly. He won't be playing for quite some time.
...Sean Neighbarger posted a 14.700 on vault
Reading this at first glance thought it was Das Boot, and thought maybe Chrisman started 'flipping' Nurenberger too!
I think what makes me feel the oldest, is I remember that Natty game like yesterday, but my God that picture clarity on TV was terrible. We have come a LONG way in that department!
He isn't Goings anywhere, he's a Wiley veteran now...JK, he gone.
Not exactly sure how this ties in, but won't miss a chance to upvote the Hot/Crazy matrix. For those uninitiated, it is a must watch:
+1 for the Gus Bus reference. Top 5 sports movie for me...
So you're saying he's 5'11"?
...a cascade of outright incompetence and dumbfuckery
This will make it into my daily vernacular