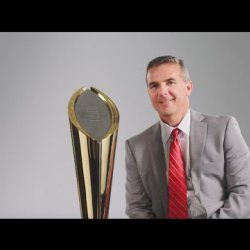 Buckeye-in-pitt
from Pittsburgh
Member since 21 July 2013 | Blog
Favorites
NFL TEAM: Steelers
MLB TEAM: Pirates
Recent Activity
I like to pull a little bit of confidence from this line of thinking: Our major strength is the D line, and their strength is Saquon. And that matchup is not about our Dline vs Saquon, its our D line vs their O line.
I also might be stupid
What this means is that now Joe's family knows that Joe knew.
This is me when it comes time to buy tickets:
Yep, it's definitely summertime.
Nothing the Big Ten owns will ever be creepier than the Stanford Tree
You think Parsons will commit? If so will it be before the season starts or at a later date?
The Situation
Look for the Buckeyes to win big
I'm aroused.
Without getting into it too much, I wholeheartedly hate Penn State. The only thing that would be better than a complete demolition would be if Parsons also commits on the same night.
I think we can all agree that the "no politics" rule is a good one because without it this site would look more like this (which I don't think anyone is looking for, you can go to Facebook if you want to talk politics).
However. In this case, Andrew and 11W would not be doing their job if they chose to not report on this. This is Buckeye news. 11W does not make the news, they only report it. And while the news itself does violate the 11W policy, I think it should still be reported.
What if a situation like the Kaepernick one arose at Ohio State? Isn't wasn't that news 49ers news just as much it was political news? I suppose 11W could choose to not report on political news pertaining to the Buckeyes, but I have no issue with the article being posted.
This is bad news for my wallet.
I will be attendance for the home opener against Oklahoma, but I will also not be paying $347. I paid $150 for my Michigan ticket last year... Don't buy online.
Anyone going to superfest today: please tell Kenny Chesney and Ohio Stadium that I love them both very much.

— Vince Ruggieri (@Vince_Ruggieri7) June 11, 2017
Look at this.
Active college football coaches that have won a national championship:

Saban
Fisher
Swinney
Meyer

— Cole Cubelic (@colecubelic) June 7, 2017
I wonder what this guy's take is
More time to dance on their graves before the sun comes up.
Pens. I say that as objectively as I possibly can, but watching this team all year and mostly in the playoffs, I don't think they're going to be denied by a 16 seed. LGP
Did someone already say Cardale?
If it weren't for Todd Herman, I would have dropped Texas. But since he's there he will undoubtedly bring the program back where it belongs.
I think it's sometimes funny that Harbaugh preaches "Enthusiasm unknown to mankind" because in reality Kerry Coombs is the epitome of that phrase.
Noooo way Pittsburgh get to claim Heinz. We even have a football stadium named after the ketchup. There used to be giant bottles of it above the scoreboard but some headass decided to take them down.
I was hoping no one beat me to it. That's a no brainer for me. And when you throw Jeni's into the mix, I think Ohio is the ice cream capital of the world.
This is somewhat reassuring in that it argues against the optics that most Penn Staters are 409ers. It explains why Jay was recently elected... But why would the university freaking honor JoePa at a football game? How do the 409ers have a say in that matter?