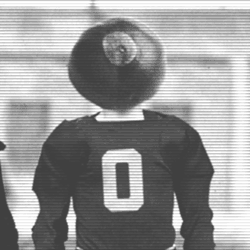 buckeye_in_WI
---
MEMBER SINCE June 04, 2018
Favorites
SPORTS MOMENT: 2014 National Championship
COLLEGE FOOTBALL PLAYER: Ted Ginn Jr
NFL TEAM: Green Bay Packers
MLB TEAM: Milwaukee Brewers
Recent Activity
tOSU by 21+
Minnesota didnt look any part of a top 10 team tonight. Wasted TOs, dropped catch that should have been an easy 4th down conversion, coach running to midfield, missed extra point, and allowing 2 straight sacks with a chance to win the game.
Nah, you get downvoted when you're a dumbass. Not when you say it wasnt Saban's fault.
Idk. Minnesota doesnt get much respect as an undefeated team, if they lose a game they're gonna drop like a rock in the rankings. I'd wager a 1 loss Minnesota would be ranked lower than a 2 loss Wisky. But we'll never know for sure so to each their own!
With Wisky losing to Illinois and getting pulverized by us, if they then lost to Minnesota our win over Wisky wont look that good at the end of the year. But tOSU beating an undefeated Minnesota who should be ranked in the top 5 or 6 by then that would look really good and be the cherry on top of an undefeated season. I'd think it would be better for us to have that than wins over 2x 2 loss teams if Wisky beats Minny. If Minnesota gets by Iowa and NW, then the best thing for us is for them to beat Wisky. If they lose to Iowa or NW, then I'd say On Wisconsin!
You know the meaning of the assault?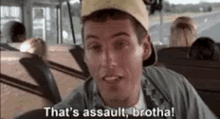 If the CFP is consistent with itself
Umm...have they ever been?
May I recommend logic as your new hobby, sir? You're quite good at it already.
None of them will if we keep winning.
Great points. We wont face a QB as talented as Joe or Tua all year unless we make the playoff and I too would be worried that the defense might get exposed just by the skill of the QB play. Joe is a slippery fella, there were several plays when I thought the Bama rush was gonna have him dead to rights and he somehow got out of it and killed them for a long run. That 3rd down run he pulled off late in the fourth was a dagger. Hes a masterful orchestrator of that offense. As for Tua, hes a great QB but it just felt like he had more weapons to use than Burrow did. The Bama RB basically carried that offense in the 2nd half and Tua made some great deep throws to keep the LSU defense from loading the box. That's a dangerous combo. But the key to stopping either of those offenses would be the rush. I think someone else said it here already, but a lot of the pressure and sacks seemed to come from coverage sacks and not a blitz or an edge rusher just beating his man off the ball. If we face either of those teams and we have success getting to the QB quickly its gonna neutralize both QBs. Dont allow Burrow time to see the field and find his guy, dont allow Tua time to set up for the deep throw. If tOSU faced either team those offenses sure would score some points, but so would our offense and I'm pretty confident our D could do much better than the defenses we saw yesterday
I wasnt so impressed with Tua. He throws a hell of a deep ball, one of the best in the game right now no doubt. But he was much less accurate with the short passes and passes over the middle than a guy who's slated to be a top 5 overall pick should be. And hes been like that in every game I've watched Bama play, so it's not just the injury thing. Dont get me wrong tho, the dude is one of the best QBs still, but it's not like he was out there lighting up the LSU defense. He just beat them up on the deep pass. Another thing I noticed from last night is that the defenses for both teams are pretty suspect. Two offensive juggernauts with a B+ defense at best. I like how tOSU matches up with either of the squads we saw yesterday.
At the least, this was Day and the scarlet and grey flexing their muscles to crush any doubt from naysayers who would pounce if we stumbled after our best player was taken away. At best, this was Day saying "they f*#%ing took our guy. Go f@%!ing take their souls".
Fair enough I stand corrected. Either way they should have reported the amount of the loan in the documentation of Chase paying him back. So that shouldn't be an unknown for too long.
2017 still burns in my skin. They looked bad vs Auburn that year too, had a similarly garbage-ish schedule that year too, yet still made the playoff. I think the fact that the B12 and Pac12 dont look great definitely helps the case for Bama. A 1 loss B10 champ is *probably* in over a 1 loss non-champ Bama. But even that isnt a guarantee either. But assuming such youd have 1. SEC champ. 2/3 B10 champ/clemson. 4. ???. Would you take OU or Oregon over a 1 loss Bama? I probably would but the committee might think otherwise. I'd say Bama is definitely still in the race still and I'd be shocked to see them ranked lower than 6 come next week.
1. LSU 2. tOSU 3. UGA 4. Clemson 5. Oregon 6. Bama 7. OU 8. Minnesota I could see Minnesota having a shot at beating anyone other than those 7 teams. But I'd reckon the Gophers would technically be underdogs to several other teams outside the top 7 such as Florida, ND, Michigan, and maybe even a rematch with PSU. Especially on a neutral field. tOSU would destroy them on a neutral field. The best thing for us is Minny running the table then watching us run 50+ points on their D in Indy
I think the point of that clause is to try and mimick how a regular student would be treated. Most college students dont get loans from just any friend or for just any reason, but there are plenty of people who get money from relatives or maybe close friends of their parents or family etc especially if its needed. I imagine the NCAA put that in there so boosters/fans/etc cant go "Hey you're a future first round draft pick who is set to make $XX-million in a year. How about I give ya $40k so you can get yourself a sweet ride and when you get your signing bonus you can pay me back"
I just googled this and am getting flights in the $200 range. Doesnt mean that's how much the flights in 2018 were, and they were likely more since it was holiday season, but I would be surprised if they were 3x as expensive. Maybe she was able to stay with friends or someone in Chase's family and didnt need money for a hotel too. Regardless, it's been posted that Chase provided documentation of paying back the loan so that should include the exact amount.
I took a look back to see how good the 1st rankings have been. Was most interested in seeing how often the final playoff teams were top 4 teams, how often the champion was an initial top 4 team, and how often/if ever the first #1 ranked team went on to win the championship. 2014: only 1 team in the first ranking (FSU) ended up in the playoff. 25% accurate, winner (OSU) not in list, #1 team at the time (Miss St) didnt even make the playoff 2015: 2 teams in initial ranking (Clemson, Bama) made the playoff. So 50% accurate, winner (Bama) was ranked #4, and #1 team at the time was Clemson. 2016: 2 teams in initial ranking (Clemson, Bama) made the playoff. 50% accurate, winner (Clemson) was ranked #2, and #1 team at the time was Bama. 2017: 3 teams in initial ranking (Georgia, Clemson, Bama) made the playoff. 75% accurate. Winner (Bama) was ranked #2 at the time, #1 ranked team was Georgia. 2018: 3 teams in initial ranking (Bama, Clemson, ND) made the playoff. 75% accurate. Winner (Clemson) was ranked #2, #1 ranked team at the time was Bama. So the first rankings captures the final 4 playoff teams with just over 50% accuracy. The first #1 ranked team has never ended up winning the championship but made it to the playoff every year but 2014. However the first #2 ranked team has won it 3 times.
All I know is I am hoping that I dont need to watch that dumb clown show of a CFP ranking release come early December. If the Bucks win out we are in and I can have a chill sunday then check out the schedule later that day at my damn leisure.
I'm no expert when it comes to Mad-town but I've been to several games in my life since I grew up in WI and live here now and can weigh in on a few things. great bars/restaurants to try out => literally anywhere on campus, but state street is the place to check out for bars/restaurants. tailgating spots to hit up => also very scattered throughout the city and campus. I usually would tailgate with friends so I dont have much insight on which public ones to attend but there are plenty of tents up around campus. UW and Madison specific traditions or specialties to experience: the band gets together outside the humanities building I think? Plays their fight songs etc. Its fun to check that out. It's a pretty campus especially around lake mendota so depending on the weather might be nice to take a walk around. The walk up the camp Randall is fun to do too. best ways to get around and avoid traffic/hassles => park at least a mile out if you have no limitations walking. Traffic can be pretty bad getting out of the city after a game so it's worth walking a bit farther for an easier exit. Definitely wear your buckeye gear. People wont notice most likely anyways. I've gone to a few badgers/buckeyes games and nobody knew I was wearing a S&G Jersey and not a badger red one. You'll have a blast tho. That's a big game too and might be homecoming? Enjoy
Let them feed off their own delusions. Just makes the late November beat down taste that much sweeter. Just think Chase Young is 1 fake girlfriend away from winning the damn Heisman
Lololololol Columbus Teammates
Feeling good feeling good. Let's close this out. Go Bucks!