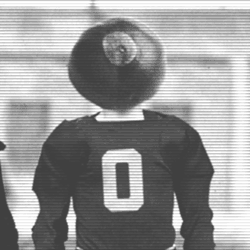 buckeye_in_WI
---
MEMBER SINCE June 04, 2018
Favorites
SPORTS MOMENT: 2014 National Championship
COLLEGE FOOTBALL PLAYER: Ted Ginn Jr
NFL TEAM: Green Bay Packers
MLB TEAM: Milwaukee Brewers
Recent Activity
In Jimmy's defense the first 2 are similes
...Borland won't enter fall camp in a couple weeks as the sure starter. Is he the likely starter? Sure.
Hes not the sure stater be he sure is the likely starter. Love the Wallacianism
Agree with this, going undefeated is the only way to punch your ticket (unless you're UCF!). So the best scenario if tOSU loses a game is for there to be less than 4 P5 teams who also have 1 or 0 losses. A 1 loss B10 champ definitely gets in if there arent 4 or more other teams with a similar resume.
I swear I saw a Michigan player on this list but I guess it was just a mirage
Occasionally I look... and there is legitimate information, and it's excellent. So then I start looking more frequently in the hopes of seeing more legitimate news, and I wind up wasting my life reading nothing but garbage.
That is an accurate description of internetting in 2019!!!
They've never left in my book.
I think how we use Dobbins et al is going to be somewhat dependent on how successful Fields is this year. If he is running the offense well then we will see a good variety of how our stable of backs are used. If he struggles especially in the pass game then the offense will likely fall more on Dobbins' shoulders.
Eh I wouldn't go so far as put Mertz in the same category as Lawrence and Fields, both of whom were top guys at their position, #1 and 2 overall in their class, and widely considered two of the best QBs ever to come out of high school in the ratings era. Mertz is a huge talent no doubt and is very likely to make a big difference for Bucky. And I agree they dont have QB problems. Mertz likely is gonna be trouble for the Buckeyes in the next few years. But at least to this point he hasn't been on the level of Lawrence and Fields far as hype goes.
Like I said, at this point its a semantic issue. You're defining the loss by final ranking of the team we lost to. I'm not looking at things by that lens alone. 2015 Meyer himself admits that's one of the worst losses he had in a recent interview. So there's more to it (IMO) than rankings. I'd safely argue that the 2018 Clemson squad has no business losing to Texas, Florida or LSU, all of which finished inside the top 10. Again, my opinion, but ranking isn't a big factor to me when I look at things like this. I'm also taking into consideration his tenure at UF. I lived in Florida for a few years and many UF fans told me Meyer had a penchant for losing games he shouldn't while there. Maybe that's not true by all perspectives but it was a common belief by their fans. Anyways, not sure if you felt like I was attacking Urbs or if you just like arguing online. But I'm fine with you disagreeing with me. Doesnt change my stance that Urban had a strong tendency to lose games we shouldn't, and I recognized that before the past 2 seasons.
2012 he was saved by the glory and miracles of Guiton. 2015 team had no business losing to anyone especially at home So we have 2014, 2016, 2017, 2018 as absolutes. I throw in 2015 but I see your point in that loss not quite being the same as the other since MSU had a successful year. And he was razor edge close from losing in 2012. I also remember his Florida squads dropping a game they shouldn't have a few times. Strongly disagree with you saying he only lost 2.5 games he shouldn't have, but also admit this is at some level all a semantics issue.
Meyer had a knack for losing 1 game we had no business losing. So much so that I learned to sort of expect it. I'm hoping with Day we wont see that trend continue.
Nope didnt say that at all. All I said was this isn't the venue for that joke to be received positively, and that you nor anybody else should be surprised when its not.
Oh I get it. That's not the issue. Everyone here gets how it relates to tOSU football and their recent losses. If you cant see why people arent happy with the comment then I dont think it's worth trying to explain it. And I'm not sure why you think it "absolutely had to go here". It absolutely did not.
It might have something to do with this being a Buckeye football forum, and not a comedy forum. Comedians use shocking and offensive jokes as a humor tactic. People choose to watch because they want to laugh. Within that venue, things that push the line probably are ok. But most people come here expecting to read about buckeye sports, and not jokes about pediatric cancer. That is probably why some are getting "triggered." Dont act too surprised
Can you imagine Rondale Moore in a Ryan Day offense with the other weapons at tOSU around him?
Based on history I'd say you got a good 6 years before you're kicked out
I cant wait to order the *ichigan still sucks! Burger with a side of national champions fries and a nice tall glass of milk
The 11W CONE OF SHAME
At least with walk ins you can rest peacefully knowing they aren't fooling around in a transfer portal. Is the analogy dead yet?
Really hope this isn't the start of an injury trend for him. Some guys just get unlucky and catch the injury bug and never can shake it. It would be a complete tragedy if that happens to Nick. Hes too damn talented to be kept off the field for any reason.
Lionizes Crushing Throats
If anybody was still wondering why mods didn't allow comments on this topic, this post is why
The real reason I dont want Urban returning and coaching a different team is because he is an absolute force recruiting. And his ties to Ohio would mean we would lose out on a lot of targets, both in state and out. I'm holding out that these "Urban may come back someday" whispers mean only that hed consider taking back the tOSU job after Ryan Days time here is done. If we find instant success with Day and he wins a NC within the next 3 years, the NFL is going to come calling and they will push hard for Day. I'm not sure where Days priorities would fall in that scenario, but he may take an NFL job. A Meyer-Day-Meyer sandwich would be just ok by me :)
The only way to truly settle this is to form 2 teams: those for expansion and those against. Then have a paintball game and the last dude standing gets to pick.