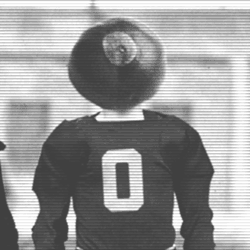 Buckeye in SEC Territory
---
MEMBER SINCE January 31, 2015
Recent Activity
Cradle plays mediocre. 13/21 for 195 yards; 2 TD; 1 INT; 55 yards rushing.
Thomas and Jalin combine for 65% of receiving yards, Samuel 10%, Zeke 10%, Braxton 10%, Vannett 5%.
Zee plays well. 20 for 175 rushing, 2 for 20 receiving, 2 TD.
Braxton continues to be utilized in a sub-par manner. 3 for 20 receiving; 2 for 10 rushing; 0 TD.

Penalties slightly better. 6 for 60.
Offensive gives up 1 INT and 2 fumbles.
Defense gets 1 INT.
Special teams plays fantastic.

Score: OSU 35 - Maryland 17.

I'll be in the student section of the Swamp this Saturday as well.

1) You'll want to wear blue - the most predominant color
2) Don't wear OSU gear. UF isn't more or less anti-OSU than any other non-B1G school, but why attract attention from drunk a-holes or an attempt to grab it away, etc.

Treat the fans like you would want a visiting fan to treat you:

3) Don't rag on the band or any cheers. They aren't OSU's, but they are beloved by their fans just as much as ours are.
4) Don't compare the Swamp, stadium, etc. to the Horseshoe unless asked.

5) Go to Midtown after the game (I'll be there). Send me a private message and I'll try and show you around.
Per game he needs: 3 screens with decent WR blocking ahead of him, 3 jet sweeps, 3 wildcat (1 or 2 short passes)
There are definitely signs of improvement and signs the coaches know what to do. As long as OSU stays undefeated and continues to address the weaknesses, we will be ok until MSU.

To those who say run Zeke more: the coaches know what he can do. They aren't going to get him beat up more than he has to, especially running up the middle, until we need him to. Urban doesn't have amnesia. He'll direct Zeke running up the middle when he feels it is necessary.

Remember, the coaches are experts and paid millions of dollars for the knowledge and skills to improve a team.
I wonder how strictly 97.1 is going to screen callers about Offensive questions.
Congrats! So, uh, how is your perimeter blocking?

If it was a complacency issue, the Captains would have said so after the game, and taken responsibility for it. I think the issues are a result of something much more concerning.
Where do the problems on offense start, and how does that domino through the rest of the offense? What is the first thing that has to be fixed?
Defensive: High number of starters returned + coaching consistency + no uncertainty with starters + opponent's creativity = elite performance.
Offense: High number of starters returned + coaching changes + uncertainty with starters + opponent's creativity = horrible performance.

Seems like the coaches should try and learn why the defense is playing at a higher level than the offense.
1) One QB for the entire game.
2) Simplified playbook, more QB runs.
3) Offense has less penalties, 2 picks.
4) Defense holds to under 10 points.
5) OSU wins 24-10.
A scaled down playbook did wonders in settling CJ into the offense last year. The same principle applies this year. Start with core, low risk plays focused around a singular QB.