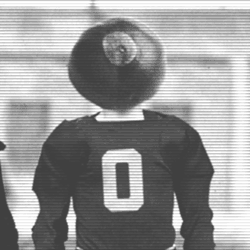 Buckeye-in-DC
---
Washington, DC (via Cincinnati, Ohio)
MEMBER SINCE June 04, 2013
Favorites
SPORTS MOMENT: a few best moments: beating Criami for the title; being in the Shoe for the win over scUM in 06 (#1 v. #2) and for Braxton's coming out party in the win over Wisconsin in 2011
Recent Activity
yes, this. that speech was amazing, i hope we keep him around as long as possible
So now we have the matchups the college football world truly deserves: No. 1 LSU against No. 4 Oklahoma in the Chick-fil-A Peach Bowl in Atlanta, and No. 2 Ohio State against No. 3 Clemson in the PlayStation Fiesta Bowl in Glendale, Arizona (both games on Dec. 28, ESPN/ESPN App). It sets us up for what could be an absolutely epic national championship game between two sets of Tigers in New Orleans. It would have been a disservice to both teams to be paired up in the semifinals -- and that is not a slight against Ohio State but rather a belief that LSU and Clemson are right now the two best teams in the country.
i have no idea what this story is about (and look forward to hopefully hearing it from Josh), but this question made me LOL!
in other news, perhaps the title of this thread should be changed to something more generic like "Bijan Robinson Recruitment" - I say this because I saw the current headline, "major cb's for bijan to OSU," and thought it indicated a swing back to the Buckeyes. :-(
i logged in just to downvote you, but since i couldn't (your DVs are at max capacity), i wanted to leave a comment to let you know!
I fell asleep on the subway in NYC one night in February 1999 - was on the L train i think heading west from Brooklyn into Manhattan and woke up 3 hours later in Canarsi (far side of Brooklyn) at like 4 in the morning. Made it home at 7:00am. Interesting night...
I live in Capitol Hill and love living out here. Moved here 10 years ago after living for NYC in 11 years. (Grew up in Cincinnati and lived in Columbus for about a year and half.)
DC is a great town, but yes, as others have noted, expensive and the traffic is horrific (though I rarely drive - have 30,000 on my 7 year-old car).
Definitely go to Ambar for dinner some night over here on 8th Street SE near the Marine Barracks - it's Balkan food and is amazing and scarily offers an all you can eat and drink (yes, drink) for $50 a person.
Lots of other suggestions if you want to DM me.
I wouldn't consider myself a big theater buff but I lived in NYC for 11 years and saw ~20 Broadway shows and a bunch of off-Broadway stuff, and have seen a bunch of stuff here in DC over the last 9 years.
My wife and I saw Hamilton twice here in DC and were totally blown away by it. We were literally buzzing for days afterward, and we listen to the soundtrack with our kids all the time. We plan to see it again in NYC and elsewhere when we can. It's a bummer how pricey tickets are, though you can sign up to win free tickets via the Hamilton app.
i logged in just to downvote this
Logged in just to upvote this
yeah, the Vols are hardly worth the time these days, but then again there's this
has anyone heard anything more about Hurd's visit? I didn't see anything in the Forum or a follow-up article posted...
Or what is going on with Rodriguez?
how do we know this took the staff off guard? not doubting you, I just hadn't seen any reports to that effect.
Totally agree. And the weak performance against NW came after Urban promised an "angry" team in the wake of the PSU loss. As I recall, the O's performance against NW was hardly "angry," maybe "mildly peeved" at best...
Greg Frey in 1988, OSU over LSU, 36-33.
well put Crusher. couldn't agree more.
I'm a terrible embedder (if that's a word) but here's a link to what I think is some pretty solid video evidence that JT made the first down:
https://www.youtube.com/watch?v=fqifCqWWaAk
not sure if i can embed this, but it sure looks like he did in this video at 32 seconds. and then the refs sure were pointing at peepers as he was walking...
<iframe src="http://www.espn.com/core/video/iframe?id=18142319&endcard=false" allowfullscreen frameborder="0"></iframe>
Is it a black out tonight? Hearing yes and no from different sources!!
i live in DC and have tickets but who I go with depends on kickoff time - if noon, taking my young son; if 3:30, taking a buddy. would be nice to plan ahead!
totally agree about the "angry team" - like you, based on Urban's comments, I expected OSU to come out on fire and stay on fire. instead they were sleepwalking and NW was the fired up (aka "angry" team). we were lucky to escape with a win.
and he seems to be a great recruiter too, no?
i saw that too and started freaking out!