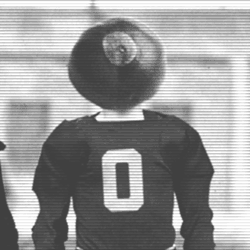 Buckeye-in-DC
---
Washington, DC (via Cincinnati, Ohio)
Member since 04 June 2013 | Blog
Favorites
SPORTS MOMENT: a few best moments: beating Criami for the title; being in the Shoe for the win over scUM in 06 (#1 v. #2) and for Braxton's coming out party in the win over Wisconsin in 2011
Recent Activity
yeah, the Vols are hardly worth the time these days, but then again there's this
has anyone heard anything more about Hurd's visit? I didn't see anything in the Forum or a follow-up article posted...
Or what is going on with Rodriguez?
how do we know this took the staff off guard? not doubting you, I just hadn't seen any reports to that effect.
Totally agree. And the weak performance against NW came after Urban promised an "angry" team in the wake of the PSU loss. As I recall, the O's performance against NW was hardly "angry," maybe "mildly peeved" at best...
Greg Frey in 1988, OSU over LSU, 36-33.
well put Crusher. couldn't agree more.
I'm a terrible embedder (if that's a word) but here's a link to what I think is some pretty solid video evidence that JT made the first down:
https://www.youtube.com/watch?v=fqifCqWWaAk
not sure if i can embed this, but it sure looks like he did in this video at 32 seconds. and then the refs sure were pointing at peepers as he was walking...
<iframe src="http://www.espn.com/core/video/iframe?id=18142319&endcard=false" allowfullscreen frameborder="0"></iframe>
Is it a black out tonight? Hearing yes and no from different sources!!
i live in DC and have tickets but who I go with depends on kickoff time - if noon, taking my young son; if 3:30, taking a buddy. would be nice to plan ahead!
totally agree about the "angry team" - like you, based on Urban's comments, I expected OSU to come out on fire and stay on fire. instead they were sleepwalking and NW was the fired up (aka "angry" team). we were lucky to escape with a win.
and he seems to be a great recruiter too, no?
i saw that too and started freaking out!
we need to know more about the context and circumstances surrounding each person's out of court statement. technically speaking, McQueary's statement could be admissible as evidence if each of the original speaker's statements (Schiano and Bradley) were found to fall into one of the exceptions to the general rule against admitting hearsay as evidence.
this is why there is a general rule that hearsay (or in this case, double hearsay) is not admitted as evidence of the truth of the matter asserted: the original speaker(s) are not present and able to be cross-examined about their original statements.
damn, i was innocently strolling through these comments then came across this video - just had to watch the whole damn thing! so glorious. thanks for posting, but i blame you for ruining my productivity at work this afternoon!!
yeah, but isn't that like being the tallest smurf in the village?!
BEB, i logged in just to upvote your comment!
(but great article too Ramzy!)
wow, thank you for flagging that - should be posted to Facebook, tweeted on Twitter and generally shouted from the rooftops!!
I know haters are gonna hate, but this "Urban couldn't handle the SEC" meme really bugs the hell out of me. Plus, it's completely unfounded given that Urban kicked the SEC's butt in numerous years and won two friggin national titles at Florida. Had Urban "quit" the SEC having never won an SEC title or after having a losing record, then the meme might pass the laugh test.
About 15 years ago, I was doing a backpacking trip through Southeast Asia as a post law school graduation trip. While in Nha Trang, Vietnam, I was in a travel agency/tour guide office trying to change one of my flights, and I had to send a fax to the airline.
So I was trying to explain everything to the woman behind the counter at the travel agency, but she knew very little English. Finally after several tries, she says, "ohhhhh, you want to fahk?? you want to fahk?!" yeah, she was trying to say "you want to fax" but it kept coming out as "you want to f#@k?" the expression on my face eventually helped her and her co-workers understand the miscommunication, and one of her colleagues walked over to her and whispered something in her ear. she turned bright red and then everyone standing within earshot burst out laughing.
i was bummed because i had thought i was going to get lucky that night...
hmmmm, "And excluding the second quarter of the season opener against Virginia Tech, Ohio State has allowed only seven points in the first two games this year." isn't that like saying, "if my aunt had balls, she'd be my uncle?"