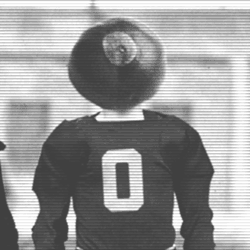 Buckeye Chuck
---
MEMBER SINCE March 26, 2011
Favorites
SPORTS MOMENT: Cie Grant spinning Ken Dorsey into history. Also, my first Michigan game in 1982, though the aftermath had a little to do with me listing it among the best.
COLLEGE FOOTBALL PLAYER: #45.
Recent Activity
I've actually heard a lot of optimistic things about the development of a vaccine.
Literally no one has forgotten that. But the kids still interact with adults all the time (how many middle aged teachers and staffers are there at the schools you're familiar with?), and there's still the unanswered question of lingering health issues for people with "mild cases," which could be a major problem for an athlete.
There's no reason why decisions need to be made until the end of the month at the earliest, and as I said elsewhere on the site, things could look better by then. The prospect of cancelling football ought to get the attention of the region of the country that, based on recent news, apparently needs its attention gotten the most.
The worst of flu season typically comes in winter, and our only games in winter are the bowls/playoffs. (Not to mention that if people are still wearing masks in the fall and winter, we'll have less flu this year too.)
Another aspect we have to consider (hopefully): if the season is shortened, are the number of games freshmen are allowed to play and retain their redshirt changed also? This could be important if illness forces teams to use more of their depth.
The situation down there is pretty bad. Alabama has half the people of Ohio, and today it had twice the new cases.
But there's still time for things to stabilize some. Things could start to look quite a bit better by the end of the month — but it will take cooperation from all segments of society, and a realization that we will have to forgo some stuff we like (basically anything having to do with mass gatherings indoors) to get back stuff we need (open schools).
Not shooting the messenger (or voting up OR down), but these kind of declarative statements foretelling the future aren't really much more than just venting.
It's OK to say "I don't know what's going to happen."
I don't really have an objection to this list. Shawn Springs was probably a (slightly) better college player than Jenkins, but I think under the rules the decision was the correct one.
Except we can't assume the positive tests all sprang from the same source. These are people who all live in Franklin County, which is seeing a couple of hundred new positive cases (that we know about) every day. Let's say 10 people tested positive. It's not impossible all 10 were infected in different locations at different times.
Policies differ from school to school, but I doubt there are many colleges (aside from maybe the SEC) where endowment funds could be diverted towards athletics.
Here come the complaints about "bad seeding"...
I saw a guy last season (spring game or Fla. Atlantic, I don't recall which) wearing a "Repetition Tour" t-shirt with the years 2012, 2013 etc. on it.
What I find interesting is that the outgoing chancellor does not have a terminal degree, unless you count a JD, which most colleges and universities do not consider as terminal for teaching positions outside of a law school.

So now Ohio State can bring in Tressel?
Except being a former state governor and head of a cabinet department is clearly relevant executive experience.
The Cardinal should be renamed the Canary, as in "the coalmine."
If it's happening at Stanford, it's going to happen at every comparable school.
I suppose that's possible, since the outgoing UC Chancellor, Janet Napolitano, announced she was leaving not long before Drake revealed his retirement. But Napolitano is only 62, and Drake turns 70 on Thursday. That's on the older side to be assuming a major new job in academia.
Anyway, if Drake was pushed out a la Kirwan and Holbrook, that won't stay a secret for long. And I gotta say: the fact that some football fans in the Midwest didn't like the guy would not in any way be seen as a negative by the folks who made this hire.
The same issues would come up in the judging of high school players (assuming he was at a "real" high school and not one of those all-star team type schools). There are insurance salesmen in Ohio today who were facing off against LeBron James in Akron 20 years ago.
While I agree that the case increases we're seeing in most states right now seem to be driven by younger folks, the end result is still that the amount of virus in society at large is growing, which puts everyone at risk. We can't get "normal life" back (as has started to happen in Europe) as long as millions of people are self-isolating because they would prefer not to get sick.
Even if there are a few schools playing the year is useless, no true national champion, no real conference champion.
They played college football all through World War II, when many of the usual players were off doing other things, and I can assure you the titles won during those years are seen as "legitimate," including the Buckeyes' 1942 MNC.
And never forget: it was the losing team in this game, and not the eventual national champions, which featured the soon-to-be Big Ten Coach of the Year.
Despite what the media would have you believe (imagine that!) Covid 19 tests are seeing a continuing decline in percentage of tests that are positive.
This is just not true. The percentage of positives isn't going up every single day, but the overall trend, both in Ohio and in the nation, has been up for 2-3 weeks now.
I don't claim to know everything
Yeah, I noticed.
We are quite a long way from herd immunity, even if the "real" number of cases so far is closer to 20 million rather than 2.7 million.
I want CFB as much as the next guy, but I get the feeling the only reason colleges are having in person classes next year is to facilitate football.
I think the main reason is that college is expensive, and a lot of students aren't going to pay the average university tuition if they aren't getting any in-person instruction.
Ohio State is likely to announce more publicly this week about how things will proceed when classes resume.
but I kind of think Ryan Kerrigan should get some recognition from early in the decade.
Huh, I never realized that Kerrigan was Big Ten DPOTY the same year J.J. Watt was a senior.
Don't be surprised if the QB on the team is Connor Cook. Dude won a lot of games.
A little personal history: wanting to comment on this game was the incident that prompted me to sign up on 11W.
I know this is a minority opinion, but:
1. There's no way any draw should have been able to trip up that particular team.
2. It's a little misleading to say it was "a Kentucky team with a nucleus one season away from a national title of their own," since that team's best players, Davis and Kidd-Gilchrist, were still in high school in March 2011.
3. "Bad draw" is hindsight personified. Do you get to say that any draw where you lose is by definition a bad draw?
4. The perception that it was a bad draw was due solely to the number of bluebloods in that regional, but those teams received their seedings on the merits (Kentucky only won 2 road games in SEC play). The Buckeyes were massive favorites over Kentucky and would have been a similar favorite over any of the other #4 seeds that season.
Congratulations not only on the nuptials, but on successfully indoctrinating her into Buckeye Nation. One of my early dates with my now-wife was at the Shoe, and the way she took to everything was just one of many signs I could not let her get away.
So the pizza place makes just one a day? Interesting business model.
Those "Baldwin outplayed Fields in the spring game and ought to be QB1 now" takes from April 2019 did not age well.
TCU is a decent school and if his future is in the state of Texas, probably a better option for his future than a degree from The OSU would be; good luck to him.