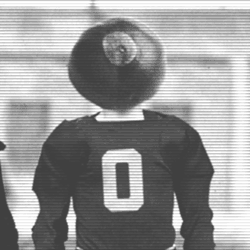 Buckeye Chuck
---
MEMBER SINCE March 26, 2011
Favorites
SPORTS MOMENT: Cie Grant spinning Ken Dorsey into history. Also, my first Michigan game in 1982, though the aftermath had a little to do with me listing it among the best.
COLLEGE FOOTBALL PLAYER: #45.
Recent Activity
Their last game of the 2010s.
Some folks have gotten amazingly heated about what is really just an opinion, so I'm not going to do that ... but I do think it's interesting how quickly Braxton Miller being the only quarterback ever to win two Silver Footballs has receded in the memory.
It won't happen this year. But the problem going forward is the same one Matta had: once people even start asking the question about job security, recruiting gets really hard.
Who do they suppose is sinking it?
Thad's last team tied for 11th in the conference (7-11); this team is better only than Northwestern and possibly Nebraska. I think the answer is yes.
Newsflash: Bad teams don't have "manageable stretches" of the schedule.
There's another "what if" about 2011: what if Jim Tressel hadn't decided to coast on quarterback recruiting for several years because he had Terrelle Pryor as his security blanket? Because the main thing that ruined 2011 was not having a qualified replacement on hand when Pryor's career ended suddenly. Tressel had three years to look at Joe Bauserman in practice, and apparently never once thought to himself, "Wow, we are in major trouble if he ever has to play."
I don't know how many games Fickell would have had to win to keep the job with Meyer willing and available, but something like 9-3 with a win over Michigan probably would have done it. I think a half-decent quarterback could have gotten us there.
Not saying this to be mean, but one reason Tate's schools seem to attract high profile quarterback transfers is because Tate himself no longer a high profile quarterback.
I didn't expect this would be much of a season, but I figured that if the CBJ did surprise, it would have to be by winning the way they currently are: pulling out low-scoring win after low-scoring win. But there's no way you could have counted on them doing that in the midst of this run of injuries.
Probably not sustainable, but very fun while it lasts.
I don't really agree with the premise, which implies that NFL teams are capable of "ruining" players who in other contexts might have been Hall of Famers. David Klingler and Akili Smith were bad on the merits; they didn't turn out bad just because they wound up in Cincinnati.
I'm not sure I agree Holtmann has overachieved, but I guess the real question is why we're still talking about "overachieving" as a positive in the third season of the new regime. No excuse at this point to not have talent on hand that's good enough to win without "overachieving."
Short shelf life, but for an elite back he has very little wear and tear, and it's likely to stay that way next season. Still risky though.
I don't think it's a Buckeye thing so much as it is Cowherd being bored stiff by the Midwest and its teams.
I always thought Potter was a solid player, just kind of didn't get the playing time he wanted with Young and Wesson dominating the playing time.
There's no way Young got more playing time than Potter two seasons ago (the last year Potter was on the team, when Young was a little-used freshman).
I always find it interesting that within the same recruiting class, you have players who wind up as All-Americans and others who, for various reasons, end up not even getting genuine playing time in the lower levels of college football. Just goes to show how difficult it is for even experts to account for different ways players will develop.
Yeah, it's really unfair to judge a team by how it's playing.
How does a team with Kaleb Wesson score 8 2-point baskets for an entire game? (And it's not like we're compensating with good 3-point shooting or good free throw shooting.)
At some point we're going to have to have a conversation about the following:
1. Holtmann's first team was his best team
2. The team Holtmann left is better than the one he's coaching now
How is it that random mid-majors can find males over 6 feet tall who can make open 20-foot jump shots at least half the time, and yet that's a task that has eluded two different Ohio State coaching staffs for the better part of a decade?
It really does, because it gives power programs a chance to rectify recruiting misses (or flat out mistakes). The 2019 Buckeyes are Exhibit A, because this past season would not have been possible on any level without Fields as the quarterback, and as recently as a few years ago he would have been ineligible to play.
Hurts and Burrow are grad transfers, which is a slightly different thing.
Is Terrelle Pryor considered an "early departure?" Replacing him with 1) a true freshman and 2) someone who couldn't play football was the difference between winning BCS bowls and going 6-7.
More recently, I would probably say Zeke because not having a workhorse back like him made a noticeable difference in the 2016 offense.
Can anyone think of another popular sports announcer who is nearly as controversial?
Someone is too young to remember Howard Cosell.
I don't agree with all of Herbstreit's takes, but I've always had the sense that he (and other ESPN broadcasters) are something of a scapegoat for some of our more disappointing games. My dad always hated Curt Gowdy because he associated him with Buckeye Rose Bowl defeats.
The new building is really attractive, but I have a lot of pleasant memories of the old Union. I remember watching The Game on a big screen in one of the ballrooms in 1981 and jumping around with strangers as Schlichter scored the winning TD. And the calzones at Scarlata & Grey were a revelation, or at least so it seemed at the time.
This is welcome news, coming at what otherwise would have been one of the biggest question mark positions we've had here in years. And like I said a few days ago, I think Wade is the rare potential first round pick who you can make a case still helps himself by sticking around.