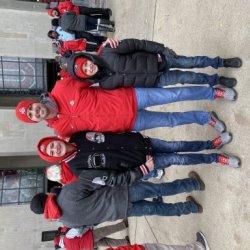 Buckeye boys
---
MEMBER SINCE August 09, 2018
Recent Activity
What's the score guys 42-17 good guys Go Bucks
Ask Siri who won the Ohio state football game , who won the Ohio state basketball game , who won the Ohio state hockey game , who won the Ohio state girls basketball game ... so cool
We beat a lot of good teams this year
Best read yet , as a mega fan like you guys we all want to crush them and we get good feelings one day then someone says hay maybe it's there year and you get that yuck in your stomach. Well not this year Kevin did a great job today , while we where beating penn state last week 21-0 they was tied at half against Indiana and a Indiana team that was beat up on the week before by penn stare , they beat msu and Rutgers and a dud nd team . We are number 1 enjoy it and don't let the thought come in your mind we lose , I look back the last few years and worried and the Bible says not to worry so sit back enjoy and Go Bucks 35-17
The rain messed us up against penn state , I know if it would rain ttun would need to run more . But I think giving how good all are receivers have been and now that it's clear they just can't focus on us running we will have all are weapons and that means 35-17 good guys go Bucks
Bucks are ready 35 scum 17 , fields shows why he is the better Qb , jk breaks Zekes record and chase and the boys destroy ttun oline.
However strait up does all 11 warriors pick us to win ???
Best trailer ever !!! Happy thanksgiving guys Go Bucks Ohio state 35 ttun 17
Best part of this video is Justin fields playing the symbols .no way is he banging them with his hand hurt and no problem walking as well .
I was not so worried about his hand because it's his non throwing hand and he still guy that pass to Olave it's his leg I was concerned about wonder how his leg is .
Fields had a hard hit at the end of the game , he ran to the side ,then cane back for the last series. Is he ok as of today to go for Saturday
Spent the whole week looking at predictions, everyone including penn state writer's have us winning ,like maybe 40-50 total predictions . They did talk a lot about the last 3 years with a total of 5 points but this year they all say is different. You can't go by me , I get nervous playing Rutgers . What do you guys think today's score will be and why
Morning guys , question of the day . What's the real score Saturday I got Ohio state 35 psu 17
Anyone know who is hurt and not playing like cooper , Austin Mack and baron
Are we out anyone this Saturday ???
All I know is very happy he is back # beat penn state
Well said sounds like everyone is doing there job and doing it very well .
Unbelievable how many top named teams have lost in week 1
#ichgain,Miami,FSU,Texas,UCLA,Washington, and more (wow) not to mention penn state and #ichgain state almost loss as well ...
whats the score this Saturday ?
good guys 49
rutgers 14
Was at game today it was awesome. Very cool to score 77 but wish we held them to lesser points. Also Haskins looks unbelievable and it was nice to see no Qb running it's been so long since we have had a pure passer . Also ttun sucks big time !!!
This team is put together to win the National championship this year .With a blow out win on Saturday and coach back Sunday for practice will mean a lot . Haskins will have his first start over with, we will know if ttun is any good, and maybe a boom which we have not had in a while ,and media behind us hopefully. Can't wait for Saturday...
good guys 45
Oregon State 10
go Bucks
At any point do you think mcturd says to him self I might have over done it ? He is fired and pretty much put there name Thru mud and did all this maybe just maybe I should stop .
Does this change anything on the suspension ? Believed they knew all this before they announce suspension so it shouldn't correct
Can't wait till Saturday, me and my oldest son got good seats & awesome seats for the tcu game . Now let's start the points on this fine Saturday ahead of us
Good guys 45
Oregon st 14
Go bucks
Buckeyes against everyone
let it begin