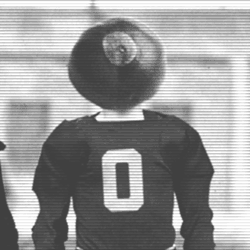 Buckeye Black
---
Starkville, MS
Member since 30 August 2010 | Blog
Favorites
COLLEGE FOOTBALL PLAYER: Troy Smith
NFL TEAM: Cleveland Browns
NHL TEAM: Columbus Blue Jackets
NBA TEAM: Cleveland Cavaliers
MLB TEAM: Cleveland Indians
Recent Activity
Seriously? I'm the only one in Mississippi... Some one move here and be my friend.
Sure did look like a certain Heisman winning QB on that play.
Yeah the fight involved his brother knocking a frat guy out. Robert took his brother away from the scene when the police were called.
That's not him. He is nowhere near that fat. Dude is a beast. I thought is was standing next to a brick wall when I ran into him.
The fact he couldn't remember who he voted for is why the coaches poll is a joke. They don't have the time to watch all the games.
I'd like to see J.T. with half those carries and Jalin with more.
I'd like to see J.T. with half those carries and Jalin with more.
I guess I should clarify, due to my screen name. I'm not black, that's my last name.
As a Mississippi resident, and frequenter to the Grove, Ole Miss fans are not as racist as you'd think. I ran into just as much racism at Ohio State in undergrad. Alabama though, they are racist. They just allowed black coeds into sororities this year or last year.
Last week's is my favorite outside of the 12-0 one.
What about Ed Orgeron, he could certainly fill the recruiting gap. Not a bad defensive coach, either.
My grandpa was on his death bed during this game. My entire dad's side of the family, minus my brother, was hovering around him in the hospital. We were watching the game, waiting for my brother to get there so he could say his goodbyes. He showed up and talked to my grandpa, and he literally passed away a minute later. He was one of the biggest, staunch, and stubborn Buckeye fans I've ever met and one of the reasons I am such a huge one. After he passed the Oden foul occurred. We were all completely dejected. Then Lewis hit the shot and and we all screamed, my grandma was sobbing by the bed, and she yelled out, "What!? What the hell?" One of the most amazing/awkward moments. I give that shot to my grandpa giving God a hard time about the Bucks not winning.
That just means they need to expand the student section. Let the "sitters" be in the club level and the let the Nut House be around the court.
Haha, stupid spell check. **HITS**
Depending on where you live, he would be better off being 18-20 and getting a DUI. It disappears at 21.
Technically it is only sterile in the bladder, once it hurts the urethra it is introduced to bacteria, but still not really a cause for concern.
If only he could turn into the Cavaliers saving grace.
Not surprising, he really is a top 5 talent.
That's part of the reason why Ohio State gets so much air time. All the other school's biggest wins are against the Buckeyes, that is the rare times it happens.
Unfortunately he didn't work out for the Cavs. He knew he wasn't going No. 4 and apparently too many teams between 16-23 are interested.
I would love for the Cavs to trade up with their second, first round pick to get Sully.
I'm not saying he should be on Mt. Buckmore, but an honorable mention for the gritty QB that brought us a national championship is totally feasible.
Krenzel wasn't about the stats. He was about the results.