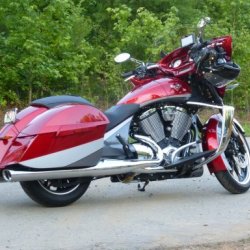 Buckeye Bill
---
Burlingtin, NC (via Wooster, OH)
MEMBER SINCE March 18, 2013
Favorites
COLLEGE FOOTBALL PLAYER: Zeeeeeeke!
COLLEGE BASKETBALL PLAYER: Aaron Craft
NFL TEAM: The Browns
NHL TEAM: You're kidding, right?
NBA TEAM: meh
MLB TEAM: Indians
SOCCER TEAM: No way
Recent Activity
As another member of the "Older Gent Society" I approve this message, and wish I could upvote it twice.
Nice deflection! That's like saying, "Your kid stole candy so mine can, too."
Give the man a pertinent counterpoint to his argument.
Andrew Dakich is a perfect example of this.
I'm in. Just send me the prize pack now and avoid all the fuss.
There's always a chance. Some are just better than others. I just hope that whatever Wesson did was worth it.
Not only extend the student section, but give a set number of heavily reduced price seats to full-time students. And allow people in the nosebleed seats to move down to the empty seats up front mid way through the first half. I live in North Carolina, and even when they're playing a "Little Sisters of the Poor" school the stands are full of raucous students. Because the Dukes and UNC's of the world remember that the students are their reason for existence.
Or, just move the games to St. John. No ice under the floor there!
Can anyone tell me why CJ was under the basket guarding a man 3 times his size during that inbounds? And why wasn't the Penn State player charged with an over the back call? He literally climbed up CJ's back to get the ball!
Have to admit that adding the East Coast teams to the B1G definitely increased the size of the TV money pile, but at what cost to the overall perception of the football and basketball league schedules?
I think the desert menu would be more appropriate. Perhaps a lovely Hairball cupcake?
Wish that I could get someone to sit down and explain to me what is now considered a foul. I've seen players almost decapitated with no foul called, then the same official will call a personal foul for sticking a knee out a quarter of an inch during a screen. It makes no sense.
Oops, sorry I missed it. Not enough coffee yet.
Still don't understand the whole Friday night thing. If for some unforeseen reason it can't be scheduled in Chicago on Saturday, then play the damn game in Columbus. I haven't checked, but I'm pretty sure The Shoe can be made available for that weekend.
Friday nights are for high school football, NOT a match up between the 2 teams that just met in the Big Ten Championship game.
Start him long enough to get the opening tip, then after his first foul (average playing time approximately 36 seconds) bring in Ledee and up the tempo until the other team's bigs are out of breath. Then bring Kaleb back in to steamroller them for the remainder of the half. Go to the locker room, rinse, and repeat in the second half (minus the tipoff, of course).
Before you down vote me off the internet, please note that this is posted with my tongue firmly planted in my cheek.
Surprised to see no mention of a healthy Clark Kellogg.
Definitely my favorite player on this team. He will only get better with more PT.
I lived on Chittenden and walked to a trash can party at an apartment north of Lane that night. Surprisingly, I was able to remember how empty everything seemed on High Street while walking home at 3 in the morning.
Anyone else think that Micah Potter is somewhere in a dorm room in Wisconsin systematically kicking himself in the ass?
How does he stay out of foul trouble when the opposing player leans into him out at the top of the key, and he gets called for the foul.
I've been playing and watching basketball for over 60 years, and what currently constitutes an actual foul is a total mystery to me. The bigs can have a full on wrestling match under the basket and nothing is called, but put out your hand to protect your dribble and you get called for a foul. The current foul rules make no sense and have no consistency.

Not sure why anybody would DV this, but here's an up vote to counter it. Gotta agree with you about Andrew. He definitely added an intangible that would be greatly appreciated on this years team. HEART! I thought we were getting a good replacement for him with this years graduate transfer, but (with a couple of exceptions) he seems to have an uncanny ability to disappear during games when he's needed the most.
WPB, did you watch the game? Rutgers Freshmen were unconscious knocking down shots, and their whole team was playing great D. If I was an opposing coach I'd play zone the whole game against this team.
Try a dose of Buckeye basketball, 2:30 today on BTN.
I logged in just to upvote this. Wish I could give you more than one.
I guess if you want to look at this objectively, ND's entire schedule is OOC. And since every other team is judged by how they performed in their conference, why is ND even considered when deciding the playoff participants?