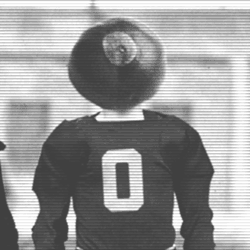 buckeye-bengal
---
MEMBER SINCE October 26, 2016
Recent Activity
Is it just me or has every review gone Clemson's way?
I didn't realize she was a reporter, I thought she was a fan.
588
Did Baron Browning even play? I didn't see him listed on the report as being held out. Did I miss something?
Not only are they OOC games, they are against FCS schools.
I - O
This made me laugh so hard I shed a tear.
Please stop looking ahead. Beat Turtle!!!! Then after Saturday is best whoever we face next. Looking ahead is how you get the next Iowa City or West Lafayette.
I helped the cause. Buckeyes got to hang together. Beat Turtle!!!!! Screw everyone else until their time comes.
Question: with the way the Buckeyes are playing right now, does anyone have any information on paying coaches. It seems OSU closed the checkbook some from Urban Meyer and his staff when Ryan Day took over. Does OSU have any intention of opening the checkbook and paying Ryan Day, Jeff Hadley, Brian Hartline, and Larry Johnson. I think Ryan should be making upwards of Meyer's pay and all three listed assistants should be getting at least one million dollar per year contracts to keep them around. Is there anyword on this from the OSU side. I think keeping coaches around is important.
Ok, I have to bite. Are we supposed to kick open's butt? I remember a coach from South Carolina saying something about that earlier this year.
I was going to mention that Cincinnati could be a signature win. It was considered a signature win for Pitt and helped build PSU's resume when Pitt knocked off UCF. Cincinnati also knocked off UCF and isn't getting credit for it. This article didn't even mention that Cincinnati, who OSU beat 42-0, is number 25 in the AP poll and number 26 in the media poll. If Cincinnati wins the AAC they will be a top 20 team even after getting destroyed in Columbus. I think MSU and possibly Nebraska find their ways back into the rankings which will leave OSU having defeated 6 ranked teams during the regular season in Wisconsin, Penn State, MSU, UM, Nebraska, and Cincinnati.
I know most are saying he is staying with LSU, my question is if they would have room for him or would they tell him no?
So if we get Stroud, Watts, Bradford and Baron does that mean the staff would say no to Ricks? I don't have any information to say Ricks is waivering on his commitment to LSU but playing with Lejond he may in the future and he does still have an official scheduled with OSU in November. Seeing the Buckeyes first hand may cause him to want to flip. Could OSU make room if he wanted to flip?
The California Law also prohibits the NCAA from reacting.
Your wrong. Gene Smith's points could have been valid if he was out campaigning for them before California law. He is now trying to screw Ohio State as he only cares about his own pocket. Gene is a worthless person who should have been campaigning for the changes he now wants before California forced him to change. You can't have your cake and eat it too. Gene was totally against this as were most people benefitting from the athletes. They are now offering to settle for less than the California Law to protect their pockets. It's time for Gene to realize he lost. I am hoping Ohio follows California and passes a law and takes things out of Gene's hands.
Was getting ready to say the same thing. But please Coach Day, focus on this game only until it is over, no more Iowa or Purdue's.
I was getting ready to say if he returns it would be for his redshirt junior year as he didn't play at all as a true freshman.
Alright the real problem lays in the committee. The chairman before championship weekend said there was very little separation between Georgia (4), Oklahoma (5), and Ohio State (6). He said conference championships would push teams over with little or no separation. Oklahoma won and passed Georgia for number 4. Ohio State won an extra game and a conference championship, but stayed at 6. What happened to very little separation. I was totally fine Oklahoma being 4 because Meyer checked out of a beat down to a crappy team in the 1st quarter for a second consecutive season. Georgia however should have dropped below OSU. I live in GA and many UGA fans agreed based on his original comments.
Boom
Just wondering about the statement saying "Bucks were shooting an above average amount of 3s, attempting 774 triples last season" when two paragraphs earlier it read the average number was 774. So were they shooting an average number or should that be more?
When did What commit to Georgia? 247 shows him as uncommitted.
I think Stephen A remembers the ability of Haskins to run. I am not sure the coaching staff was sold on Tate Martell as a QB and therefore didn't let Haskins run to protect the team. If Tater wasn't ready then why would you let Haskins run and possibly ruin your season?
Yeah, I was wondering how close to graduating he is. Might be better to sit at OSU then transfer next year as a grad transfer. It won't cost him any eligibility if that is the case.
Why has Urban never put energy into player development. Urban would never have gone after Darren Lee if not for Luke Fickell. It's time to stop only focusing on recruiting and start developing. Dwayne was a development. Larry Johnson can develop players, look at Dre'Mont Jones. We need more coaches who can develop players.