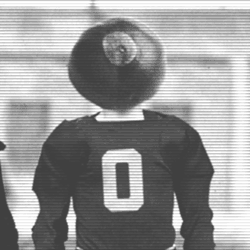 Buckeye in the ATL
Atlanta, Georgia (via Columbus, Ohio)
Member since 29 January 2014 | Blog
When I was nine years old my family moved to Columbus and lived temporarily with relatives. My cousin who was eighteen was watching something on the television one Saturday afternoon, and naturally wanting to get some of his attention I asked what he was watching. "The Bucks, come on and watch the football game with me, " he said. That day I became a Buckeye. The next day around the same time he was watching football on television and I walked and and asked if he was watching the Bucks (dumb nine year olds don't know Satuday belongs to college and Sunday the NFL). "No," he said. "The Browns, come sit down." That day I became a life long Browns fan.
Favorites
SPORTS MOMENT: Sitting in the stands in Tempe, AZ watching the Bucks beat Miami for the NC game!
NFL TEAM: Cleveland Browns (yet harder to admit to lately)
NBA TEAM: Phoenix Suns
MLB TEAM: Arizona Dbacks
Recent Activity
Let him shadow Steve Nash for a month.
I wonder how last year's starters feel about diminished playing time. Young studs like to be in the spotlight and in the mix of things on the field of battle...."are you not entertained!?" That said, Coach Myer is developing a new culture of leadership and team first so I believe these guys will go even harder while on the field thinking its time to shine with limited time. Plus having fresher legs due to the platooning will erase any animosity due to increased production driving defensive stats even higher. Go Bucks!
These updates are much appreciated, but such the tease, can't wait for August!
Dear Mr. and Mrs. Craft,
I would like to congratulate you both for raising such a fine son. I do not know your family but do know the family you are. The son emerging into a man demonstrated on and off the court the obvious guidance from Mom and Dad. There must be a lot of love in your home that transcended into Aaron's everyday life once you packed him up for Columbus.
You may be going through some hurt right now but running beneath the mixed feelings you know the last four years were the harbinger for a successful run into adulthood and whatever career he pursues. Thanks for all the great memories you've given me these last four years and may God continue blessing your family.
Totally agree with your protecting the ball better comment. Too many times getting slapped out or simply slipping from his grip. If he works on these weaknesses and improves over the summer he'll add tremendous value to the team and his NBA stock next year.
Dang, nothing to look forward to this weekend, and the Flyers simply put us out of our misery. Like most of you out there I will miss Aaron Craft big time, great kid big heart, but LSJr I won't, another good kid but lost his way thru the B1G season. And Ross, I predict his return simply from the fact the league does not take someone in the 1st round with soft hands. Every time he drives the lane I cringe. Only 162 days til Navy, Go Bucks!
Last year's semi win over Arizona was the epitome of how we played the season and we did it with the same four guys who have struggled with free throws and 3's during this Big Ten season. Watching the replay I couldn't believe the difference. IMO last year's Craft, Ross, LSJr and Thompson knew DT was going to get his 26 so their confidence remained high in their respective shot selections etc, but not having that "go to" guy this year turned production in the other direction. We just need confidence. Thank God our D has been solid this year.
Now, on to Buffalo and beyond; if the refs allow our BT style of physical play, we stay out of foul trouble, and we resemble our true selves then we've got a shot at a deep run. Watch out IF we get past the Orange.
O H
As I was hurrying around getting ready for work I flipped on TBN and got hooked on the replay of last year's semi against AZ. Now I'm going to be real late for work, but damn worth it as I'm watching our real Buckeyes. Other than DT and Ravi it's the same four guys playing hard D and playing with confidence on O. Come on guys, recapture what your are and make a deep run into this year's tourney! I know you've got it in you! GO BUCKS - OH!
What an up and down regular season. Human nature makes us second guess those who are in the spotlight and are susposed to win everytime we watch. We bitch and moan and post terrible things about people we not know personally and feel justified simply because we expect the W. That said, I'm really happy to see our two seniors win out on senior day against such a worthy opponet (even though as Chis points out if not for Mr. Ross we'd come away with a L). Let's hope the team takes the momentum into the BIG tourney and makes better memories for us than the regular season. Win or lose I'm proud of the team. Go Bucks!
A lead is a lead...go Bucks!