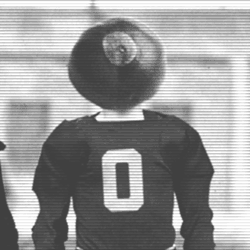 buckerew
---
MEMBER SINCE May 06, 2013
Recent Activity
Is Duane Washington next. Kind of appears these trans are personal.
Listened to 2 doctors from the University of Washington and Vanderbilt state that a round 2 with COVID-19 could happen in the fall. I hated to hear that. It was on CNN just before the White House Task Force appeared for their daily briefing. A vaccine for this is a year away and like flu vaccines they aren't 100% preventative. The actions to prevent COVID-19 like self sheltering, distancing, and other efforts being taken to keep people apart may be with us longer than any of us want to believe. smh.
Hartline better start bring it! lolololololololololol
It's interesting that 2 of the 3 DB's committed to the Bucks are from Ohio and the same HS, LaSalle. Currently on the 2020 roster there is only one scholarship DB from Ohio - Marcus Williamson. Anybody have any concern about this. Is Ohio ELITE in DB's this year? Our best DB's lately or since Meyer arrived were recruited from out of state. Now with Day at the helm we seem to be looking more inward but is that because they are that good or are we taking the path of least resistance and don't want to battle for the elite. I understand the MAN is back and he is a recruiting machine. But, as a comparison lets look at our receivers lately. They are almost all from out of state. Is it coincidence or just that receivers on an elite level come mostly from out of state. Could the same be said about DB's in general too. Just asking. I'm a little concerned but perhaps shouldn't be. Any thoughts?
Sampson James to the best of my knowledge would have to sit out a year unless the NCAA changes the rule for transfers effective for the 2020 regular season. I don't know what is his reason for transferring. Perhaps he feels he will not have to sit. Anyway, I think Miyan Williams will surprise if he can pick up the offense and be ready after fall camp. I also would not be surprised if Teague sits a year and uses a medical red shirt. All in all the RB situation will be iffy all year. If Teague sits and another injury occurs to a RB it will be crisis time. JMHO.
Nice to hear the "Fab Four" performing so well against our secondary.
Wonder what Coombs was thinking after practice!
CO2
OH that is so IO Sweet!
Good thing the Bucks have a QB in the 2021 class. If the proposed rule to grant 1 transfer w/o sitting out is passed, I could see one of the three QB's leaving, maybe even 2 of the three go. That could be the new norm. Why not? Joe Burrow benefited greatly. He may be the new norm going forward. I see the logic. Sitting or waiting your turn is not why you go to elite programs. Haskins waited and it worked for him. However, what Haskins did may become the exception rather than the norm. The pandora box of college athletes transferring is almost upon us. Buckle up it's going to get crazy!
I have to admit I was aware he was transitioning to DE but your saying the move to TE is old news? Well, ok then. Still how do other posters feel about it?
UFA (Undrafted Free Agent). He'll get a chance to earn a spot on a roster. I always thought the defensive side of the LOS was where he should have played. Trouble was what was in front of him: the Bosas, Cooper, Young, and Harrison. Good luck to him.
If you are Gill and Harris and not in top 6, do you enter transfer portal? Babb may never play due to injuries. Where does McCall fit? When spring ball is over, don't be surprised if any or all of these players enter the portal.
Williams is probably too tall for interior D-line (tackle) and just not quick enough for DE. I was kind of hoping he would get a look on the OL but the OL depth is exceptional and not sure he would get many reps their too. He'll get playing time if he transfers into the right place where depth is thin and spots need filled. Good luck to him.
Bucks may have a numbers problem. Babb has had chronic issues with his knee. Would not surprise me if he is declared medically ineligible. That would free up a scholly. Have to see what happens with him.
Harrison has the height and physique to carry 275 lbs or more and not lose any quickness. For D-lineman it's about quickness not 40 times. I think the #1 D-lineman is Bryan Breese who is attending Clemson. He is a DE and if I'm not mistaken I think his measurements are 6'6' and 290 lbs. Harrison can measure up to that easily. JMHO. .
#1 may have been difficult for the committee to decide. but Vegas doesn't seem to have much difficulty making a #3 seed a 2 point fav over the #2 seed.
The final rankings were set before the conference championship games were played. With Georgia ranked #4 and Wiscy #8 it was obvious to everyone what the CFP Committee was doing. As long as LSU wins in a comfortable or dominant fashion they were going to jump OSU. Georgia is awful and over rated. But they get too much respect from the media and the SEC mouth pieces starting with the F-Baum!
Final 4:
1. LSU
2. Clemson
3. OSU
4. Oklahoma
Final: Clemson vs LSU
Natty: LSU
Bucks D has digressed and O seems off.
I know it is tough to beat a team twice in the same year.
But since the Rutgers game the D is going in the wrong direction.
To give up a TD in 32 seconds right before the end of the 1st half is unforgivable.
Trevor Lawrence or Joe Burrow will carve up OSU secondary.
Chase Young? What happened to him.
I'm a proud Buckeye fan but the victory leaves me with an empty feeling in my stomach.
Sorry. But I think a lot of fans feel like I do.
CFP
!. LSU
2. Clemson
3. OSU
4. Sooners
That;s how I see it.
I think it will be LSU and Clemson for the title.
OSU "D" not performing to Natty level.
Rutgers go 21, PSU 17, scUM 27 and Wiscy 21
Happy we won though.
Could fall to #3 in final poll.
No matter what it's Bucks and Clemson.
JMHO.
D getting owned by Wiscy.
Not a Heisman moment there.
Needed 7 but at least we got 3.
D has to shut Wiscy out in 2nd half.
Game is manageable at 14-7.
21-7 don't know!
That last TD by Wicy went 75 yds in 32 seconds!