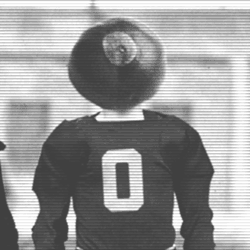 Buckerdoc
---
MEMBER SINCE April 23, 2018
Recent Activity
Hopefully: "ILL" fated!!!
Eat him up, Chase! Go Bucks!
So you're sayin there's a chance!
Folks, Chase said he made a "mistake". These guys are coached to not accept a DIME without permission. Has anyone sat through these lectures? I have. There is a phone number to compliance if there are any questions! All provided on DAY 1. Sorry, not sorry. Love me some Chase but he knew better. PERIOD.
Now, how egregious was his mistake will determine if he gets back in a Buckeye uniform. Sucks that (perhaps) the last 2 years we lose our stud on D. Methinks Chase is gone...
I have long thought he is UNderrated! Nothing I have seen this far makes me think differently...
Methinks the Herman train has derailed. And after hearing his possible connection to our ex WR coach's legal woes, I am none too sad. What comes around goes around, dude. Good luck at NMSt or wherever else you may go....
Somewhat of a "no lose situation". While I personally love Michigan losing, I was tired of GA fans shouting "we have a good win" over ND. Any good smack against an SEEeeCeeee team is rewarding as well...
Has anyone noticed how much separation or wide receivers are getting? How about that for a stat?!?
Just about two years ago it seems like we can get an inch in between defensive backs and our wideouts. Hmmmm. Coincidence?
TWO Penalties. Boom. THE Stat of the day!
Nice butterfly tat, Robison (FAU QB)! Yikes. DLine is gonna have a field day there!
I think you can call me a "Never Schiano/Davis". Pretty much last year was a lesson in where to play out of position and take crappy angles. Man, I need a therapist after that season. Honestly, we squandered 3 years under Meyer (2015/2017/2018). HOF Coach? No doubt. Years wasted are undeniable. So, had we beaten MiState, Iowa, Purdue would we win a Natty? Doubtful. We lacked some coaching and that was a major downfall. Sill hate it that we didn't have a Bosa and Spence or Bosa and Predator tandem!!!
Bring on Hafley!
Just please make it reasonably straightforward. Players were confused last year as I saw it.
Tony Dungy was famous for players to make simple reads and react rather than the complicated IFTTT stuff Schiano dreamt up. He made fast players slow... and didn't simplify it thru the season.
Oh, linebackers are to start behind the line and "run downhill"... please.
Wow, not breaking them in easy...
Has anybody witnessed Master Teague run? Milton would not start over him. Kid is gonna be a stud after Dobbins goes pro...
Don't sweat it.
Wait. Are you trying to say we weren't good against the run?
-G Schiano
What happens when a coach opens up the entire playbook (and has an awesome WR coach)! Lets goooo!
PS: Might want to tell the Defensive coaches to hit the recruiting trail...
We need ya... come on down Paris (Orlando)!!!
Come on! Get Coach Tucker his 1st outdoor natty!!!
Idiot.
"I'm calling from the Cell phone, you know, the one next to the cell!"
-Henry Cho, comedian
Just feels wrong here. Hope I'm the one that's wrong...
Alllllrighty then: we just need a black jersey on him at ALL times. This includes walking across campus. He needs a car with bubble wrap and a black jersey. When he goes swimming, heck even bath-time, he gets a ducky float with a black jersey. He sleeps in a black jersey...
Gotta have some better outside shooting. Please. Get me a Diebler here stat! Good coaching. Wow, how this year's cupboard was on life support. Was rooting til the buzzer but felt like tonite was a mercy-kill.